Class Registration Instructions
Once you have been admitted, you can to register for classes.  While orientation is mandatory, as an admitted student you can register for classes before attending an orientation session.  Keep in mind that you are able to make changes to your class schedule up to the census date for the semester for which you are attending. If you have a hold that prevents registration, please contact the appropriate office for information and assistance with removing the hold.
About ASSIST
ASSIST provides a variety of online services to UTRGV students regarding registration, financial aid, payment, and grades. For your security, ASSIST requires that you enter your username and password to access your financial aid, payment and transcript records. Registration is available to currently enrolled students and applicants who have been accepted for admission to UTRGV.
Registration Instructions
Log in to ASSIST via my.utrgv.edu with your username and password
Locate section MY APPLICATIONS
Click on ASSISTand then click on the Student Services tab
Click on Registration
Click on Add or Drop Classes
Select on Class Search that is located at the bottom
Choose the class you are interested in and then click class search. This will give you different options regarding Time, Days, location, and Professor. After you have chosen the class you would like to attend, check off the box to the left of the class.
Scroll down and click Register
Scheduler Planner
Click on Schedule Planner to watch a short video about its features.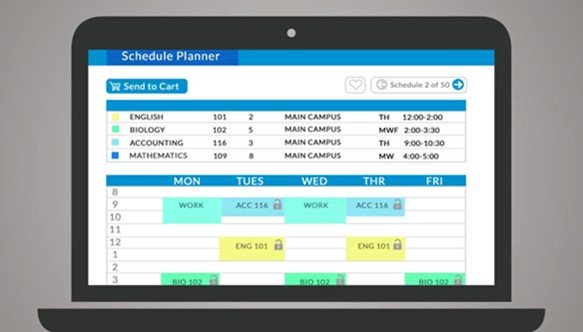 Scheduler Planner is a schedule planning tool that allows you to create and compare multiple class schedules for a given semester based on your course preferences as well as other commitments such as your work, sport and/or family schedules.
 
Schedule Planner will generate every possible schedule for you, so you can maximize your course sections and remain on track for a timely graduation. After selecting your preferred schedule, you can import your schedule into your shopping cart. You can place your class schedule in your shopping cart and then register your classes.
 
Schedule Planner is available now! Log into ASSIST under my.utrgv.edu and go to the Student Services tab and select Registration.  You will see a link to Schedule Planner!