Navigating Your Courses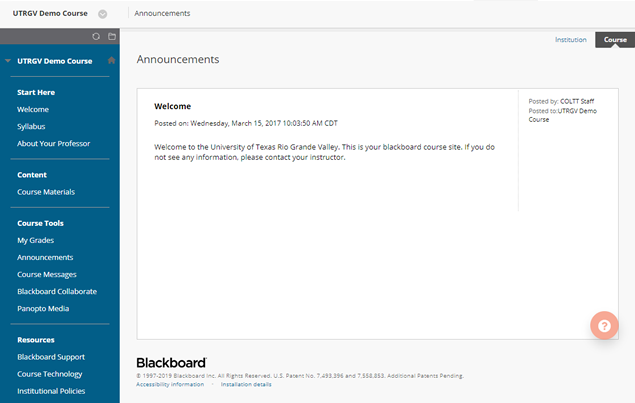 To navigate your Blackboard courses you will need to use the course menu that is found on the left-hand side of the screen. From this menu, you will be able to access course content, grades, announcements, and much more.
The table below provides the default course menu and a description. Please note that instructors can add, remove, and rearrange items in the course menu.
Course Menu
| Menu Item | Description |
| --- | --- |
| Welcome | This folder contains important information about your course such as objectives, how it's organized, and instructor response time. |
| Syllabus | Access your course syllabus, institutional policies, student support services, and COLTT Help Desk information. |
| About Your Professor | Learn more about your professor. |
| Course Materials | All course content such as documents, assignments, tests and discussion boards can be located inside this folder. |
| My Grades | Use this link to access your grades in the course. |
| Announcements | Important announcements from your instructor can be viewed on this page. |
| Course Messages | Use the Course Messaging tool to easily communicate with your professor and other students in the course. |
| Blackboard Collaborate | If enabled, Blackboard Collaborate allows you to join a virtual classroom to view lectures, attend office hours, and more. |
| Blackboard Support | Need assistance with Blackboard? This link can be used access Blackboard support resources or to contact the COLTT Help Desk staff. |
| Course Technology | This page provides a list of the hardware and software needed to be successful in the course. |
| Institutional Policies | Policies such as disability accommodation, mandatory course evaluation statement and sexual harassment statement can be found via this link. |
| Student Support Services | This page provides a list of Academic Support Services available at the University. |
---
Breadcrumbs
Use the breadcrumbs at the top of the page to easily backtrack to a previous folder. 

---
Commonly Used Blackboard Icons