Chemistry
Heats of Reaction and Hess's Law
Students will use Hess's Law to determine the heat of reaction for the combustion of magnesium.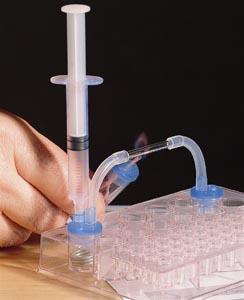 Micro-scale Titration
Students will use microscale titration to determine the percent acetic acid in vinegar.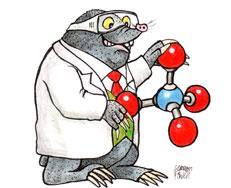 Stoichiometry & The Mole
This activity focuses on a familiar reaction, that of sodium bicarbonate with aqueous acetic acid. Students discover the concept of stoichiometry and limiting reactants in two ways: first by adding vinegar to a small quantity of baking soda until bubbles stop, and second by mixing a constant quantity of baking soda with increasing volumes of vinegar and collecting the carbon dioxide produced in balloons.
The use of Volumetric Glassware
In this experiment you will investigate the precision and accuracy levels permitted by common laboratory volumetric glassware. The cleaning and care of such glassware will also be discussed.
The Determination of Boiling Point
In this experiment, you will check your thermometer for errors by determining the temperatures of two stable reference equilibrium systems. Additionally, you will use your calibrated thermometer in determining the boiling point of an unknown substance.
Electrochemistry
In chemistry and manufacturing, electrolysis is a technique that uses direct electric current (DC) to drive an otherwise non-spontaneous chemical reaction. Electrolysis is commercially important as a stage in the separation of elements from naturally occurring sources such as ores using an electrolytic cell. The voltage that is needed for electrolysis to occur is called the decomposition potential. The word "lysis" means to separate or break, so in terms, electrolysis would mean "breakdown via electricity". In this experiment you will study the electrolysis of water itself and also the electrolysis of a salt solution.