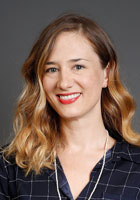 Cathryn Merla-Watson, Ph.D.

Associate Professor

Office: TBA
Email: cathryn.merlawatson@utrgv.edu
Profile

Cathryn Merla-Watson's research and teaching interests include Latinx literary and cultural studies; Latinx speculative aesthetics; gender and critical sexuality studies; Latina feminisms; women and queer of color theories; and feminist geography. She has published in journals such as Aztlán: A Journal of Chicano Studies and Multi-Ethnic Literatures of the U.S. (MELUS) and chapters in anthologies, including Research Justice, edited by Andrew Jolivette, and The Un/Making of Latino Citizenship: Culture, Politics, and Aesthetics. She recently co-edited with B.V. Olguín Altermundos: Latin@ Speculative Literature, Film, and Popular Culture, the first collected works to coalesce scholarship dedicated to codifying and theorizing Latin@ speculative aesthetics.