Faculty Achievements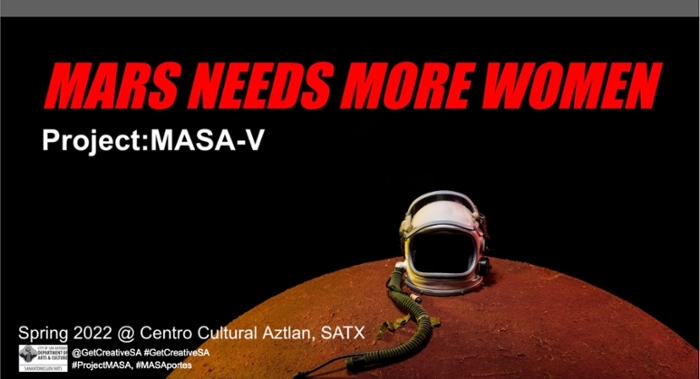 Achievements 2022
Dr. Sarah Perez published the article "Teaching Asian Pacific American Politics at an HSI: Reflections on Lessons Learned and Unexpected Conclusions" in the Journal of Political Science Education in April of 2022
Dr. Cathryn Merla-Watson co-curated the Latinafuturist art exhibit Mars Need More Women at the historic Centro Cultural Aztlán in San Antonio, Texas (March 24, 2022-June 10, 2022).
Dr. Erika R. Rendon-Ramos published the article "Voces De Mujeres: Migration, Family, & Identity through the Voices of Mexican Women" in Contemporary Medusa: International Journal of Interdisciplinary Gender Studies 3 in July of 2022.
Dr. Alejandra Ramírez published a chapter entitled "Perpetual (In)securities: (Re)Birthing Border Imperialism as Understood Through Facultades Serpentinas" in Decolonial Conversations in Posthuman and New Material Rhetorics (2022), edited by Jennifer Clary-Lemon and David M Grant.
Achievements 2021
Dr. Amy Hay published a book, "The Defoliation of America: Agent Orange Chemicals, Citizens, and Protests" (University of Alabama Press, 2021). In the book, Amy M. Hay profiles the attitudes, understandings, and motivations of grassroots activists who rose to fight the use of phenoxy herbicides, or Agent Orange chemicals as they are commonly known, in various aspects of American life during the post-WWII era. Hay focuses her analysis on citizen responses to illuminate how regulatory policies were understood, challenged, and negotiated, contributing to a growing body of research on chemical regulatory policies, risk society, and hazardous chemicals. This volume uncovers new understandings about the authority of the state and its obligation to society, the role of scientific authority and expertise, and the protests made by various groups of citizens.
Dr. Brent M. S. Campney published an article, "Police Brutality and Mexican American Families in Texas, 1945-1980," in the March 2021 issue of The ANNALS of the American Academy of Political and Social Science, entitled "Legacies of Racial Violence: Clarifying and Addressing the Presence of the Past."