Virtual Graduate Student Research Showcase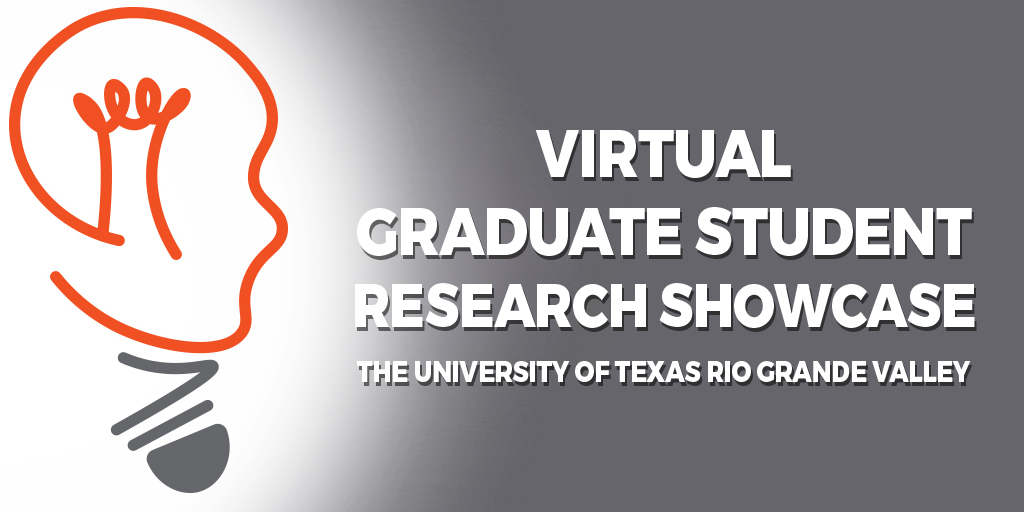 The deadline to submit is Thursday, March 31st, 2022 (at 11:59 pm CDT)
This competition gives the opportunity to graduate students to present their Virtual Graduate Student Research Showcase research, projects or thesis to the students and faculty from different academic fields in a poster competition. Graduate students from all graduate programs are invited to participate.
Scholarships will be awarded to 1st, 2nd, and 3rd place.
1st: $1,000
2nd: $500
3rd: $250
For further information, please contact the Graduate College with any questions at gradcollege@utrgv.edu.
Graduate students interested in participating must complete the following registration form and attach all required documents to be considered for the Virtual Graduate Student Research Showcase. Graduate students must also follow the virtual poster and poster presentation video guidelines below, in order to be approved.
Required Documents
Abstract
Virtual Poster (PDF, PNG, or JPEG formats only)
Poster Presentation Video (No more than 5 minutes)
Click here to register and submit your presentation - The new deadline to submit is Thursday, March 31st, 2022.
Poster Content: Before you get your research ready for a poster, you must speak with your Faculty Advisor or Graduate Program Coordinator for their assistance in creating and/or reviewing your poster.
Getting your research ready for a poster requires you to meet guidelines, student-level scholarly norms in your discipline, and general UTRGV policies. You can seek assistance of your Faculty Advisors and Graduate Program Coordinators to make recommendations on the design of your poster.
When preparing a poster, the following general advice applies:
The title clearly communicates the subject matter.
Clearly state the purpose/objectives and research question.
A concise explanation of the method or analysis used.
The methods used are clearly conveyed.
Results are presenter clearly and appropriately summarized.
Conclusions backed up with data.
How to Create your Poster: There are many programs available to create posters. PowerPoint or Publisher are often used by researchers because these programs are easy to use and accessible. A PowerPoint poster template is available at our resources section. You can also use more advanced programs like Adobe Illustrator or InDesign, but these require a certain amount of knowledge and skills to use.
Make sure that the program you choose allows you to save a custom document size (not to exceed 48 inches wide by 36 inches tall).
Size of Poster: Posters should not exceed 48 inches in width (left to right) and 36 inches in height (top to bottom). Posters should be legible when they are zoomed out or zoomed in.
Color: For the poster color background, it is recommended to choose a lighter color, preferably white. There are no other color restrictions for the text and images.
Font Size: Be sure the title and author are clearly identified. Choose a font size such that text on your poster is legible when you're zoomed out from your digital poster.
Please see the recommendation for font sizes:
85 pt for the title.
56 pt for the authors you choose a lighter color.
36 pt for the subtitles.
24 pt for the main text.
18 pt for image captions.
Design: Utilize appropriate graphics wherever possible to convey information efficiently and to make the poster look attractive. Avoid excessive text since it is difficult to follow the poster.
File Extension: Please make sure your file is saved with a .pdf, .png, or .jpg file extension. The virtual poster registration form will not allow you to upload any other file formats.
Students will need to record & edit their poster presentation video (not to exceed 5 minutes) using any available recording or mobile device following the guidelines listed on this website and upload it as an MP4 video format. The recording will be uploaded to the registration form.
*The videos of the presentations are limited to no more than 5 minutes and competitors who exceed 5 minutes will be disqualified.
A portrait/picture of the student who is participating in the competition.
This photo may be used by the Graduate College to showcase your research.
When uploading a photo in the registration form, you must follow the guidelines found here.
The following criteria will be used by our judges to evaluate and select the winners for this competition:
Statement of Research Question – clearly states the research question with the appropriate background of the bigger picture.
Methodology – methods/techniques are appropriate and properly applied (note to judge – ask about rationale for selection of methods/techniques).
Results – logical, clearly presented and appropriately summarized.
Conclusions, Future Research, References – based on the given results, emphasizes the significance and possible implications of the study.
Overall Presentation – graphics, photographs, other visual aids, and text are well prepared, clean, free of errors and appropriate for the presentation.
*More information on the judging deliberation will be provided soon.
Check out your UTRGV emails and this page for more updates!
FOR MORE INFORMATION
 Contact the Graduate College with any questions: