FESTIBA Schedule
FESTIBA 2022
Inspiring Creativity & Innovation Through Arts and Literacy
Feb.26 - Mar. 6
The Festival of International Books and Arts (FESTIBA) was established in 2006 to promote the importance of literacy, culture and the arts to students, parents, educators and community members throughout the Rio Grande Valley. FESTIBA 2022 features presentations and events from February 26th – March 6th and also includes some special events before and post FESTIBA week. The mission this year is to explore the theme of Inspiring Creativity & Innovation.
Through Arts and Literacy.
Creativity opens the mind and connects us with our imagination and passions, inspiring self-discovery and expression of hidden talents and inner capacities. Creative thinking leads to higher levels of intelligence, innovation and problem-solving skills. It nurtures confidence, instills curiosity, encourages questions, and gives voice to our creative expression.
UTRGV provides community members with the education and opportunity to optimize their success, health and literacy, as well as serves as a gateway to the creative arts, uplifting, connecting and inspiring the entire community. Join us at FESTIBA 2022 to discover how creativity nurtures innovation and inspires exploration and communication.
FESTIBA 2022 will be presented face-to-face and/or virtually this year. Although the overall focus is the exploration of creativity to inspire self-discovery and expression of hidden talents and inner capacities, all topics are welcome.
FESTIBA EXHIBITS
PERFORMING ARTS COMPLEX EXHIBIT HALL
ANCHOR MOMENTS
By:Jessica Monroe Martinez
Inspired by the natural world, artist Jessica Monroe works on location using watercolor, pastels and a camera. She then brings her practice into the studio to create large scale oil paintings based on her studies and photographs. Jessica Monroe Martinez was born in McAllen, Texas. She holds a BA from Southwestern University and studied painting at New York University and the School of the Art Institute of Chicago. For more than 20 years, Monroe has exhibited her work throughout Texas and the Rio Grande Valley.
Spring and Summer 2022
UTRGV Performing Arts Complex
1201 W. University Drive
Edinburg | (956) 665-3480
THE CENTER FOR LATIN AMERICAN ARTS
RGV x Art for Change 2022 Exhibition

The exhibition will explore the theme of sustainability through the unique lenses of contemporary artists. Submitted artwork will communicate the community's collective reflection about the state of sustainability in the environment and culture, particularly how it relates to border identity.
Artwork has been selected based on the portrayal of sustainability, border identity and artistic quality themes that focus on solutions showcasing sustainable practices through conceptual or material qualities in both 2D and 3D works. "The exhibition aims to bring artists in our community together to view works, discuss ideas, make connections and reflect on important messages that inform their artistic process," said Dr. Katherine Moore McAllen, CLAA director and assistant professor of Art History. "The ultimate goal is to support our graduate students like Keatan McKeever in their curatorial efforts to give artists an opportunity to present their current creative works, connect with other artists and receive feedback and support."
Presenters:
The exhibit is organized by Moore McAllen; Keatan McKeever, Master of Fine Arts student and UTRGV Presidential Research Fellowship Grant recipient, and Tim Gonchoroff, assistant professor for the School of Art and Design and director of the UTRGV Galleries, and is designed to support artists – painters, sculptors, printmakers, digital artists, mixed media artists and writers and poets – at UTRGV, as well as members of the community.
Date and Location: The exhibit will be open from Feb. 1-21 at the University Library on the UTRGV Edinburg Campus. It will move to the UTRGV Visual Arts Gallery, located in the Visual Arts Building at 2412 S. Closner Blvd. in Edinburg, from Feb 24 - March 13.
Time: 9 a.m. to 9 p.m.
VIRTUAL EXHIBITS
Link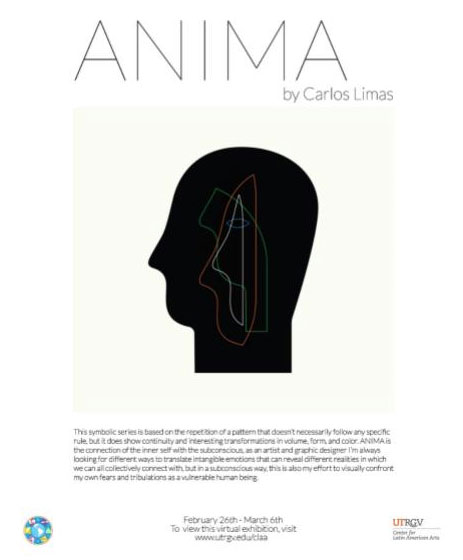 ANIMA
By Carlos Limas.
Carlos Limas, Mexico (b.1970) holds an MFA from the University of Texas Rio Grande Valley in Edinburg, a BA in Studio Art from l'Académie Royale des Beaux-Arts de Bruxelles in Belgium, and a BA in Graphic Design from the Instituto Profesional de Arte y Diseño in Monterrey, México. Limas currently teaches Photography at the UTRGV School of Art and Design, and he is the Chief Coordinator of Media and Graphic Design at the Center for Latin American Arts.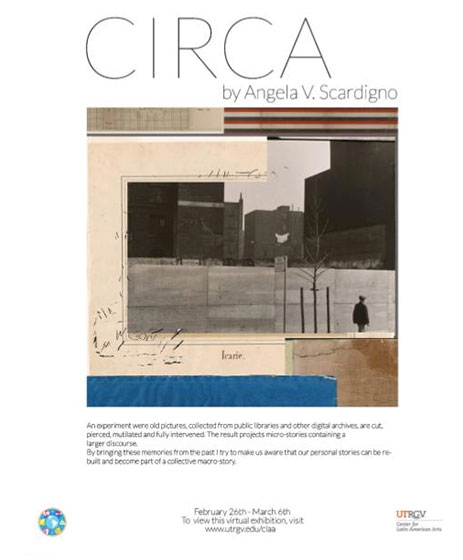 CIRCA
By Angela V. Scardigno
Bio: Angela V. Scardigno graduated as a Graphic Designer from the University of Buenos Aires, Argentina, in 2006. While she attended the University, she took classes in several art workshops taught by masters such as Lautaro Fiszman, Aníbal Cedrón, and Carlos Terribili. Later she moved to the United States, where she completed a Master of Fine Arts degree at the University of Texas Rio Grande Valley in 2019. Scardigno has exhibited throughout the Rio Grande Valley, Argentina, and México, and her work was published in Studio Visit Magazine in 2018. She currently works at the UTRGV Center for Latin American Arts as Coordinator of Media Design and Communications. Scardigno lives and works in McAllen, Texas.
---
Tuesday, February 22 & Wednesday, February 23
Academic Research Is My Business...And Business Is Good! - How To Extract Pertinent Hispanic Author Data From Hispanic Authors Periodical Index (HAPI) & Publicaciones y Revistas Sociales y Humanísticas (PRISMA)
Join John Ferris in this impressively dynamic overview of Hispanic Authors Periodical Index (HAPI) and Publicaciones y Revistas Sociales y Humanísticas (PRISMA) research databases. During this presentation, attendees will be shown how to maximize use of the renown Hispanic and Latin American author-based online research tools to greater success in timely journal article retrieval, extensive individualized publications from multitudes of prominent Hispanic Authors, and connectivity to additional research support from our UTRGV Library Catalog and Google Scholar.
Authors For Presentation Research Examples - Jorge Luis Borges, Gloria Anzaldúa, Jorge Volpi, Juan Rulfo, Américo Paredes, Elena Garro, Isabel Allende, Ernesto Cardenal, Gabriel García Márquez, and Rosario Ferré
Tuesday, February 22, 2022 Presentation: Edinburg Campus Library at 10 a.m.
Wednesday, February 23, 2022 Presentation: Brownsville Campus Library at 2 p.m.
Thursday, February 24
MUSEUM OF SOUTH TEXAS HISTORY
LITERACY THROUGH EXHIBITS
Featuring: Short-term exhibits: Veterans Day, La Epoca de Oro del Cine Mexicano, and The Bishop Raymundo Peña Nativity Collection.
A presentation on how curated displays of objects help spark conversations, and how those conversations can help families speak on times that may not have been easy to speak about without that prompting. The exhibits can also be space for engagement and understanding between multi generations.
Presenters:Melissa Peña, Museum of South Texas History
Location:Museum of South Texas History, Edinburg
Time:10 a.m.
Saturday, February 26
SOUTH TEXAS LITERACY SYMPOSIUM at FESTIBA 2022
FESTIBA's Librarians and Educators Day collaborates with Texas Literacy, and the South Texas Literacy Coalition to present the South Texas Literacy Symposium, a professional development conference for local literacy providers. This free conference is sponsored by Literacy Texas and will include information on various topics including workforce readiness, financial literacy, volunteer management, family literacy, health literacy, grant writing tips and more!
Location: Edinburg Campus, Ballroom
Times:8 a.m. to 4 p.m.
For more information, special accommodations and registration visit:https://www.literacytexas.org/calendar/2022-south-texas/
FACULTY AND STUDENT PRESENTATIONS
February 27 – March 6
Sunday, February 27
NOVITRIO
Presenters:Formed in 2016, NoviTrio is a collaboration of three colleagues – Krista Jobson, flute; Joel Pagán, viola; and Héctor Javier Rodriguez, guitar – from the UTRGV Edinburg Campus.Since forming, the players embody the ensemble's continuing commitment to bridging the musical traditions and practice of Europe and the Americas.
Location:Edinburg Campus, UTRGV Performing Arts Complex
Time:5 p.m.
Monday, February 28
REATIVE WRITING IN A TIME OF CRISIS
Featuring Writers Responding to the Pandemic and Climate Change
Presenters: Moderator: Dr. Steven Schneider. UTRGV undergraduate and graduate student writers.
Location: Contact Professor Schneider at steven.schneider@utrgv.edu for the Zoom link.
Time: 7:30 p.m.
CHARLA Y LECTURA CON LA ESCRITORA Y EDITORA
ESPAÑOLA MA. JOSÉ MIELGO BUSTURIA
Presentan: María José Mielgo Busturia (Literarte Editorial) y Elvia Ardalani (University of Texas-Rio Grande Valley)
Location: Presentación por Zoom: https://utrgv.zoom.us/j/2707038537
Time: 1- 2 p.m. (CT)
KAREN VILLEDA
Renown Mexican writer, poet and digital artist who has received multiple National Literary Awards for her work. Her poetry has been translated to several languages, including Arabic, English, French, German and Portuguese. Her work as poet is part of the Archive of Hispanic Literature on Tape of the Library of Congress (2015) and she is one of the few Mexican writers in the archive.
Presenter: Consul Juan Carlos Cue, Consulate of Mexico in Brownsville
Location: Zoom link https://utrgv.zoom.us/j/2739221841
Time: 10:30 to 11:30 a.m.
Tuesday, March 1
DISCUSSIONS WITH MARGIE LONGORIA, EDITOR OF LIVING BEYOND BORDERS: GROWING UP MEXICAN IN AMERICA
A conversation about the contents, significance, and publication process of a new anthology
Presenters: Author and librarian Margie Longoria
Location: Zoom
Times: 8 - 9 a.m and 12:30 to 1:30 p.m.
Contact amy.cummins@utrgv.edu in the Department of Literatures and Cultural Studies for the Zoom link and more information.
CENTER FOR MEXICAN AMERICAN STUDIES AND GALLERY
A READING AND DISCUSSION WITH IVELISSE RODRIGUEZ
Born in Arecibo, Puerto Rico, Ivelisse Rodriguez grew up in Holyoke, Massachusetts. She earned a B.A. in English from Columbia University, an M.F.A. in creative writing from Emerson College, and a Ph.D. in English-creative writing from the University of Illinois at Chicago. Her short story collection, Love War Stories, a 2019 PEN/Faulkner finalist and a 2018 Foreword Reviews INDIES finalist, was published by The Feminist Press in summer 2018. She is the founder and editor of an interview series, published in Centro Voices, the e-magazine of the Center for Puerto Rican Studies at Hunter College.
Location: Edinburg Campus, ELABS 176
Times: 2 - 3:15 p.m.
MUSEUM OF SOUTH TEXAS HISTORY
THE MULTIPLE LITERACIES OF DIGITAL STORYTELLING
Historias Americanas, a professional development collaborative between UTRGV, the Museum of South Texas History, and the Edinburg and Brownsville school districts featured the process of digital storytelling as a professional and personal development tool. By producing digital stories that focused on family experiences, teachers engaged in critical self-reflective exercises for the purpose of creating stories that drew from their own and their family's lived experiences and cultural knowledge. This session features an analysis of representative stories that expand the idea of literacy and ways literacy can be taught and acquired.
Featuring: Digital storytellers from the RGV: A. Guerrero, J. Olmedo, G. Alonso
Presenters: Maritza de la Trinidad (UTRGV), Francisco Guajardo (Museum of South Texas History) with students of Dr. De La Trinidad's Chicano Movement class
Time: 5 p.m.
Location: Zoom Link:https://us02web.zoom.us/j/85319722783
UTRGV WIND ORCHESTRA AND UTRGV SYMPHONIC WINDS
Presenters: UTRGV School of Music with Conductor Dr. Saul Torres
Location: Brownsville Campus, TSC Fine Arts Center
Time: 7 p.m.
Tuesday & Wednesday, March 1 & 2
GEAR UPS DAYS at FESTIBA 2022
FESTIBA partners with the UTRGV and Region One GEAR UP programs to host hundreds of public school Gear Up students at the UTRGV Edinburg and Brownsville campuses. The students attend inspirational presentations and sessions on the power of creativity, development of literacy skills and self-expression for life success, and tips on college-readiness.
Wednesday, March 2
MUSEUM OF SOUTH TEXAS HISTORY
THE LETTERS OF FREDDY GONZALEZ: LETTER WRITING AS LITERACY
Featuring: Letters written by Medal of Honor Recipient Alfredo Gonzalez
Edinburg native and Congressional Medal of Honor recipient Sgt. Alfredo Gonzalez wrote to his mother during his two tours of duty from Vietnam. Between 1965 and a few days before he was killed at the Battle of Hue in 1968, Sgt. Gonzalez wrote 150 letters that his mother Dolia Gonzalez kept. Ms. Gonzalez kept the letters in her possession for over 50 years, until the day she donated them to the Museum of South Texas History. The museum now utilizes the letters as a source of letter-writing inspiration by conducting writing workshops with local students and teachers. This presentation tells the story of the letters and how the museum uses them to build academic skills with students.
Presenters: Francisco Guajardo, Kelly Francis-Love, and Debra Arce with ECISD teachers and students
Time: 10 a.m.
Location: Zoom Link:https://us02web.zoom.us/j/81823516863
JÓVENES NARRADORES FRONTERIZOS
Presentan: Jorge Sáenz, Catalina Salinas
Moderadora: Elvia Ardalani
Time: 1 – 2 p.m. (CT)
Location: Presentación por Zoom:https://utrgv.zoom.us/j/2707038537
KIEFFER ENTERPRISES: A PORCIÓN OF EDINBURG
This is the first component of an annual lecture series to showcase UTRGV's CHAPS Program's ongoing research. For the tenth year, the CHAPS Program class "Discovering the Rio Grande Valley" has recorded the history of a family and its land in Edinburg through archaeological, biological, and geological survey, and in oral and documentary history. This presentation details the findings of this project in anticipation of the publication of the final report later this year.
Student presenters: David Barron - UTRGV Graduate Student of History, Starr Hein - UTRGV Graduate Student of Anthropology, Joey Rios – UTRGV Graduate Student of History, and Leslie Torres, UTRGV Undergraduate Student of History
Faculty Advisor: Roseann Bacha-Garza – UTRGV CHAPS Program Director/Lecturer Anthropology
Location: Edinburg Campus, ELABN 101
Time: 12:30 - 1:30 pm.
GAMIFICATION TO ENHANCE INFORMATION LITERACY LEARNING
The information landscape is consistently changing and there is a need to teach basic skills to not only students but the general public. Join a Research and Instruction Librarian to discuss the addition of game play to information literacy instruction.
Presenters: Carlton T. Nelson Research and Instructional Services UTRGV Librarian
Location: UTRGV Edinburg Campus Library 3.117
Time: 3 – 4 p.m.
Thursday, March 3
UTRGV VOCES OF A PANDEMIC ORAL HISTORY PROJECT: INNOVATIVE PEDAGOGY, INNOVATIVE MULTIDISCIPLINARY RESEARCH
This panel celebrates the digital and democratic pedagogy of UTRGV Voces of a Pandemic and its partnership with UT-Austin Voces Oral History Center and showcases multidisciplinary research that makes use of the significant oral histories that inform this sizable digital collection centralizing Latinx lives in the era of COVID-19.
Presenters: Dr. Noreen Rivera, Associate Prof., UTRGV, Jackie Pedota, UT-Austin, M.Ed, Reyna M. Flores, UT-Austin, M.Ed., and Leslie Torres, UTRGV, undergraduate
Time: 12 – 1 p.m. CST
Location:https://utrgv.zoom.us/j/8289511284
ESCRIBIR SOBRE LA FRONTERA: EL SÓTANO DEL CARACOL. LECTURA Y CHARLA SOBRE LA NOVELA
Presentan: Elvia Ardalani (autora), María José Mielgo Busturia (editora) y Dr. Rodrigo Pereyra (Southeastern Louisiana University).
Time: 1 - 2 p.m. (CT)
Location: Presentación por Zoom:https://utrgv.zoom.us/j/2707038537
ANCIENT LANDSCAPES OF SOUTH TEXAS: HIDING IN PLAIN SIGHT
This is the second component of an annual lecture series to showcase UTRGV's CHAPS Program's ongoing research. The CHAPS team has embarked on a new initiative to rediscover the ancient landscapes of the Rio Grande Valley region dating back to 43 million years ago and has created a Geo-heritage and Geo-tourism trail for regional residents and visitors to enjoy. This presentation will reveal many regional sights featured in our photo-tourism book, tourism guide map, and K-12 educational tools.
Faculty Presenter: Roseann Bacha-Garza UTRGV CHAPS Program Director/Lecturer Anthropology
Location: Edinburg Campus, ELABN 10
Time: 3:30 - 4:30 p.m
Thursday & Friday, March 3 & 4
READING ROCK STARS
Visits to Public Schools with Book Distributions
In keeping with our mission to promote early childhood reading, FESTIBA is proud to present the "Reading Rock Stars" program in partnership with the Texas Book Festival. This program is a popular mainstay of FESTIBA, and children receive a signed book by an author of national repute.
2022 Reading Rock Stars Schools and Authors:
Schools: Hurla Midkiff, Mission; Bryan Elementary, Mission; Guillermo Flores Elementary, La Joya; EB Guerra Elementary, Edinburg; Cesar Chavez Elementary, Pharr; Dr. RE Margo Elementary, Weslaco
Authors: Jon Scieszka, Steven Weinberg, David Bowles, Michael Genhart, Raquel Ortiz, Diana Lopez, Victoria Castillo, Anna Meriano.
Thursday & Friday, March 3 & 4
FESTIBA 2022 MARIACHI FESTIVAL
Masterclasses, Competitions & Concert featuring Aida Cuevas, José Hernández, Octavio Moreno, and a fascinating History of Mariachi Masterclass with Jonathan Clark and Mark Fogelquist (Zoom)
So excited to have these great musicians and historians joining us - the nation's foremost mariachi educator, José Hernández, the operatic baritone Dr. Octavio Moreno, and La Reina de los Mariachis, Aida Cuevas!
$25.00 registration fee includes concert ticket. Individual Concert tickets are $10.
Limited number of seats available. For more information and registration visit:https://www.utrgv.edu/music/community-outreach/festivals/mariachi-festival/index.htm
SCHEDULE
March 3
The History of Mariachi with Jonathan Clark and Mark Fogelquist Virtual Presentation at 7 p.m. Contact dahlia.guerra@utrgv.edu
March 4
Masterclasses, Competition, Grand Concert at UTRGV
Schedule:
8:00 a.m.             Welcome and Registration
9:00–10:00 a.m.  Dr. Octavio Moreno, baritone, Vocal Masterclass
10:00–11:00 a.m. José Hernández, founder & Director of Mariachi Sól de México, presentation
11:00 – 11:45 a.m.  Aida Cuevas, La Reina de Los Mariachis, interview
12:00 – 1:00 p.m.  Lunch on your own
12:00 – 1:00 p.m.  Middle School and High School Mariachi Competitions
9:00 p.m.             Grand Concert: UTRGV PAC Auditorium With special guests: Aida Cuevas, Jose Hernandez, Octavio Moreno Mariachi Aztlán,Grand Champion High School Competition Winner. Middle School Group Winner Vocal Competition Finals
Location: Edinburg Campus, UTRGV Performing Arts Complex
On April 22nd, in Brownsville and in collaboration with the Nuestra Cultura Mariachi Festival, FESTIBA 2022 will present a workshop that will feature the fabulous Mariachi Los Camperos and Pedro Fernandez, Mexican singer. Don't miss these great opportunities to celebrate the very best of the mariachi music tradition. See attached schedule for April events. ($45.00 registration fee includes concert ticket)
Saturday, March 5
FESTIBA 2022 COMMUNITY FESTIVAL STORYWALK
Join us for a "Storywalk" in collaboration with the South Texas Literacy Coalition and the City of Edinburg, at a venue to be determined. StoryWalk® is an innovative and delightful way for children — and adults! — to enjoy reading and the outdoors at the same time. Laminated pages from a children's book are attached to wooden stakes, which are installed along an outdoor path. As you stroll down the trail, you're directed to the next page in the story. Thousands of free books will be distributed by the South Texas Literacy Association! Also features Food Trucks and great music!
Location: Edinburg City Hall
Time: 4 - 8 p.m.
Sunday, March 6
UTRGV DANCE PROGRAM
UTRGV Dance Program will be hosting the Dance Adjudication Festival Gala Concert. The objective of this Gala concert is to present the most outstanding performers/groups from the Dance Adjudication Festival at the UTRGV Performing Arts Complex auditorium.
Faculty Presenter: Miguel Peña with Ballet Folklórico UTRGV
Location: Edinburg Campus, Performing Arts Complex
Time: 5.p.m.
Tickets: $10 General Admission and $5 students/children
POST FESTIBA EVENTS!
Tuesday, March 8
THE CENTER FOR LATIN AMERICAN ARTS
CERAMICS IN THE REALM OF SOCIAL PRACTICE
This ceramics workshop hosted by the Center for Latin American Arts will present the work and ideas of ceramics artists Brandi Cooper UTRGV faculty member in the School of Art & Design, Raheleh Filsoofi of Vanderbilt University, and Lauren Sandler of Temple University. This event and roundtable is open to all students and faculty and is organized in conjunction with the Uncovered Spaces exhibition at the IMAS museum opening on March 24th.
Location: Edinburg Campus, Center for Latin American Arts, Edinburg Library, second floor
Time: 2 p.m.
March 25, 26, 26 & April 1, 2, 3
UNIVERSITY PRODUCTIONS (RESCHEDULED)
CORIOLANUS by William Shakespeare
Directed by Brian Warren
Politics, violence, ambition, and revenge are at the center of this Shakespearean tragedy. Coriolanus is thrust into an election after a great military victory. How will he balance his ambitions with those of his family and with the needs of the people of Rome? Tragedy, Drama
NEW DATES:
March 25, 7:30 p.m.
March 26, 7:30 p.m. - ASL Interpretation
March 27, 2:00 p.m.
April 1, 7:30 p.m.
April 2, 7:30 p.m.
April 3, 2:00 p.m.
Location: Edinburg Campus, Albert L Jeffers Theatre (Edinburg Liberal Arts Building South) For more information or special accommodations call (956) 665-3581 or visit utrgv.edu/theatre