Sub Menu Toggle
UTRGV students and faculty provide medical attention in rural Nicaragua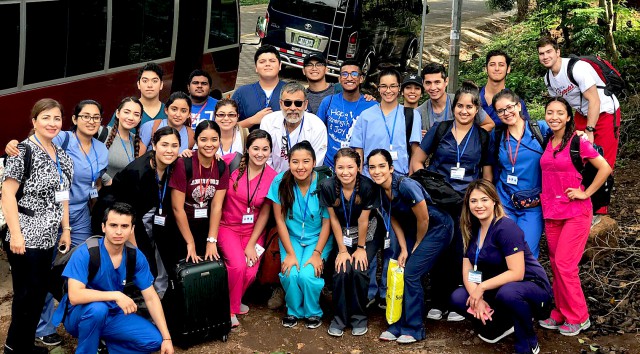 UTRGV biomedical sciences students provided healthcare this summer for patients in rural Nicaragua. A group of 25 students and two faculty members with the UTRGV chapter of Medical Brigades – a student-led organization that focuses on providing medical attention to underserved areas both domestic and overseas – provided consultations, medications, dental work, lab work and preventive educational presentations to more than 800 people in three rural communities in Nicaragua: Susuli Central, El Zapote and El Hatillo. (Courtesy Photos)
RIO GRANDE VALLEY, TEXAS – OCT. 12, 2017 – A group of 25 biomedical sciences students and two faculty members from The University of Texas Rio Grande Valley this summer provided basic medical services and information to rural communities in Nicaragua.
The UTRGV Medical Brigades chapter, a student-led organization that focuses on providing medical attention to underserved areas both domestic and overseas, provided consultations, medications, dental work, lab work and preventive educational presentations to more than 800 people from Aug. 20-26 in three rural communities in Nicaragua: Susuli Central, El Zapote and El Hatillo.
Dr. Hugo Rodriguez, assistant professor of health and biomedical sciences, said this type of work is essential for both the patients and the students.
"The biggest issue there is the lack of resources. Since these are rural communities, most of the people have not seen a physician or a healthcare provider in months or years, if at all," he said. "Students got to compare how the lifestyle, culture and healthcare system are different there, and I think now they have a different perspective on what it truly means to work in healthcare."
Maria Castañeda, a health and biomedical sciences lecturer who attended the trip, has participated in programs like this before and was impressed by this group's morale and eagerness to serve.
"There are a few parts of the trip that some people may not have found too enjoyable, such as bathing in cold water, the different food, sleeping on a stiff bed. It was far from a 5-star experience. But when you see the conditions, it makes you realize how privileged you are," she said. "Though, even with such a large group of students, we did not ever hear any complaints. They all worked together as a team and were eager to continue serving every day."
Nitchelle Rodriguez, a biomedical sciences major and student leader from Medical Brigades, said the experience made her appreciate her life at home and provided valuable experiences she hopes to use in the future as a physician assistant.
"It changed me as a person. It made me grateful for what I have," she said. "I want to go to PA school after I graduate, so it was awesome to experience patient contact in such a unique context."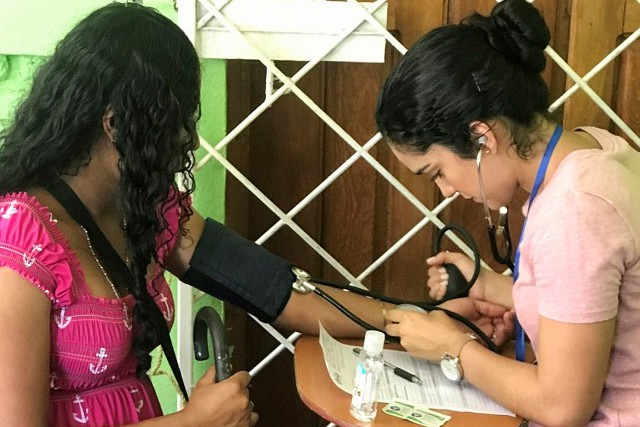 THE STUDENTS
UTRGV students who participated in the trip to Nicaragua are Adrian Maldonado, Alberto Arroyo, Alessa Ramirez, Alonso Acosta, Amanda Salas, Angelica Leal, Carina Calvillo, Carlos Huerta, Daniela Vidal, Edgar Capistran, Graciela Alvarez, Graciela Carrillo, Hector Filizola, Jasmine Luke, Lakshman Vigneswaran, Maria Vaca, Matthew Mercado, Melanie Vance, Nitchelle Rodriguez, Roxanne Guzman, Sachin George, Shaira Perez, Shianne Montalvo, Vanessa Cavazos and Viviana Quintero.
ABOUT UTRGV
The University of Texas Rio Grande Valley (UTRGV) was created by the Texas Legislature in 2013 as the first major public university of the 21st century in Texas. This transformative initiative provided the opportunity to expand educational opportunities in the Rio Grande Valley, including a new School of Medicine, and made it possible for residents of the region to benefit from the Permanent University Fund – a public endowment contributing support to the University of Texas System and other institutions.
UTRGV has campuses and off-campus research and teaching sites throughout the Rio Grande Valley including in Boca Chica Beach, Brownsville (formerly The University of Texas at Brownsville campus), Edinburg (formerly The University of Texas-Pan American campus), Harlingen, McAllen, Port Isabel, Rio Grande City, and South Padre Island. UTRGV, a comprehensive academic institution, enrolled its first class in the fall of 2015, and the School of Medicine welcomed its first class in the summer of 2016.
PHOTO GALLERY: https://utrgv-umc.photoshelter.com/galleries/C0000CGaoQZCiNqs/G0000Zz2Ex1MZfaY/20170926-Study-Abroad-Nicaragua
MEDIA CONTACTS
J. Edward Moreno
UTRGV Staff Writer / 956-665-3639
Marci Caltabiano-Ponce
UTRGV Director of News and Internal Communications / 956-665-2742