Sub Menu Toggle
UTRGV's Riahi named 2018 Fellow by Society of Engineering Science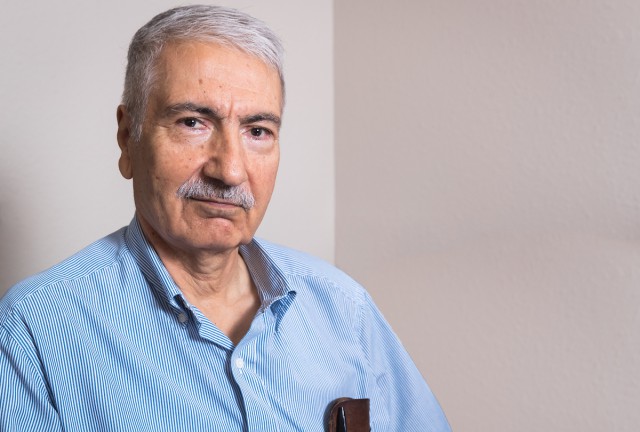 Dr. Daniel Riahi, a professor of mathematics in the UTRGV School of Mathematical and Statistical Sciences, has been named a 2018 Fellow by the Society of Engineering Science (SES), with induction slated during the organization's annual Technical Meeting Oct. 10-12, 2018, at the University of Madrid in Spain. Riahi, born in Iran, has been with UTRGV since 2015, and had been with UT Pan American since 2005. (UTRGV Photo by David Pike)
By Steven Masso
RIO GRANDE VALLEY, TEXAS – NOV. 27, 2017 – Dr. Daniel Riahi, a professor of mathematics in the UTRGV School of Mathematical and Statistical Sciences, has been named a 2018 Fellow by the Society of Engineering Science (SES), with induction slated during the organization's annual Technical Meeting Oct. 10-12, 2018, at the University of Madrid in Spain.
Riahi, who was born in Iran, has been with UTRGV since 2015 and had been with legacy institution UT Pan American since 2005.
"I am honored to receive this prestigious award," he said, "and I would like to express my appreciation to everyone who has congratulated me."
Riahi was a professor from 1980 to 2005 at the University of Illinois at Urbana-Champaign, where he taught graduate and undergraduate courses in Fluid Mechanics, Convective Heat Transfer, Instability and Transition (a graduate course he developed), Engineering Mechanics and others. He received the honorific title of Professor Emeritus in 2005. He had three research projects funded by NASA between 1989 and 1993, and in 1986 was invited to be a visiting scholar at the University of Cambridge in the United Kingdom. He is the author or co-author of more than 380 research papers published in rigorously refereed journals.
His areas of expertise are applied mathematics, math modeling and computation, fluid mech, and biomedical application.
Riahi attributes his success in part to the support he has received from UTRGV and other universities where he has served.
"I'm very thankful to this university community, especially to my colleagues and students," he said. "There was a great deal of joint research and collaboration that went into my work."
Riahi advises young engineers to focus on their goals and never give up.
"I've always strived to achieve this sort of recognition," he said. "I tell the younger engineers to do the same by working hard and remaining persistent until you reach your goal."
ABOUT THE SOCIETY OF ENGINEERING SCIENCE
The SES was founded in 1963 to "promote the free exchange of information on all aspects of engineering science and to provide a forum for discussion, education, and recognition of the talents of the engineering science community," and an SES fellowship is considered prestigious in the fields of science and engineering. According to the SES website, "A fellow shall be an individual who is distinguished in some field in which the Society has interest, who has been a Regular or Life Member of the Society for at least five years, and whose contributions to the Society and the technical community have justified this honor."
FULL LIST OF SES FELLOWS 1975 – 2018: http://ses.egr.uh.edu/honors-awards/ses-fellows
ABOUT UTRGV
The University of Texas Rio Grande Valley (UTRGV) was created by the Texas Legislature in 2013 as the first major public university of the 21st century in Texas. This transformative initiative provided the opportunity to expand educational opportunities in the Rio Grande Valley, including a new School of Medicine, and made it possible for residents of the region to benefit from the Permanent University Fund – a public endowment contributing support to the University of Texas System and other institutions.
UTRGV has campuses and off-campus research and teaching sites throughout the Rio Grande Valley including in Boca Chica Beach, Brownsville (formerly The University of Texas at Brownsville campus), Edinburg (formerly The University of Texas-Pan American campus), Harlingen, McAllen, Port Isabel, Rio Grande City, and South Padre Island. UTRGV, a comprehensive academic institution, enrolled its first class in the fall of 2015, and the School of Medicine welcomed its first class in the summer of 2016.

MEDIA CONTACTS
Steven.Masso01@UTRGV.edu
Student Writer / 956-882-7684
Marci.Caltabiano@UTRGV.edu
UTRGV Director of News and Internal Communications / 956-665-2742