Sub Menu Toggle
UTRGV honors veterans with a ceremony ahead of national holiday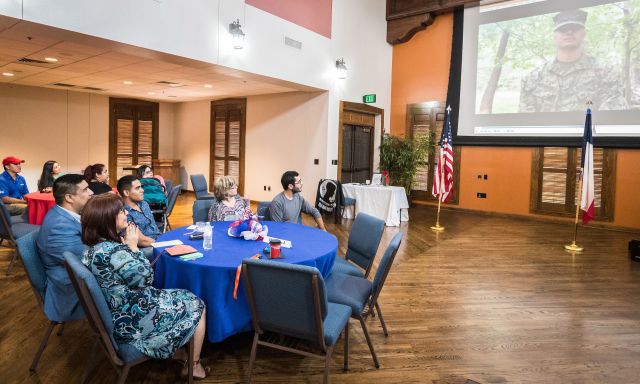 The University of Texas Rio Grande Valley honored its veterans during its annual UTRGV Veterans Day ceremony, which kicked off on the UTRGV Brownsville Campus Wednesday, Nov. 8. The UTRGV Edinburg Campus will host a second ceremony in Edinburg on Thursday, Nov. 9. During the ceremony, Service Appreciation Award winner Patricia Rodriguez, program coordinator for the UTRGV Military & Veterans Success Center, received a recorded video message from her son, who is currently serving in the military. (Photo by David Pike.)
By Vicky Brito
BROWNSVILLE, TEXAS – NOV. 8, 2017 – For Randall Scott Cuevas, Veterans Day is a celebration for military men and women who were willing to put everything on the line for our country.
The University of Texas Rio Grande Valley Military and Veteran Success Center on Wednesday hosted a Veterans Day ceremony at the PlainsCapital Bank El Gran Salón on the Brownsville Campus to honor those in the UTRGV community who have served in the military. 
"It is not easy being in the military and a big part of this is to show appreciation to them," said Cuevas, an undergraduate student pursuing a degree in psychology who served as master of ceremony for the event.
Cuevas served in the U.S. Army, from 2010 to 2014, and recalls his time as one of the most exciting of his life.
"It was difficult at times but I was able to endure," Cuevas said. "There were lots of places I saw and people I met that I wouldn't have met if it weren't for the Army. At the end, I am grateful for that experience."
Rand Binford, education coordinator for the Texas Veterans Commission who served 35 years in the U.S. Army, was the keynote speaker.
"We pay tribute to all of our veterans on the 11th of November," he said. "We remember and mourn the losses of our brothers, sisters, fathers, mothers, sons and daughters who gave the ultimate sacrifice for our nation. We pay tribute to all of our veterans who have worn a uniform in times of peace and in war. We recognize that to be a veteran is to have served our fellow citizens, to have set aside our personal interests for those of a larger purpose, a collected interest of defending our nation against all things foreign and domestic."
Binford said it is important to notice and remember both visible and invisible scars veterans carry as a reminder of their sacrifice to ensure that they successfully return to the community as welcomed, respected, productive, law abiding, members of the community.
"While veterans are returning to our communities, the education methods they learned are essential for a successful transition from the uniform and body armor of Iraq or Afghanistan to the pinstripes and business wear of tomorrow," he said. "Education and willingness to work hard and take on greater responsibility are the best measures of our veterans."
Binford thanked the UTRGV administration for ensuring the success of all veteran students and their classmates.
 
"UTRGV has made the commitment in time and talent to ensure our veterans attend school here and are supported, encouraged, accountable, and are integrated into the university," he said.
Another Veterans Day ceremony is planned for Thursday, Nov. 9, at 11 a.m. at the Student Union Plains Capital Bank Theater on the Edinburg Campus.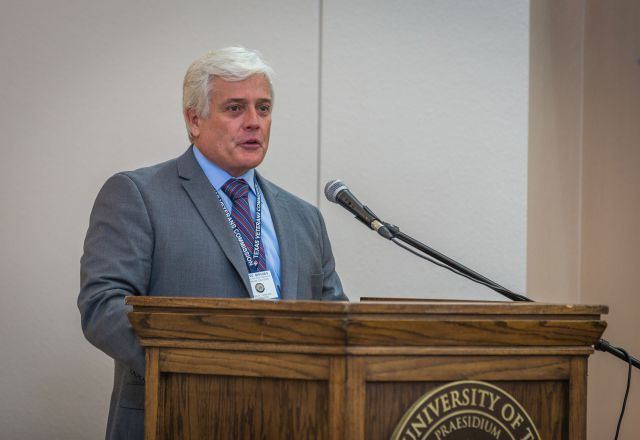 The University of Texas Rio Grande Valley honored its veterans during its annual UTRGV Veterans Day ceremony, which kicked off on the UTRGV Brownsville Campus Wednesday, Nov. 8. The UTRGV Edinburg Campus will host a second ceremony in Edinburg on Thursday, Nov. 9. Pictured is keynote speaker Rand Binford, education coordinator for the Texas Veterans Commission and U.S. Army Veteran. (Photo by David Pike.)
PHOTO GALLERY
https://utrgv-umc.photoshelter.com/galleries/C0000OxOMyzQL3z4/G0000sDkap7fuTds/20171108-Veterans-Day-BC-DP

Password: vet (case sensitive)
ABOUT UTRGV

The University of Texas Rio Grande Valley (UTRGV) was created by the Texas Legislature in 2013 as the first major public university of the 21st century in Texas. This transformative initiative provided the opportunity to expand educational opportunities in the Rio Grande Valley, including a new School of Medicine, and made it possible for residents of the region to benefit from the Permanent University Fund – a public endowment contributing support to the University of Texas System and other institutions.
UTRGV has campuses and off-campus research and teaching sites throughout the Rio Grande Valley including in Boca Chica Beach, Brownsville (formerly The University of Texas at Brownsville campus), Edinburg (formerly The University of Texas-Pan American campus), Harlingen, McAllen, Port Isabel, Rio Grande City, and South Padre Island. UTRGV, a comprehensive academic institution, enrolled its first class in the fall of 2015, and the School of Medicine welcomed its first class in the summer of 2016.
MEDIA CONTACTS
Victoria.Brito @UTRGV.edu
UTRGV Informational Writer / 956-882-4330
Marci.Caltabiano@UTRGV.edu
UTRGV Director of News and Internal Communications / 956-665-2742