Sub Menu Toggle
Lotería helps UTRGV graphic design student hit the jackpot in 2017 holiday card contest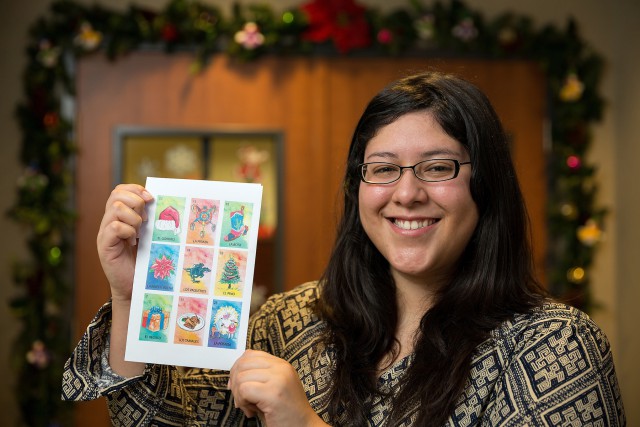 UTRGV senior graphic design student Fabiola Muñoz holds her winning holiday card, themed after the Mexican bingo game, Lotería. Muñoz will be acknowledged and will accept her $1,000 scholarship award during President Guy Bailey's Holiday Receptions, Tuesday, Dec. 12, at the Performing Arts Center lobby on the Edinburg Campus, and Thursday, Dec. 14, at El Gran Salón on the Brownsville Campus. (UTRGV Photo by Paul Chouy)
By Amanda A. Taylor
RIO GRANDE VALLEY, TEXAS – DEC. 4, 2017 – The holidays are the perfect time to bring families together to celebrate traditions that ring in the season. Those traditions are important to UTRGV graphic design student Fabiola Muñoz, so she turned to them when she entered the 2017 President's Holiday Card design contest.
"I was confused at first about what to do because there are so many things my family does during the holidays," she said. "But I didn't want to make it too complicated. I wanted everyone to understand the card. That's why I went with the Lotería theme."
It was a good call: Muñoz's card was selected as the winning entry and garnered her a $1,000 scholarship.
The winners will be acknowledged at President Guy Bailey's Holiday Receptions, Tuesday, Dec. 12, at the Performing Arts Center lobby on the Edinburg Campus, and Thursday, Dec. 14, at El Gran Salón on the Brownsville Campus.
Lotería is a Mexican bingo game featuring iconic characters like La Rosa (the rose), La Sirena (the mermaid) and La Luna (the moon).
Muñoz's holiday Lotería card included images representative to her family's traditions. In nine separate cells, Muñoz hand drew images of El Gorrito (Santa Hat), La Piñata, La Bota (Boot), La Noche Buena (Poinsettia), Los Vaqueros (UTRGV mascot), El Pino (Christmas Tree), El Regalo (a gift), Los Tamales and La Posada (a Mexican tableau that recreates Joseph and Mary's journey to the Bethlehem).
"My family celebrates the posada; we have a lot of tamales and gifts, and my mom loves noche buena, so that's why I put the flower on the card," she said.
"My family is mixed between American and Mexican, and we're mostly from Texas, and that's why I put the boot on the card. The card represents a little bit of everyone in my family."
In the center of the card is a special spot reserved for Los Vaqueros (UTRGV mascot), to represent Muñoz's pride in her university.
Muñoz drew each image with vibrant watercolors and ink, then scanned them into Photoshop, where she arranged the cells and added text.
Originally from Matamoros, Muñoz is a full-time graphic design student taking classes on both the Brownsville and Edinburg campuses. She also works full-time as a graphic designer for the Spanish-language newspaper El Nuevo Heraldo.
She is on schedule to graduate in fall 2018 with a Bachelor of Fine Arts in graphic design.
As this year's holiday card winner, Muñoz gets a $1,000 scholarship, and her card will be shared with UTRGV faculty and staff, donors, friends of the university and elected officials across the state and country.
"It was so surreal when I found out I won. It was as if all my hard work had paid off," she said. "My family is so proud of me."
Muñoz said she plans to use the scholarship money to help create her final senior project before graduation – a professional graphic design portfolio.
The second- and third-place winners of the holiday card contest each will be awarded a $500 scholarship at the awards ceremony.
Carla Santillana, a junior at UTRGV pursuing a Bachelor of Fine Arts in art education, took second place for her depiction of a Couch's Kingbird, the Port Isabel Lighthouse and a cowboy hat surrounded by multicolored lights. 
Alexandra Mendoza, a junior at UTRGV pursuing a Bachelor of Fine Arts in graphic design, was awarded third place for her card, which features a pickup truck filled with colorful gifts and a piñata.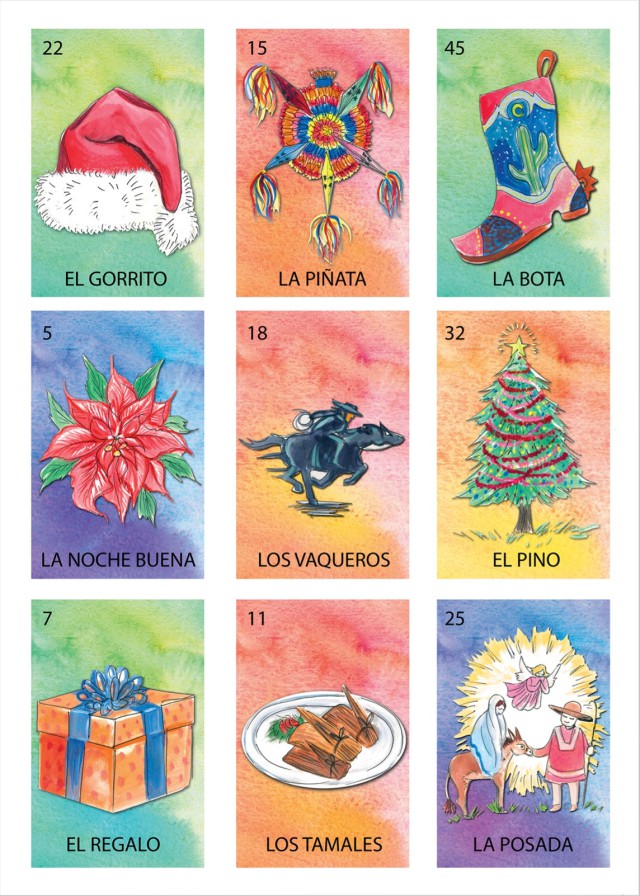 ABOUT UTRGV
The University of Texas Rio Grande Valley (UTRGV) was created by the Texas Legislature in 2013 as the first major public university of the 21st century in Texas. This transformative initiative provided the opportunity to expand educational opportunities in the Rio Grande Valley, including a new School of Medicine, and made it possible for residents of the region to benefit from the Permanent University Fund – a public endowment contributing support to the University of Texas System and other institutions.
UTRGV has campuses and off-campus research and teaching sites throughout the Rio Grande Valley including in Boca Chica Beach, Brownsville (formerly The University of Texas at Brownsville campus), Edinburg (formerly The University of Texas-Pan American campus), Harlingen, McAllen, Port Isabel, Rio Grande City, and South Padre Island. UTRGV, a comprehensive academic institution, enrolled its first class in the fall of 2015, and the School of Medicine welcomed its first class in the summer of 2016.
MEDIA CONTACTS
Amanda.Taylor01@utrgv.edu
Senior Writer / 956-665-7995
Marci.Caltabiano@UTRGV.edu
UTRGV Director of News and Internal Communications / 956-665-2742