Sub Menu Toggle
UTRGV's CHAPS program garners Merit Award from Texas Historical Commission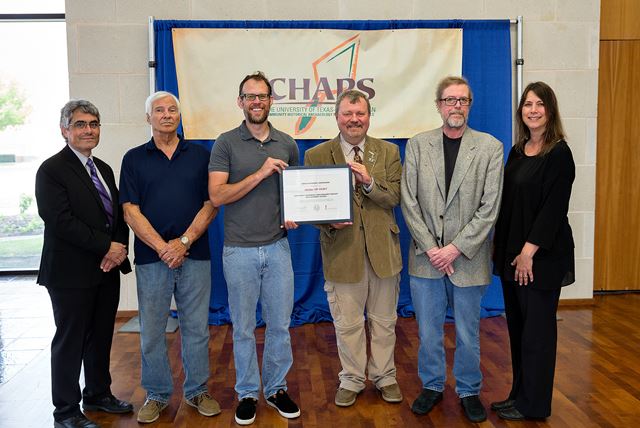 The UTRGV Community Historical Archaeology Project with Schools (CHAPS) received an Award of Merit from the Texas Historical Commission on Wednesday, May 25, 2016, at the Visitor's Center in Edinburg. Shown here are UTRGV Dean of the College of Liberal Arts Walter Diaz; Professor of Biology Rod Summy; terrestrial archeologist Casey Hanson of the Texas Historical Commission; CHAPS Director Russell Skowronek, professor of anthropology and history and associate dean of the School of Interdisciplinary Studies and Community Engagement; Professor of History Christopher Miller; and CHAPS Program Manager Roseann Bacha-Garza. (UTRGV Photo by Paul Chouy)
By Gail Fagan
RIO GRANDE VALLEY, TEXAS – MAY 25, 2016 – The Texas Historical Commission has recognized The University of Texas Rio Grande Valley's Community Historical Archaeology Project with Schools (CHAPS) with an Award of Merit for its efforts to preserve Texas' cultural and historic resources.
Texas Historical Commission Media Relations Coordinator Alicia Downard said the award acknowledges the quality, integrity and impact of CHAPS work.
"CHAPS has embraced history education across multiple disciplines – including archeology, preservation, anthropology and geology – cultivating and sharing the results of their work in a variety of mediums for the benefit of all in the community," Downard said. "CHAPS has served as a connector between preservation organizations and the community, facilitating education initiatives for students and teachers alike."
A three-member committee of Texas Historical Commission staff reviews nominations, with final approval given by the executive director. The committee evaluates the nominee's efforts in support of the commission's mission to preserve and protect the state's historic and prehistoric resources for the use, education, enjoyment and economic benefit of present and future generations.
Established in 2009 at UTRGV legacy institution UT Pan American, CHAPS has created awareness of local cultural and natural history and its importance to the future of the Rio Grande Valley; helped local school districts develop interdisciplinary K-12 curricula to prepare students for enrollment in STEM (science, technology, engineering and mathematics) subjects; and taught students the importance of stewardship, such as site preservation, ethics, and laws that affect local non-renewable resources.
CHAPS is co-directed by Dr. Russell Skowronek, UTRGV professor of anthropology and history and associate dean of the School of Interdisciplinary Studies and Community Engagement; Dr. Christopher Miller, professor of history; and Dr. Juan Gonzalez, professor of multidisciplinary science. Other principal CHAPS faculty and staff include Dr. Rod Summy, professor of biology; Dr. Nick Taylor, communications lecturer; Bobbie Lovett, anthropology lecturer and field archaeologist (until her recent death); and Roseann Bacha-Garza, program manager.
Skowronek said it is an honor to have the work CHAPS has done in the past seven years be recognized.
"This is a stamp of approval that CHAPS is not just recognized regionally and statewide, but nationally, because the Texas Historical Commission is one of the leading organizations in the United States," he said. "Over the past seven years, we have endeavored to conduct creative place-based local research, which not only engages students and the community but also adds to our scholarly knowledge of the cultural and natural history of deep South Texas. We envision a not too distant future where eco- and heritage tourism are melded and can serve as an engine for economic development and issues surrounding livability in the Valley."
One of the newest CHAPS projects is creation of the Rio Grande Valley Civil War Trail, designed to provide a virtual "tour" in the form of a brochure containing a map and guide with an associated website, podcasts and QR codes that present a conceptual walk from Laredo to Brownsville through key historic locations that played significant roles in Civil War history in South Texas.
This year, CHAPS faculty and staff have conducted trail-related professional development workshops with Valley K-12 educators and devised lessons plans on the trail to be incorporated into their classrooms.
Casey Hanson, Texas Historical Commission regional archeologist/project reviewer, who presented the award, called CHAPS a unique and well-deserving program.
"There is nothing like this in terms of a local community history program in the state," he said. "History has been a kind of underserved thing in the Valley in general, so it is unbelievable that they have put this together. It is fantastic."
The CHAPS program was recognized last year by the Texas Archeological Society with its Distinguished Service Award, for efforts toward the advancement of Texas archaeology.
For more information on CHAPS, contact Bacha-Garza at roseann.bachagarza@utrgv.edu or (956) 665-3231.
MEDIA CONTACTS

Marci.Caltabiano@UTRGV.edu
UTRGV Director of News and Internal Communications
956-665-2742
Jennifer.McGehee@UTRGV.edu UTRGV Director of Public Relations
956-882-5105