Sub Menu Toggle
UTRGV STDOI researchers studying data from India for relevance to Valley's diabetes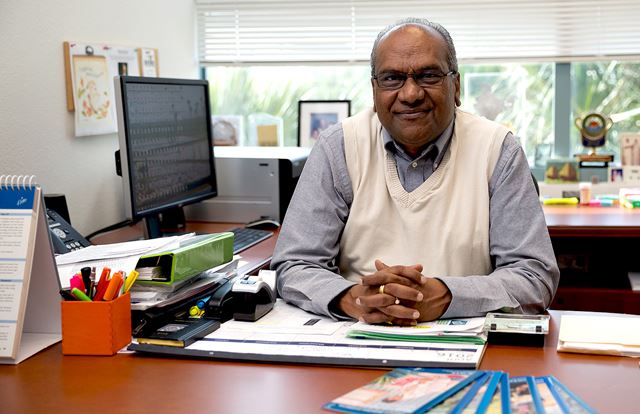 Dr. Ravindranath Duggirala, professor of biomedical sciences and researcher at the UTRGV School of Medicine's South Texas Diabetes & Obesity Institute, and his team of researchers are studying the common genetic and environmental factors between diabetic populations in the United States and India. (UTRGV Photo by Paul Chouy)
By Neiby Rodriguez
RIO GRANDE VALLEY, TEXAS – JUNE 20, 2016 – Dr. Ravindranath "Ravi" Duggirala and a team of researchers are looking to their counterparts in India to help find answers to the Rio Grande Valley's diabetes problems.
Duggirala, a professor of biomedical sciences and researcher with the UTRGV School of Medicine's South Texas Diabetes and Obesity Institute, and the team have been awarded a $414,960 grant from the National Institutes of Health to further their research on Type 2 diabetes.
  The grant provides for creation of a U.S.-India Bilateral Collaborative Research Partnership (CRP) on the genetics of diabetes, with research focused on improving the science and technologies that could lead to understanding, preventing and treating diabetes and its complications.
The NIH grant was awarded to the U.S. team by the National Institute of Diabetes and Digestive and Kidney Diseases, and to the team in India by the Indian Council of Medical Research.
The partnership brings together two institutions from the United States and three from India, to examine the genetics of Type 2 diabetes in Indian populations.
"The collaboration is important for both countries because they are both in the top 10 countries with the highest rates of diabetes," said Duggirala, who is originally from Andhra Pradesh, India. "We want answers to the questions: Why is the rate increasing? And, how can we prevent the disease?"
Researchers from India will focus on gathering data from three states in India and examining specific genetic regions found to be tied to diabetes in previous studies.
Researchers from the United States will study data collected in India together with the Indian collaborators and will be directed by Duggirala and Dr. Dharambir K. Sanghera from the University of Oklahoma Health Sciences Center. Dr. John Blangero, director of the Genomics Computing Center at UTRGV's South Texas Diabetes and Obesity Institute (STDOI) and interim director of Neurosciences at the UTRGV School of Medicine, and Dr. Rector Arya, assistant professor at STDOI, also will be involved in the analysis of the data being conducted at UTRGV.
"Four areas in India are going to be studied to see what differences and similarities can be found between the south and north states in India," Duggirala said. "The data are going to be collected in India, but will be primarily analyzed here in the United States. This study is specifically aimed to India. But the collaboration between the two countries and various institutions is mutually beneficial."
Complementary data will be collected by the research team in India from the cities of Jaipur in the northern state of Rajasthan, Chennai in Tamil Nadu, and Nellore in Andhra Pradesh, representing three different populations. The data from another Indian population from the northern state of Punjab are already collected and analyzed by Sanghera and colleagues, and will be part of the current study.
Participating in the project in India are Dr. Solomon Paul and Drs. S. Thanikachalam and S. P. Thyagarajan from the Sri Ramachandra University in Chennai, Tamil Nadu; Drs. Rajeev Gupta and Krishna Mohan Medicherla, from the BM Birla Science and Technology Center in Jaipur, Rajasthan; and Dr. K. Dileep Kumar from Narayana Medical College and Hospital in Nellore, Andhra Pradesh.
"What the two countries want to do is to compare and contrast the healthcare provided and to study the pathophysiology of Type 2 diabetes," Duggirala said. "We want to find what kinds of genetic and environmental factors influence the development of the disease."
The project will benefit the Valley in multiple ways. First and foremost, he said, it will generate new data on the factors that influence risk for diabetes. In turn, that data may be useful for developing biomarkers that can predict risk for disease and for developing new drugs.
In early June, Duggirala, Sanghera, and Blangero went to India to meet with the researchers there. They discussed the best strategies for collecting the remaining samples and how to generate efficient questionnaires, as well as how to implement the protocol effectively and efficiently to obtain the new data and study it in just two years. 
Diabetes affects more than 69 million people in India and more than 29 million people in the United States, placing them second and third in the world, respectively, in terms of population burden of diabetes. In adults, Type 2 diabetes accounts for approximately 90-95% of all diagnosed cases of diabetes.
To reduce the high rates in both countries, affordable, practical and effective approaches and technologies for disease prevention and management are urgently needed, Duggirala said.
"Diabetes is a complex disease because it is triggered not only by a person's genetic makeup, but also by environmental factors that can influence the disease," he said. "This study is aimed at finding the genetic and environmental factors that can influence development of this disease."
Duggirala, who has studied diabetes and obesity for 23 years, primarily has focused on minority populations, particularly Mexican-Americans in San Antonio.
The current findings from the genetic analysis of eight specific genetic locations previously found to be associated with Type 2 diabetes in Indians or South Asians will be compared with previous research done among minority populations from South Texas.
"We will take those new findings and compare them to what we have found in other populations, for example, the findings on studies about the Mexican-American population," Duggirala said. "We want to see to what extent these specific genetic locations can be replicated and validated in other populations including some cohorts from this new study."
The goal is that the current and previous research outcomes will help create a treatment for Type 2 diabetes that would be suitable for Indian and other populations around the world, including the Rio Grande Valley.
"After this project, we want to be able to differentiate and relate the factors – genetic and environmental – that affect Indian as well as Mexican-American populations," Duggirala said. "The most important part of this study, to me, is that I will get to give a possible solution to the diabetes problem in my community, the Rio Grande Valley."
MEDIA CONTACTS
Marci.Caltabiano@UTRGV.edu UTRGV Director of News and Internal Communications
956-665-2742
Jennifer.McGehee@UTRGV.edu UTRGV Director of Public Relations
956-882-5105