Sub Menu Toggle
Finance major takes top prize in UTRGV 2016 holiday card contest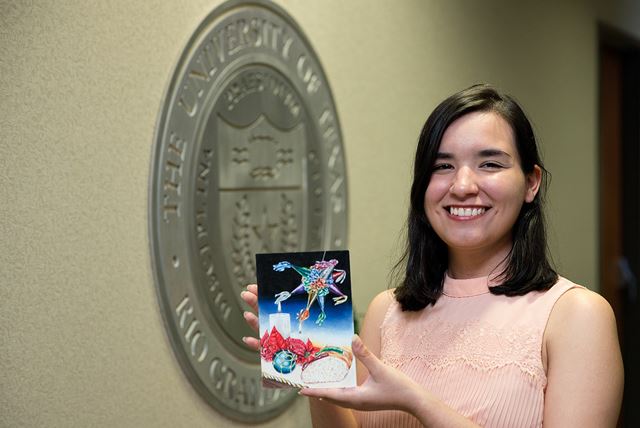 UTRGV finance student Selene Salinas Elizondo, seen here at the UTRGV President's Office on the Edinburg Campus, displays her winning design, which will be used as the university's official holiday card for 2016. (UTRGV Photo by Paul Chouy)
By Melissa Vasquez
RIO GRANDE VALLEY, TEXAS – DEC. 5, 2016 – The holidays mean so many things to so many people. For Selene Salinas Elizondo, 21, the holidays mean tradition, family and a $1,000 scholarship.
The UTRGV senior finance major is the winner of the university's 2016 holiday card contest. Her work was chosen from a large group of UTRGV student artists and designers for the scholarship and bragging rights as designer of the university's official holiday card.
The published card will be mailed to donors, friends of the university and elected officials across the state and country this year. Also, a digital version of the card will be emailed to UTRGV faculty and staff.
Her design was chosen from among 75 entries by a panel of judges selected by the Office of the President. Artwork was judged on creativity, artistic merit, and how it applied to the contest theme: "What does the holiday season mean to you?" The competition was open to all current UTRGV students.
"I was inspired by my celebrations and my culture from Mexico because it is very vibrant and very happy," said Salinas, who is originally from Reynosa, Tamaulipas, Mexico. "I wanted to make that a part of the design."
The winning card features a piñata, candles, seasonal flowers, ornaments, and a slice of Rosca de Reyes (King's Cake). In addition, Salinas included the UTRGV colors – blue, green and orange ­– throughout the design. Salinas, who now lives in Mission, Texas, said all the elements she incorporated have been constant symbols of the traditions she has experienced throughout her life.
"The purpose of my design is to depict an evening of celebration where I merge some of my traditions," she said. "All of us have different traditions, and we should be proud of them and embrace them to pass on to generations to come."
The second- and third-place designs each earned a $500 UTRGV scholarship:
Iliana Treviño, a junior nursing major, took second place for a colorful card featuring a country theme. Click here to see the card.
Evana Zamora and Ricky Rendon, both graduate students, presented a graphic illustration using the university's "We Will" campaign theme. Click here to see the card.
UTRGV Founding President Guy Bailey said he is grateful to all the students who participated and hopes the recipients of the winning card enjoy the artwork and sentiment of the piece.
"I would like to thank the students who participated in our annual holiday tradition at the university. Congratulations to our winners for sharing with us what the holiday season means to them," Bailey said.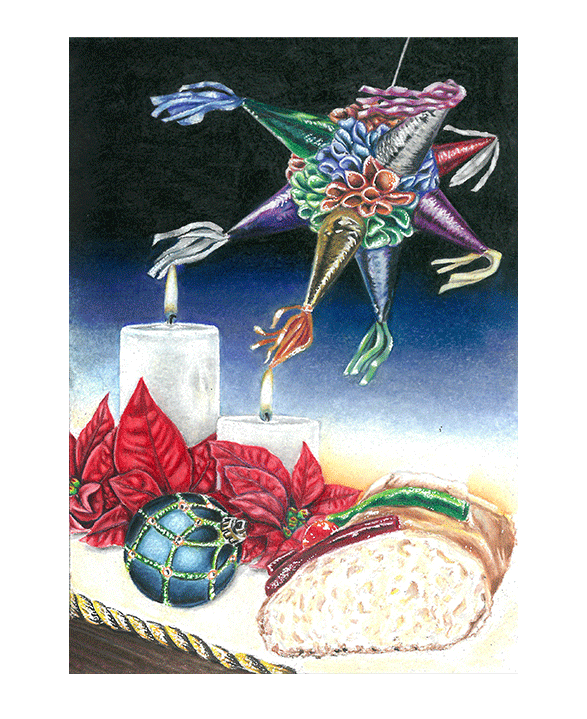 MEDIA CONTACTS
Melissa.Vasquez@UTRGV.edu
Publications Editor / 956-665-8926
Marci.Caltabiano@UTRGV.edu
UTRGV Director of News and Internal Communications / 956-665-2742