Sub Menu Toggle
UTRGV's inaugural HIGH Scholars Program aims to create future scientists and researchers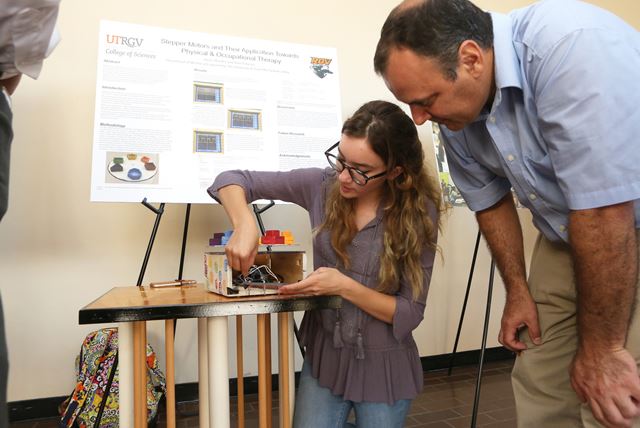 Students who participated in the UTRGV College of Sciences High School Research Scholars Program (HIGH Scholars) presented their research posters during a competition and closing ceremony on Aug. 5 on the Edinburg Campus. HIGH Scholars is a nine-week program aimed at engaging Valley high school students in Science, Technology, Engineering and Mathematics (STEM) themes. (UTRGV Photo by Veronica Gaona)
By Neiby Rodriguez Rangel
RIO GRANDE VALLEY, TEXAS – AUG. 8, 2016 – Engaging posters and excited students were plentiful during the competition and closing ceremony of The University of Texas Rio Grande Valley's High School Research Scholars Program (HIGH Scholars) held Aug. 5 on the Edinburg Campus.
HIGH Scholars is a nine-week program initiated this summer by the UTRGV College of Sciences and aimed at engaging Valley high school students in research projects in a variety of disciplines.
"We want to enhance the students' critical thinking skills, their interest in STEM fields and their performance in school by giving them a different perspective on science," said Dr. Parwinder Grewal, dean of the UTRGV College of Sciences. "We want students to know what scientists can do. They often only know that they can become a medical doctor or an engineer, but there is so much more to science." (See Grewal's comments to the HIGH Scholars at the ceremony).
The nearly 100 participants in the program worked under 50 different UTRGV faculty mentors on research topics in seven disciplines: biology, chemistry, physics, astronomy, mathematics, environmental science and engineering.
Enrique Arredondo, 17, a rising high school senior who recently transferred from Robert Vela High School in Edinburg to the UTRGV Mathematics and Science Academy (MSA), said participation in the program has helped him clarify his career goals.
"What the HIGH Scholars program has taught me is that chemistry is the area where I want to go as my future career," he said. "I got first-hand experience in the lab withDr. Hassan Ahmad, who has been able to show me that the work in a chemistry lab is rigorous, and it can be difficult to keep up with everything that happens in there."
The program opened the eyes of many students to pursue STEM careers, like Arredondo, who was recruited to attend the UTRGV Math and Science Academy, now available on both the Edinburg and Brownsville campuses. MSA is designed as a commuter program for high school students who are gifted in mathematics and science to take their courses in university classrooms, from UTRGV faculty, side by side with UTRGV students.
Valeria Suarez-Ahumada, 18, an MSA student at Brownsville and a HIGH Scholar, hopes to start a biology major at UTRGV this fall and later study veterinarian medicine.
She said her experience as a HIGH Scholar helped her develop analytical abilities that were needed for her research.
"I was working with Dr. Karl S. Berg, studying the development of birds in Venezuela." Suarez-Ahumada said. "The data was collected and given to us … We had to compare the differences between bird species and flight development by analyzing it statistically."
During the summer program, each participant was required to develop a research proposal and then prepare a paper and poster at the program's end.
Following are the poster competition winners, announced at the Aug. 5 ceremony, and their mentors:
The Overall Winner award went to Marcelo Pintos for his research poster on "Genetic diversity of Trypanosoma cruzi in Chagas disease vectors from Southeast Texas."
Mr. Bill Elliott, assistant dean of the UTRGV College of Sciences, said the faculty mentors were excited to find the students very capable and ready to learn, and the college was pleased with the success of the program's first cohort.
"The High Scholars annual program will continue to give Valley high school students the opportunity to conduct impactful research on their way to becoming the next generation of scientists and researchers," he said.
MORE PHOTOS: https://www.flickr.com/gp/utrgvnews/00GG3g
MEDIA CONTACTS
Neiby.RodriguezRangel01@UTRGV.edu
Staff Writer / 956-665-3639
Marci.Caltabiano@UTRGV.edu 
UTRGV Director of News and Internal Communications / 956-665-2742