Sub Menu Toggle
UTRGV welcomes 300 male students and fathers to TIES Event on Edinburg Campus
About 300 11th-grade high school students and their fathers and/or mentors from throughout South Texas participated in the Together in Educational Success (TIES) conference at UTRGV in early April. Attendees gathered at the Wellness and Recreation Sports Complex on the Edinburg Campus for a welcome by Dr. Havidán Rodríguez, provost and executive vice president for Academic Affairs, and a variety of community partners. (UTRGV Photo)
EDINBURG, TEXAS – APRIL 22, 2016 – About 300 11th-grade high school students and their fathers and/or mentors from throughout South Texas participated recently in the Together in Educational Success (TIES) conference at UTRGV for a day of learning and male empowerment. 
TIES, hosted April 8 by The University of Texas Rio Grande Valley in partnership with the Region One Education Service Center (ESC) Gaining Early Awareness and Readiness for Undergraduate Programs (GEAR UP), is part of a series of TIES events that Region One ESC GEAR UP conducts with its partner institutions of higher education. (Others include Texas A&M University–Kingsville and Texas A&M International University.) This is the third consecutive year that the event has been hosted on the Edinburg Campus. 
While the general theme of the TIES program promotes physical fitness, leadership, educational attainment and following one's dreams, this year's TIES event had a special focus: the field of criminal justice.
Participants were welcomed by Ricardo L. Lopez Jr., education specialist for GEAR UP: Ready, Set, College! Partnership, Center for Excellence in College & Career Readiness, Region One Education Service Center; Dr. Havidán Rodríguez, UTRGV provost and executive vice president for Academic Affairs; and Richard Sanchez, assistant vice president for Governmental Relations. 
Attendees also heard an inspirational message from Sabas Quiroz, a 2006 GEAR UP graduate and a 2010 UTPA graduate. Quiroz went on to pursue a law degree from Western Michigan University Cooley Law School and graduated in 2014.
Throughout the afternoon, divided groups attended four breakout sessions, which were followed by the TIES Showcase, in which partnering agencies highlighted the different equipment and resources used in their respective lines of duty to fight and solve crime.
Presenters included:
Edinburg Fire Department.
Edinburg Police Department.
McAllen Police Department.
Region One ESC GEAR UP.
Texas Department of Public Safety (DPS).
UTRGV Health and Environmental Safety.
UTRGV Information Security, in collaboration with Infragard and ISC2.
UTRGV Police Department.
UTRGV Criminal Justice Department.
UTRGV Criminal Justice Student Organization.
UTRGV Recruitment.
The line-up of assets included the Texas DPS helicopter; the DPS tactical marine unit (TMU); McAllen Police Department Forensics Lab Unit; and the Edinburg Police Department's T3 Segway, among others.
Presenters and exhibitors provided information regarding pathways for entering their respective fields, the various careers available, career requirements, benefits/disadvantages within their field, what a day in the field is like, and other applicable information.
The Division of Governmental and Community Relations event organizers said they were pleased with the high turnout, unique exhibits and numerous partnering, and credited the many partners and attendees for the success of TIES 2016.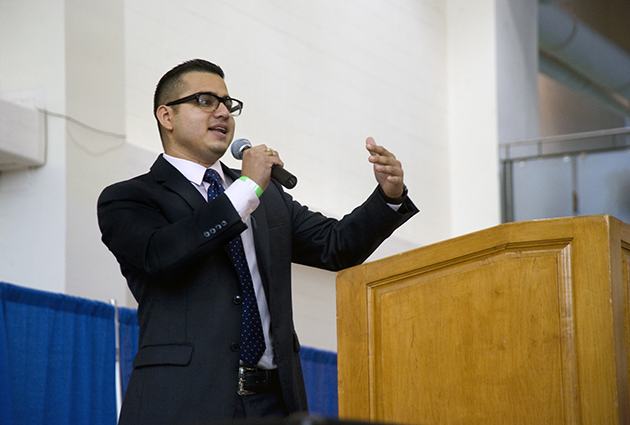 Attorney Sabas Quiroz, a 2006 GEAR UP graduate and 2010 UTPA graduate, served as the keynote speaker for the Together in Educational Success (TIES) conference, hosted by UTRGV in partnership with the Region One Education Service Center (ESC) GEAR UP program. Quiroz shared his personal story of success and discussed the numerous challenges he faced throughout his journey to become an attorney. (UTRGV Photo)
MEDIA CONTACTS
Marci.Caltabiano@UTRGV.edu UTRGV Director of News and Internal Communications
956-665-2742

Jennifer.McGehee@UTRGV.edu UTRGV Director of Public Relations
956-882-5105