Sub Menu Toggle
Vaqueros meet prospective employers at Fall Career Expo during HESTEC 2015
UTRGV student Genesis Flores, a political science / public relations major, attended the Career Expo on Friday, Oct. 9, 2015, held in conjunction with UTRGV's HESTEC 2015 events. She took advantage of the Telemundo booth, which had a live screen test set up so prospective employees could demonstrate their on-air personality and potential. (UTRGV Photo by David Pike)
By Karen Perez
 EDINBURG, TEXAS – OCT. 9, 2015 – Seventy-seven employers from across the nation paid a visit to The University of Texas Rio Grande Valley's Edinburg Campus on Oct. 9, to scout for some fresh, new Vaquero talent.
About 1,200 students and alumni met with recruiters looking for qualified candidates for internships, co-ops and full-time employment during the Fall Career Expo, which coincided with the 14th annual Hispanic Engineering, Science and Technology (HESTEC) Week.
The expo also was held Oct. 7 at the UTRGV Brownsville Campus Oct. 7 at The Gran Salon.  About 730 students and 51 employers attended that expo.
"This is definitely the opportunity to put a face to an organization name, instead of going in and applying blindly online," said Lourdes Servantes, associate director for UTRGV Career Services.
In the first hour alone, 500 students – dressed in business attire and armed with résumés – roamed the Fieldhouse and stopped by the booths of some returning employers, like Toyota, IBM, NASA, and Target, and first-time companies like SpaceX.
"That tells you that they find all these qualified candidates here from our university, that's why they keep coming back," Servantes said.
Mario Gonzalez, a graduate student pursuing a master's in electrical engineering, was one of the many students eager to talk to SpaceX recruiters. The 23-year-old said he's working on a thesis on electromagnetic metamaterials, a new technology with many applications in space aerodynamics.
"I've been wanting an internship to get my feet wet," Gonzalez said.  
He said he appreciates UTRGV for bringing employers directly to students.
"It's a good way to put yourself out there," he said. "I'm not necessarily expecting to get hired on the spot right now. All I'm doing is trying to get my face out there to the people that work at these companies, and get them to know me a little better."
Senior Genesis Flores was encouraged by Telemundo 40 recruiters to put her reporting skills to the test the moment she set foot in their booth. Despite her nerves, the political science and public relations double major grabbed the microphone and effortlessly read a script from the teleprompter.
Flores was surprised to see so many organizations excited to meet with students like herself.
"Some people are a little bit skeptical that, once they graduate, they're not going to be able to find a job. But the university itself is providing these opportunities," she said. "This is just opening doors for companies to have new prospects and students to find a career or internship to strengthen their skills."
The 20-year-old said she was particularly excited to learn about The Archer Center, a program that offers undergraduate and graduate students from across the UT System internships in Washington, D.C.
"That would be a big move, because I know Washington, D.C., has a lot to offer for journalism majors, for broadcasting majors, and anyone in the political science field," Flores said.
Employers said UTRGV is a very attractive school from which to recruit.
Paul Rackley, district manager for Sherwin-Williams, said that last year, his company hired 11 students from UTRGV's legacy institution, The University of Texas-Pan American. The employer was once again informing students about the opportunities available in their management sales trainees and internship programs.
"I find that a lot of these students are the first child in their family to earn a degree, so they understand hard work," Rackley said. "It makes it that much better when we hire them because they understand what it takes to get it done."
Ismael Quintanilla, a power integrity engineer at IBM and one of the many UTPA alums in the company, said it feels good to be back on campus to talk to students about full-time and internship opportunities in mechanical and computer engineering.
"Just within the group I work with, there are probably 12 alumni from UTPA – we are taking over IBM," he said with a laugh. "We want to come back and put UTRGV's name on the map. It's always been a very pleasant experience working with UTPA engineers, and management keeps hiring them for that reason."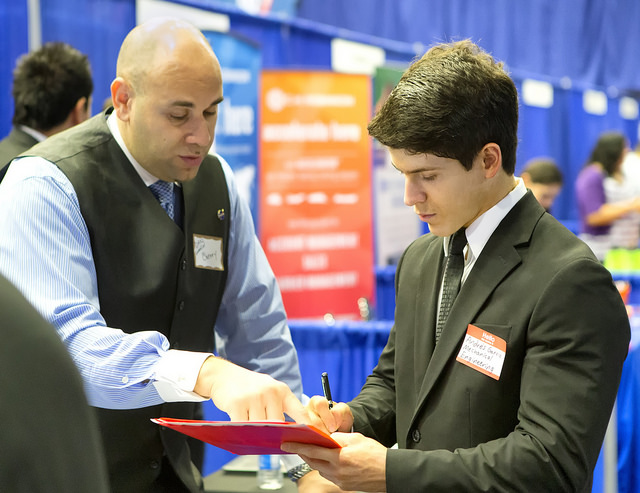 Mechanical engineering major Andres Garcia attended the Career Expo on Friday, Oct. 9, 2015, held in conjunction with UTRGV's HESTEC 2015 events. Garcia took some time to visit with NASA representatives, who were giving advice and collecting information from potential employees. (UTRGV Photo by David Pike)
MEDIA CONTACTS
Marci.Caltabiano@UTRGV.edu UTRGV Director of News and Internal Communications
956-665-2742
Jennifer.McGehee@UTRGV.edu UTRGV Director of Public Relations
956-882-5105