Sub Menu Toggle
Thousands make the first UTRGV HESTEC memorable at Community Day
By Vicky Brito
EDINBURG, TEXAS – OCTEBER 12, 2015 – The University of Texas Rio Grande Valley concluded Hispanic Engineering, Science and Technology Week on Saturday, Oct. 10, on the Edinburg Campus, with the always popular Community Day and performances by Disney Channel star Dove Cameron and country music star Chris Young.
HESTEC was celebrating its 14th anniversary after more than a decade under the direction of UTRGV's legacy institution, The University of Texas-Pan American, but this was the first year under the direction of the new university.  
Visitors started arriving at 4 p.m., and the celebratory sounds of the UTRGV Mariachi Aztlán could be heard from the Fieldhouse parking lot, which was filled with booths and inflatable moonwalks for the younger children.
A path starting at the Fieldhouse and leading up to the Science and Engineering Building was lined with booths run by student organizations enthusiastically selling a variety of foods.
The event provided a great opportunity for the community to tour the Edinburg Campus and familiarize themselves with the new university's science, technology, engineering and math (STEM) programs.
The lobby of the engineering building was packed with demonstrations the entire family could appreciate – like parallax robots, model rockets and road surface materials.
During tours of the Hi-Bay area, students could tour the Baja Lab, see demonstrations on water channels and learn about biochemical and Nano technology.
UTRGV mechanical engineering major Domingo Villarreal helped out with the Baja Lab tours, where he and classmates demonstrated a race car they had built.
"It sparks kid's interests in science and math and they get to see what is available out there for them," Villarreal said of HESTEC. "When I was a kid, I was interested in taking things apart and putting them back together, but I never thought about it as a profession, like mechanical engineering. So, as I was growing up, an event like this would have helped me decide what I wanted to do. This event is all about the kids and the community."
A sophomore now, this was Villarreal's first year participating in HESTEC, and he said he enjoyed it a great deal and hopes to bring his nieces and nephews to the event in the future.
In the science building, biology students featured their exhibits in Human Anatomy and Life Science. The department opened up its classrooms and filled lab tables with models of cells and figures of human anatomy, including a dissected cat.
David Rodriguez, a senior biology major, said the displays help younger students have a better idea of what science is.
"It's really cool. A lot of people, a lot of young children, get to come in here and they are exposed to these models so that way they have an idea of what they will be seeing if they were to choose this field of biology," he said.
This was the first HESTEC for Rodriguez has participated in; he will graduate from UTRGV in December.
Isaac Burner, a fourth grader, attended the event with his mother, April Burner, and 12-year-old sister, Kayla Burner.
He stared carefully at two models of a human muscle, then explained to his mother that both models were actually of the same model.
"These are the muscles," Isaac said, pointing. "This one is much bigger than this one because it is much closer up."
April said she regularly brings her children to HESTEC Community Day.
"They like it, and I like it," she said.
Her children are interested in science already, she said, and exposing them to science opens their eyes to the possibilities within the field.
"They get to see what they can do, instead of just learning it in a classroom, because now they get to experience and they see it … the possibilities are limitless," she said.
As the sun went down, the crowds migrated toward the Quad to begin watching the free concerts.
Headliners Dove Cameron and Chris Young brought HESTEC concluded the night, wrapping up HESTEC festivities for another year.
UTRGV freshmen Francisco Sanchez and Jesus Ramirez agreed the highlights of attending HESTEC are the food, the environment and the exposure to science.
"It exposes the community to the opportunities, and the jobs, and it shows them things they didn't know about," Sanchez said.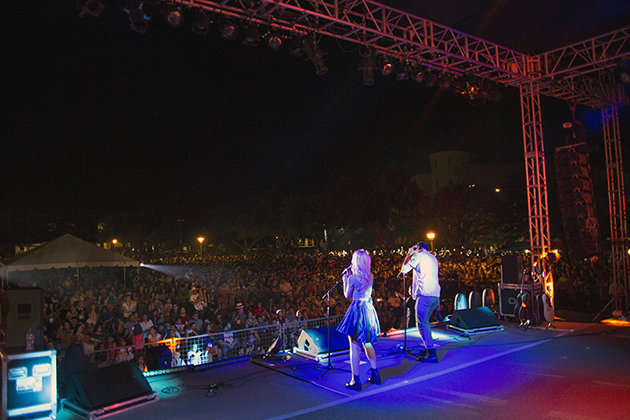 The Rio Grande Valley turned out in the thousands at UTRGV's Quad to see Disney Channel star Dove Cameron on Community Day, the final day of HESTEC 2015 festivities. (UTRGV Photo by David Pike)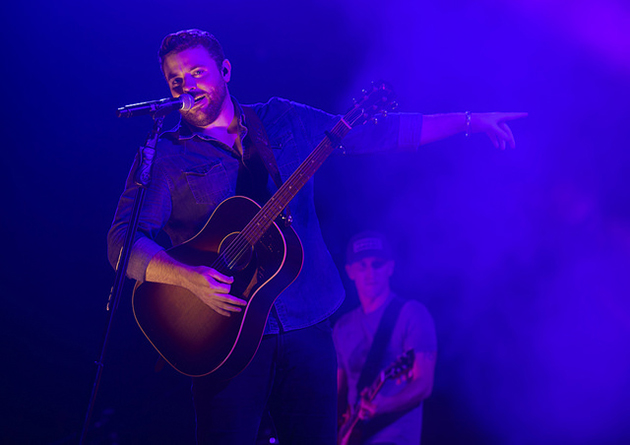 Country music star Chris Young helped wrap up HESTEC 2015 and Community Day on Saturday, Oct. 10, entertaining a huge crowd spilling over the Quad on the UTRGV Edinburg Campus. (UTRGV Photo by David Pike)
MEDIA CONTACTS

Marci.Caltabiano@UTRGV.edu UTRGV Director of News and Internal Communications
956-665-2742
Jennifer.McGehee@UTRGV.edu UTRGV Director of Public Relations
956-882-5105