Sub Menu Toggle
HESTEC leaders: Hispanics are key to the nation's success
Dr. Steve Murdock, former director of the U.S. Census Bureau and a former State Demographer of Texas, used Census numbers to underscore the importance of educating the Hispanic population. (UTRGV Photo by David Pike)
By Jennifer L. Berghom
EDINBURG, TEXAS – OCT. 5, 2015 – A former director of the U.S. Census Bureau got HESTEC's Educator Day off to a solid start Monday morning by affirming what leaders in the Rio Grande Valley have been saying for a long time now: The Hispanic population in this country is driving the population growth of Texas and the nation, and we have to pay close attention to their education.
Dr. Steve Murdock, also a former Texas state demographer, on Monday addressed a few hundred secondary-level math and science teachers, during the 14th annual Hispanic Education, Science and Technology week, at the Fieldhouse on the Edinburg Campus of The University of Texas Rio Grande Valley.
"Education is the key to changing the socioeconomics of what are going to be the most important population groups in Texas," Murdock said. "And the most important one of all, in terms of what happens to our future in the United States and in Texas, is the Hispanic population."
Murdock swiftly clicked through slides showing data about population changes the country will experience over the next few decades, as well as the socioeconomic impact of the country's changing demographics.
As the state and U.S. populations shift, he said, it is critical to make changes in educational attainment. That will help equalize the country's socioeconomic situation and help prevent a decline in the overall quality of life, he said.
Current statistics show that the poverty rate among African American and Hispanic populations is two to three times higher than that of whites, and those two groups have lower educational attainment than whites.
Statistics also show that the better the level of educational attainment is, the better the average household income is.
"Education pays," Murdock said. "If we do nothing and we don't change these socioeconomic differences – in terms of ethnic and racial group – by educational level, we'll actually have a decline of about $8,000 in real dollars income by 2050."
If the country could close those gaps, he said, the median/mean household income could double.
"Our future as a state, as a country, is tied to our minority population – particularly our Hispanic populations – and how well they do is how well we all will do," Murdock said.
CONTINUING THE EDUCATION DIALOGUE
After Murdock, U.S. Rep. Rubén Hinojosa led a Congressional Roundtable – moderated by Telemundo anchor José Díaz-Balart – on the importance of encouraging more students to consider careers in STEM.
Hinojosa and fellow U.S. Reps. Filemón Vela (TX-34), Joaquín Castro (TX-20), Marcia L. Fudge (OH-11) and Judy Chu (CA-27), as well as representatives from education, federal agencies and industries, talked about initiatives they have helped create to offer more opportunities for students in STEM education and careers.
Hinojosa hailed the creation of UTRGV and its medical school, which is pending accreditation, as well as the expansion of educational programs at local community colleges and K-12 school districts, as catalysts in spurring research and economic growth in the Valley. But more must be done to ensure the area's future success, he said.
"We must continue to invest in students, in education, and workforce training," he said.
Educators also heard from Tina Aguirre, downstream retail services and operations manager for Shell, which served as the sponsor for HESTEC Educator Day.
Aguirre, who is in charge of overseeing all the informational technology issues for all 44,000 Shell stations worldwide, said the support of her parents and educators enabled her to finish high school at 16, earn her first of two bachelor's degrees at 19, and a master's degree at 23.
"If my parents had not encouraged me … there is absolutely no way I could do what I do today," she said.
U.S. Navy Capt. George Perez and comedian Paul Rodriguez also shared stories of how educators had touched their lives.
In addition to hearing from Murdock and other leaders speaking about the importance of education and STEM literacy, educators attended workshops on innovative ways to interest students in STEM.
Groups of educators also toured the Edinburg Campus and traveled to area businesses, agency offices and South Texas College.
AND THE AWARDS GO TO …
Four Valley educators were honored for receiving the UTRGV HESTEC ExxonMobil Educator Day Award:
·         Kevin Kelly, a science teacher at Roma High School.
·         Albino Lozano, a science teacher at Hidalgo Early College High School.
·         Alejandra Treviño, a math teacher at San Benito High School.
·         And Charles Zeissel, a math teacher at Santa Rosa High School
Each received an apple-shaped trophy, a Microsoft Surface tablet, and an all-expenses-paid trip to a national conference in the teacher's area of specialty.
HESTEC is celebrating its 14th year, but this is the first year UTRGV has directed the weeklong conference, which is designed to spur interest in the science, technology, engineering and mathematics (STEM) fields in middle and high school students. HESTEC was spearheaded by U.S. Rep. Ruben Hinojosa and Dr. Miguel Nevárez, who was president of UTRGV's legacy institution, The University of Texas-Pan American.
HESTEC continues Tuesday with Student Leadership Day, where hundreds of secondary-level students will come to the Edinburg campus to learn about what STEM-related career opportunities are available to them.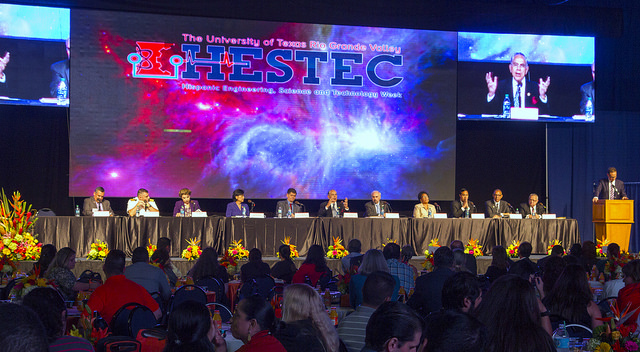 HESTEC 2015's Educator Day was emceed by Telemundo anchor José Díaz-Balart and featured U.S. Reps. Rubén Hinojosa (in the screen shot at top right), Filemón Vela (TX-34), Joaquín Castro (TX-20), Marcia L. Fudge (OH-11) and Judy Chu (CA-27), as well as representatives from education, federal agencies and industries. (UTRGV Photo by David Pike)
MEDIA CONTACTS
Marci.Caltabiano@UTRGV.edu
UTRGV Director of News and Internal Communications
956-665-2742
Jennifer.McGehee@UTRGV.edu
UTRGV Director of Public Relations
956-882-5105