Sub Menu Toggle
UTRGV wins Arbor Day Foundation award for project to beautify RGV community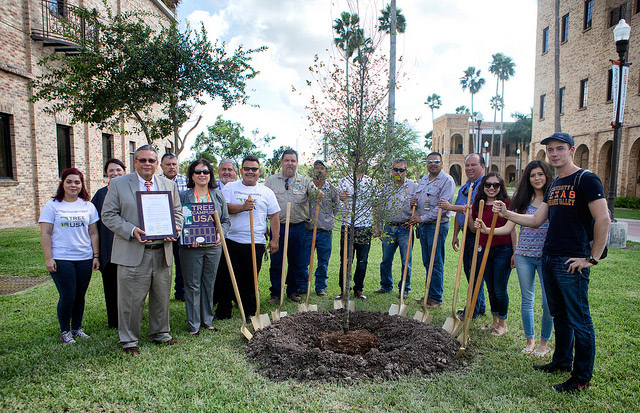 Students and facilities personnel were joined by Charlie Cabler, Brownsville city manager (with proclamation), Martha Salinas-Hovar, UTRGV associate vice president for facilities, planning and operations (with plaque), Marianella Franklin, UTRGV chief sustainability officer (behind Cabler), and Roy Reyes, Brownsville city forester (fourth from right) to plant a tree on the Brownsville campus to celebrate Arbor Day and commemorate UTRGV's designation as a Tree Campus USA. (UTRGV Photo by David Pike)
By Gail Fagan
EDINBURG, TEXAS – NOV. 19, 2015 – A barrage of spirited Vaquero voting propelled The University of Texas Rio Grande Valley past the University of Alabama-Birmingham and the University of Pennsylvania, to garner a $10,000 Arbor Day Foundation award that will go toward beautifying the Valley community.
The Arbor Day Foundation on Nov. 19 announced UTRGV as the large-school category winner of the Service Learning Contest, which ran Nov. 9-13.
The contest solicited proposals for service learning projects from colleges across the country that would engage students in a tree planting/maintenance project in a low- to moderate-income area of the community.
"We were overwhelmed by the depth and breadth of the projects submitted for this years' Service Learning Award," said Mary Sweeney, Tree Campus USA program manager, in a press release announcing the winners. "Each project meets the unique urban forestry needs of the campus communities. We hope this award will inspire others in the areas to get involved as well."
Online voting was made available for the projects selected as finalists by an internal judging committee from the Arbor Day Foundation, a nonprofit conservation and education organization.
The winning project, presented by the UTRGV Office for Sustainability, will be a collaborative effort with Proyecto Azteca, a local nonprofit, self-help housing program. Proyecto Azteca placed 32 families from colonias and Valley housing authorities into energy-efficient, affordable homes they helped build on 34 lots purchased in Edcouch's Lynchburg Subdivision.
The subdivision is the first silver LEED-certified neighborhood in South Texas. LEED, or Leadership in Energy and Environmental Design, is a green-building certification program that recognizes best-in-class building strategies and practices.
Through the UTRGV project, each resident will receive a tree to plant, along with a tree care kit, and will be invited to bilingual workshops produced by the university and its partners, promoting stewardship of their new community.
"With this really great service learning project, UTRGV students will benefit academically, professionally and personally by gaining hands-on learning on environmental issues, maintaining tree health, and working with community members," said Martin Baylor, UTRGV executive vice president for the Office of Finance and Administration. "Students will learn the interdisciplinary nature of sustainability across the different schools and programs, while having a positive impact in their community."
The contest was open to colleges and universities that received the 2014 Tree Campus USA designation by the Arbor Day Foundation for meeting its five core standards of tree care and community engagement – including creation of a campus tree-care plan and a service-learning project. Toyota is also a sponsor of the Arbor Day Foundation's Tree Campus USA programs.
The voting campaign, led by the Office for Sustainability, drew support from students and student-athletes, staff, faculty, alumni and the Valley community, said Marianella Franklin, UTRGV's chief sustainability officer.
"We want to thank all the students, staff, faculty and community who supported our efforts in winning this award. We could not have done it without everyone's assistance," Franklin said. "We are very excited our program and students will be involved in this worthy project, which will be a win-win for the students of our campuses and for the residents of the Lynchburg neighborhood in Edcouch."
The event and work for the service learning project will occur in mid-January 2016.
For more information, contact Alexandra Garcia, UTRGV Office for Sustainability program coordinator, at (956) 665-3731.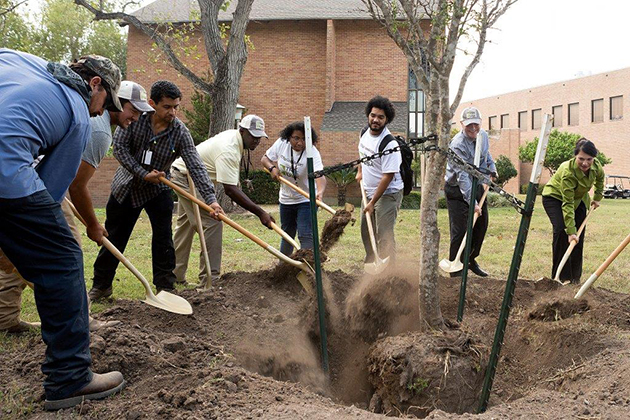 Students at UTRGV planted a tree in October 2015 at the Chapel Lawn on the Edinburg Campus, to celebrate Arbor Day and commemorate its designation as a Tree Campus USA. (UTRGV archive photo by Paul Chouy)
MEDIA CONTACTS
Marci.Caltabiano@UTRGV.edu UTRGV Director of News and Internal Communications
956-665-2742
Jennifer.McGehee@UTRGV.edu UTRGV Director of Public Relations
956-882-5105