Sub Menu Toggle
Legacy institutions sign bylaws for Women's Faculty Network at UTRGV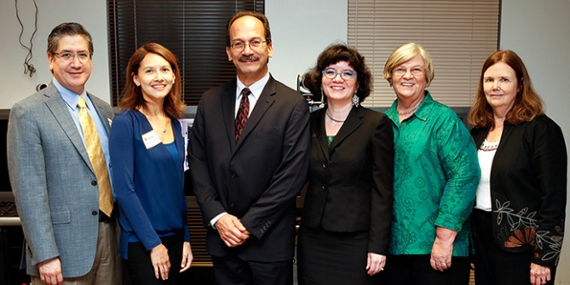 Pictured at the bylaws signing are left to right Dr. Javier A. Martinez, UTB/TSC interim provost and vice president of Academic Affairs and College of Liberal Arts dean; Karina Stiles-Cox, writing center director in UTB/TSC's Learning Enrichment Center and UTRGV WFN chair-elect; Dr. Havidán Rodríguez, UTPA president ad interim and UTRGV provost and executive vice president for Academic Affairs; Dr. Marie Mora, UTPA economics professor and WFN chair; Dr. Bobbette Morgan, professor, UTB/TSC College of Education, Department of Teaching, Learning and Innovation; and Dr. Cynthia Brown, UTPA provost and vice president for Academic Affairs ad interim and UTRGV deputy provost.
EDINBURG, TEXAS – MAY 11, 2015 - An historic signing of bylaws in April brought two legacy institutions - The University of Texas at Brownsville and The University of Texas-Pan American - into what will be the Women's Faculty Network (WFN) at  The University of Texas Rio Grande Valley this fall.
Dr. Havidán Rodríguez, UTPA president ad interim and the inaugural provost and executive vice president for Academic Affairs at UTRGV, and Dr. Marie Mora, UTPA professor of economics and WFN's co-founder and current chair, signed the UTRGV WFN bylaws at a meeting held on the UTB/TSC campus. The document unites both campuses in the WFN's efforts to empower female faculty members by  advocating for opportunities to advance women's professional development in teaching, research and service while balancing their personal, career, physical and mental demands.
Rodríguez said the issues that are germane to gender and gender relations are a critical part of the institution's culture, curriculum,  research, scholarship, and community.
"I think the Women's Faculty Network can really play a truly transformative role in our institution. This is about changing the climate of our institution, this is about changing the culture of our institution," he said. "I am sure that the contributions that this organization will continue to make will be significant in all aspects of our institution."
Mora, who will serve as the first chair of the UTRGV WFN, called it an historical moment in the building of UTRGV. She said it was important to have diversity in the workforce at all levels.
"Women represent in this country over half the population and if we're not getting the perspectives of women, we're missing out on a lot of information," Mora said. "There are a lot of studies that suggest diverse groups and diverse teams perform better, you get better outcomes, and a lot of it has to do with  getting different perspectives."
The WFN, initiated at UTPA in 2013, grew out of a $3.1 million National Science Foundation ADVANCE grant received by UTPA in 2012, designed to encourage more women, particularly Latinas, in the STEM (science, technology, engineering and mathematics) fields. Rodríguez is the grant's principal investigator.
In late 2013, the UTPA WFN institutionalized its bylaws and gained representation on UTPA's Academic Affairs Executive and Leadership Teams. The WFN provides programmed activities like workshops, seminars and discussion groups that address issues such as research opportunities and funding, tenure demands, time management, advancement and transition to administrative roles, and recruitment and retention of female faculty.
At the end of the 2013-14 academic year, the WFN at UTPA had 79 tenured/tenure track women participating in its activities, representing 43 percent of the 182 tenured/tenure/track women faculty at UTPA; 23 of these women were in traditional STEM fields, representing 79 percent of the female tenure/tenure track STEM faculty.
"We haven't been around very long but we've made a lot of progress," said Mora, noting the NSF, in its last site visit to review the ADVANCE grant, described the WFN as a "programmatic gem." 
The first WFN event in Brownsville held late last year attracted more than 30 UTB/TSC female faculty members. Some of the WFN activities since then have been webcast to the other campus. The UTRGV WFN bylaws drafting committee included three UTB/TSC female faculty members and three from UTPA. At  the signing it was announced that Karina Stiles-Cox, writing center director in UTB/TSC's Learning Enrichment Center, was selected to be chair-elect of the UTRGV WFN. She will take office as chair in Spring 2016. 
Stiles-Cox said the WFN at UTPA was one of the first entities to reach out to the Brownsville campus and begin the process of unifying all the UTRGV campuses. She said its mission drew her into participating and indicated one her primary goals as its next chair is to truly recognize all the work, research and service the female faculty are accomplishing.
"These women are working hard, often juggling careers and families, and they are doing great things, amazing things," she said. "It's an exciting time, a new beginning, and I'm thrilled to be a part of the community this organization will foster."
Learn more at the WFN website. 
​
For more information on UTRGV, go to its website at www.utrgv.edu, like its Facebook page, or follow @utrgv on Twitter.   
MEDIA CONTACTS
Marci Caltabiano Ponce
UTRGV Director of News and Internal Communications 
956-665-2742
Jennifer McGehee Valdez
UTRGV Director of Media and Public Relations 
956-882-5105
Letty Fernandez
UTRGV Director of Media Relations
956-882-6535