Sub Menu Toggle
UTRGV welcomes 29,045 #FirstClass students on first day
Story by Gail Fagan and Vicky Brito
EDINBURG & BROWNSVILLE, TEXAS – AUG. 31, 2015 – It was touted for weeks as a momentous day, and the 29,045 students enrolled at The University of Texas Rio Grande Valley celebrated the day by going to class on both main campuses of the new university.
There were events planned, like a "Toss 4 Luck" to make a wish for the school year, and The Stomp planned for the evening. But most of the new Vaqueros were focused on the business at hand – getting settled in to start the new school year.
Across the Valley, students took advantage of helpful Information Depots set up to provide assistance as they navigated their way to classes. This fall, UTRGV will offer more than 5,000 courses, a 300-course increase from last fall.
Student workers and staff volunteers at the depots were handing out campus maps, transportation schedules for shuttle services and information on student events and activities. They also offered snacks and water to students passing by.
At an info depot near the library in Edinburg a large group of students were able take away a UTRGV #FirstClass T-shirt and a Vaquero bandana from Julissa Gonzalez, a counseling specialist in the Office of Counseling and Psychological Services. Gonzalez, who earned both her bachelor's in criminal justice (2006) and master's (2012) from UT Pan American, volunteered to man the depot for a three-hour shift on the first day.
"I can imagine the first day of school, students are really nervous. It is a big school so it can be kind of intimidating," she said. "I remember being scared and really nervous, especially finding your way around the school, so I wanted to help them."
Gonzalez said the new university offers many new opportunities for students.
"It's great, we are making history. I even want to get another degree now, so I can have one from The University of Texas Rio Grande Valley," she said.
On the Brownsville Campus, drenching rains later in the day sent many students sprinting to class.
Miguel Gracia, a sophomore studying mechanical engineering, said he got soaked, but it didn't ruin his first day.
"It got me more pumped because I had to run all the way over to class," Gracia said.
Gracia, who is returning to the university after taking two years off, said he already sees much more movement and involvement on campus than before.
Freshman Mayra Lopez, 18, from Edinburg, said she was "super, super nervous" as she picked up a snack at a depot while she waited for her first class to start.
"I am so scared! What if I do something wrong or don't know what I am supposed to be doing," she said. 
Going to college wasn't always in her plans.
"But I decided that there has to be something better out there for me. I decided that UTRGV would be the best place for me, because it is near my family," she said.
Lopez is looking forward to experiencing the diversity the UTRGV campus offers.
"From what I've heard, here at UTRGV, you can grow as an individual," said Lopez, who wants to be a teacher. "I'd like to teach where people don't have as many opportunities as here, like a Third-World country." 
Senior David Atkinson, 22, is studying engineering and physics and was lucky to avoid the rain on the Brownsville Campus. He hoping for smooth sailing during his last semester, and will is on schedule to get his bachelor's degree in December.
That is something he is definitely looking forward to.
"It's really nice to just finally be at the end of the road," Atkinson said.
Senior Griselda Villarreal said it was a bittersweet moment as she drove to the Edinburg Campus Monday morning for her econometrics class and noticed the new Vaquero signage. But for the finance major and former UTPA student, change is sometimes a good thing.
Villarreal said being part of the first graduating class at UTRGV will make her more marketable when job hunting.
"I know everything happens for a reason, so maybe this is going to be a good thing," she said. "I think with UTRGV it's going to be a more recognized university, not only here but throughout the state."
Freshman Mikayla Martinez, also on the Edinburg Campus, said her first day of class started off well, but she quickly realized college is very different from high school.
"It's very 'on your own,'" Martinez said. "It's a good thing. I like it. We have more responsibility."
The psychology major said she is excited to be a part of the new university.
"I like the way everything is expanding and I like the way that it's going to be something big that's going to help everyone. Being a part of the #FirstClass is an awesome experience," she said. "Everyone I've met so far is really excited … everyone I've met has been really positive."
She added that being a cheerleader on the UTRGV spirit team has made it easier for her to acclimate to college life and make friends.
"It's not like I'm coming in unaware. Everyone is just so nice and I've met a lot of new people," she said. "I've already met (UTRGV President) Guy Bailey twice."
Martinez said she wants to attend the UTRGV School of Medicine when it opens and plans on becoming a psychiatrist.
"My hope for UTRGV is to get the best education that I can, and I definitely think that I'm going to be able to get that here," she said.
Denisse Molina, Student Government Association vice president for the Brownsville Campus, is a senior studying political science.
"I feel honored to be representing the Brownsville Campus, and especially because it is the first inaugural year of the university," she said. "I look forward to working with every student on the campus to be able to help with whatever SGA can help them with."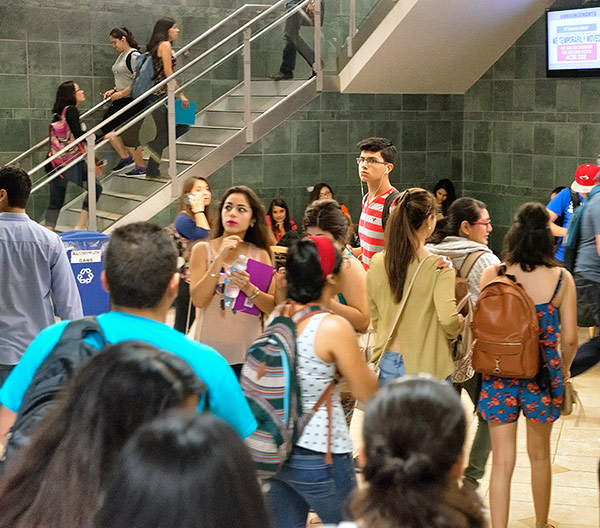 UTRGV students on the Edinburg Campus lingered in hallways and approached information depots for assistance with finding classrooms and offices.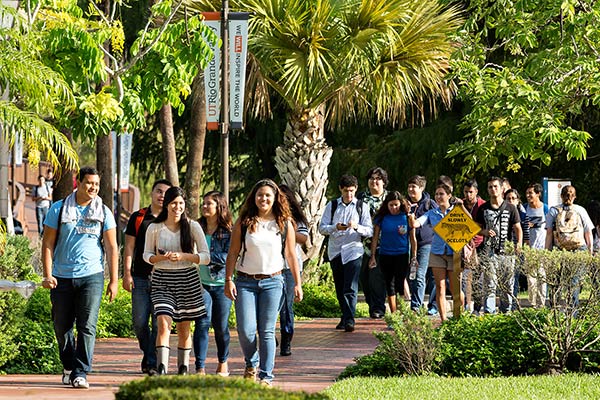 UTRGV students walk toward the Main building on the first day of class on Monday, Aug. 31, 2015 in Brownsville.
MEDIA CONTACTS

Marci.Caltabiano@UTRGV.edu UTRGV Director of News and Internal Communications
956-665-2742
Jennifer.McGehee@UTRGV.edu UTRGV Director of Public Relations
956-882-5105