Sub Menu Toggle
UTRGV medical residency coordinators to present at national conference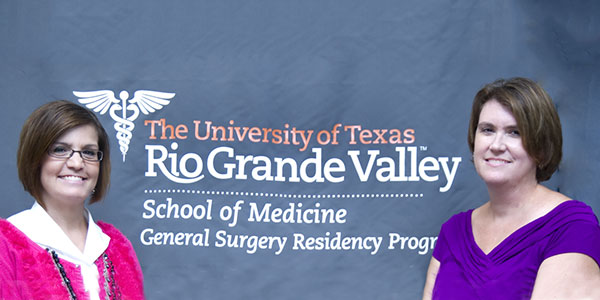 HARLINGEN, TEXSAS – AUGUST 24, 2015 – Two University of Texas Health Science Center at San Antonio medical residency coordinators, who will transition sponsorship to the new University of Texas-Rio Grande Valley School of Medicine, have been selected to speak at the Accreditation Council for Graduate Medical Education's (ACGME) Coordinator Forum Pre-Conference.
Donna Brown, UTHSCSA residency coordinator for General Surgery, and Cheryl Johnson, residency coordinator for the Department of Family Medicine, will present "A year in the life of a coordinator without residents: Initial Accreditation, Program Design and the Role of the Coordinator."

Dr. Francisco Fernandez, founding dean of the UTRGV School of Medicine, said it is an honor to have UTRGV School of Medicine staff selected by the ACGME.

"We're pleased to have Donna Brown and Cheryl Johnson presenting their work. Coordinating residencies is a complicated process and we are lucky to have these dedicated professionals with us in the Rio Grande Valley."

ACGME participants will learn about experiences in opening four new residency programs in a large, physician-owned private hospital with no previous GME experience. Brown and Johnson will discuss developmental milestones, beginning with preparing the initial application, preparing for the initial site visit, participating in program design and framework, training GME naive faculty, and program coordinator opportunities and responsibilities.

They also will present data from feedback of the first interview season, new faculty insight, and performance data and feedback from the first class of medical interns.

"We are honored to be selected to represent our new medical school and proud to be part of the incredible team at UTHSCSA, UTRGV and DHR," Brown said.

Both credit the program directors for encouraging collaboration and providing guidance.

"There have been so many people who have come together and worked tirelessly over many years to put the residency programs together," Johnson said. "Our program directors -- Dr. Charles Richart, Dr. Eron Manusov, Dr. Michelle Cordoba-Kissee and Dr. J. Michael Breen -- have encouraged us to be part of the development process, and we have learned so much over the past year and a half."

Brown said they are excited to share their experiences with a national audience, as well as to helping other coordinators who are starting new residency programs throughout the country.

Their presentation will be Feb. 26, 2016, at the pre-conference, during the 2016 ACGME Annual Educational Conference. The event will be held at the Gaylord National Resort and Convention Center in National Harbor, Maryland.

The UTRGV School of Medicine is pending accreditation and is slated to open in fall 2016. Four newly accredited residency programs started with their first class of residents on July 1, 2015.