El Retorno Al Valle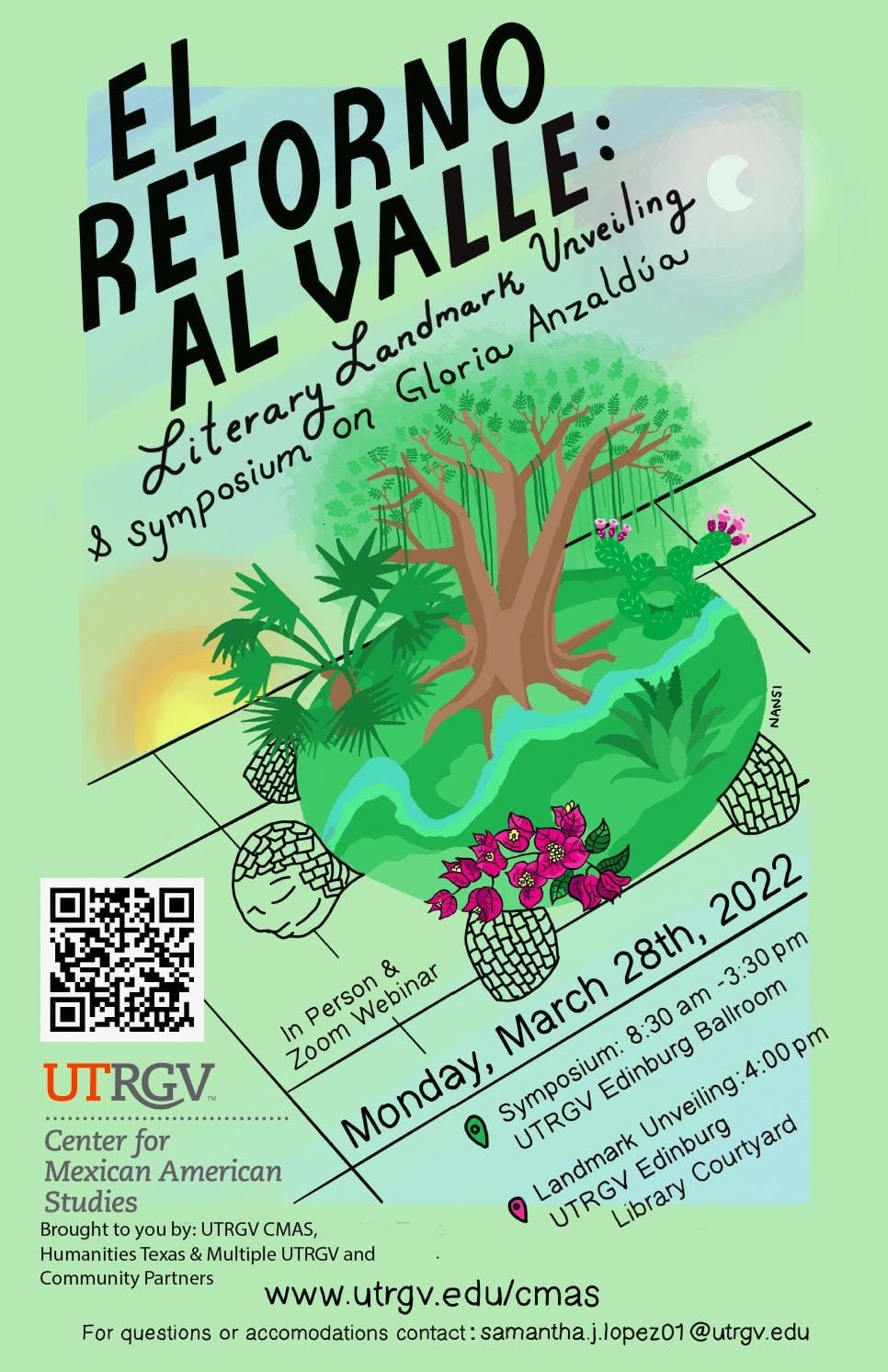 UTRGV Center for Mexican American Studies (CMAS) and partners invite the campus and community to attend "El Retorno Al Valle," a symposium and literary landmark unveiling in honor of Gloria Anzaldúa's work. Scholars, poets, activists, and visual artists from the Rio Grande Valley and from beyond the region will gather to consider the impacts of Anzaldúa's work with a look to the future. The day before the symposium, there are two community-based pre-symposium events in the Rio Grande Valley.  To register, please go to this link .Visit the 2022 El Retorno website by clicking here  and to check out the schedule  click here .  
Brief History of Events in the RGV
To our knowledge, Gloria Anzaldúa did not present at her alma mater after her books were published. Public efforts to honor Anzaldúa's work began in her home region after she passed away in 2004. The grassroots and dynamic Gloria Anzaldúa Legacy (GAL) Project formed in 2007, organizing and hosting presentations in the community, making zines, and exhibits, including at Anzaldúa's alma mater campus, UTRGV legacy institution UT Pan American. Local poets and activists were at the forefront of this labor. Charged with helping raise awareness of Anzaldúa's work on her alma mater campus, in 2008 a poetry professor hosted a talk on Anzaldúa by the founder of the Society for the Study of Gloria Anzaldúa (SSGA) on campus.
At that time it was suggested she make an annual campus event with different presenters. "El Retorno" has been an annual campus event since and not possible without the dedication, service, and collaboration between community members, students, faculty, and staff. Most of these events were accomplished with minimal financial support for guest presenters. When UTRGV CMAS was created about a decade ago by many of the same folks working on Anzaldúa events, El Retorno had secured annual support to host one speaker per year. And at the same time of all of this, philosophy professors on campus hosted an Anzaldúa Speakers Series as well. 
Needless to say, this symposium and literary landmark represents the RGV community, campus, and the Society's efforts and collaborations for over 15 years. UTRGV CMAS and SSGA applied for the literary landmark with GAL Project support. And once again, we will gather for these events, and this time with greater support across campus and with community sponsors. We look forward to these events. For more information and/or event accommodations, please contact us at cmas@utrgv.edu.