Dental Assistant Program
« previous course
next course »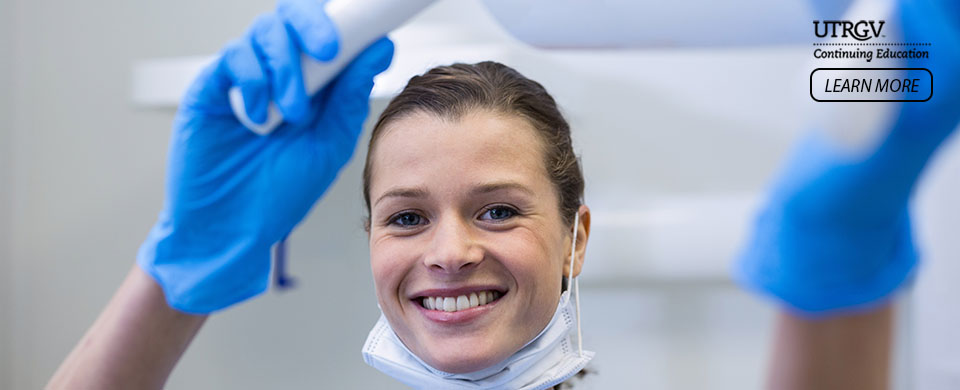 The Dental Assistant Program prepares students for entry-level positions in one of the fastest-growing health care professions.
Enroll McAllen
Brownsville
Wish List
Course PDF
What You Will Learn
• Dental anatomy and physiology
• Tooth charting, tooth surfaces, and classification of restorations on a tooth
• Oral health and preventions of dental disease
More Info
Course Information
 Cost
---
Per person: $1,799
Attendance: For in-class sessions, participants will now have the choice to attend in-person* or live online via Zoom!
McAllen Schedule
---
Date: Oct 17, 2020 - Feb 20, 2021 (No Class: Oct 31, Nov 28, Dec 26 & Jan 2)
Days: Saturdays
Time: 9:00 AM - 4:30 PM
Brownsville Schedule
---
Date: Oct 10, 2020 - Feb 13, 2021 (No Class: Oct 31, Nov 28, Dec 26 & Jan 2)
Days: Saturdays
Time: 9:00 AM - 4:30 PM
*Note: Until further notice, due to COVID-19 restrictions, only 6 in-person seats will be made available for in-class sessions of hybrid programs and other programs previously offered in-person. However, due to limited seating for in-person instruction, the opportunity will be given to participants on a first-come-first-served basis.
If you wish to secure your in-person seat, please email continuinged@utrgv.edu as soon as you complete the registration for the course.
Course Details
You will also learn:
• Infection control in dentistry and occupational health and safety
• The dental assisting profession and history of dentistry
• Patient information and assessment
• Foundation of clinical dentistry
• Dental radiology (bitewing, panograph, and periphical)
• Single crown restoration, bridge, implant, partial denture, and full denture
• Dental equipment, accessories and the treatment room
• Dental handpieces and accessories
• Dental cement and impression materials
• Coding of radiology services and the use of ICD-9-CM codes
• Assisting in comprehensive dental care
• Dental administration and communication skills
The Dental Assistant program will cover key areas and topics exposing the student to both classroom and hands-on instruction. The classroom instruction reviews the necessary anatomy, terminology, legal and ethical issues as well as the policy and guidelines necessary to understanding the scope of practice and the practical aspects of dental assisting. Topics include instrument identification, equipment maintenance, tooth structure, oral cavity anatomy, dental anesthesia, sterilization, tooth charting, restorations, bridge implants, mixing of dental cement, and x-ray techniques (bitewing, panograph, and periphical). The student will learn the steps necessary to assist a dentist while providing quality dental care within the community.
Note: Additionally, this 100 contact hour course includes a CPR certification course and covers the relevant material necessary to prepare students to take the Texas "TSBDE" Registered Dental Assistant (RDA) exam.
In addition to entry-level administrative positions, this course is ideal for students interested in pursuing a future formal dental hygienist program.
Students must have or plan to receive a high school diploma or GED. Participants must also possess a minimum of 10th-grade math and reading skills.
Note: Participants must be at least 18 years old to sit for the national certification exam after completing this course.
Location in McAllen:
1800 S. Main Street, Suite 1100
McAllen, TX 78503
Location in Brownsville
One West University Boulevard
Brownsville, Texas 78520
The potential certification listed below is for reference purposes only and is not included in the course fee.
Certified Dental Assistant (CDA)
Dental Assisting National Board (DANB)
Exam Cost: $425.00
Leslie Perales:
Ms. Leslie Perales has instructed Dental Assisting courses for over eight years. She currently serves as a Registered Dental Hygienist at Mid-Valley Dental Associates and has been licensed to practice dental hygiene in the state of Texas since 2013. Along with her years of experience in dental assisting, she is currently a TSBDE Registered Dental Assistant (RDA) which provides a substantial advantage to her students who are preparing to become RDAs in the UTRGV Dental Assistant Program.
Note:  If you are applying for the Continuing Education Private Loan to cover the  registration fee for a non-credit continuing education program, then please use the UTRGV Continuing Education School Code: 00359902. The loan amount you note in the application cannot exceed the open enrollment fee noted on our website. The minimum for the loans must be $500.00. Some service charges may apply.
Contact Us
UTRGV Continuing Education
McAllen Teaching Site:
1800 S. Main Street
Suite 1100 McAllen, TX 78503
---
Brownsville Campus:
One West University Boulevard, BMAIN 1.210K
Brownsville, Texas 78520