Sub Menu Toggle
UTRGV celebrates spring graduates at three commencement ceremonies in McAllen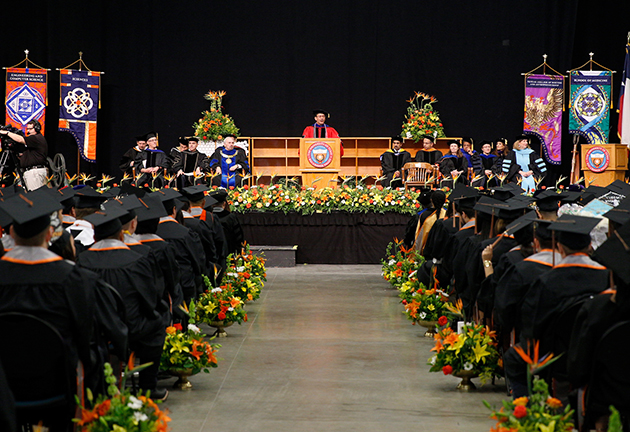 UTRGV celebrated more than 2,400 graduates on Saturday, May 13, in three ceremonies throughout the day at the McAllen Convention Center. On Friday, May 12, more than 700 graduates walked the stage on the UTRGV Brownsville Campus. In all, more than 3,100 UTRGV graduates were celebrated in four ceremonies over a two-day period during Spring 2017 Commencement Ceremonies. (UTRGV Photo by Paul Chouy)
PASSWORD: gradspring (case sensitive)


PASSWORD: gradcaps (case sensitive)
By Gail Fagan and Jennifer L. Berghom
McALLEN, TEXAS – MAY 13, 2017 – One of the most anticipated and happiest days for about 2,401 graduates from The University of Texas Rio Grande Valley finally arrived on Saturday, May 13, as they walked the stage during the Spring 2017 Commencement Ceremonies to accept the degrees they worked so hard for over the years.
The university celebrated the big day for UTRGV Edinburg Campus graduates with three commencement ceremonies – 9 a.m., 1 p.m. and 5 p.m. – at the McAllen Convention Center.
More than 700 graduates also were honored during an 
evening ceremony
 on Friday, May 12, on the UTRGV Brownsville Campus. A combined total of more than 3,100 UTRGV graduates were celebrated in four ceremonies over a two-day period.
The morning events featured the graduates of the Robert C. Vackar College of Business and Entrepreneurship, the College of Engineering and Computer Science, and the College of Sciences.
College of Education and P-16 Integration and the College of Health Affairs graduates walked the stage at 1 p.m., while the 5 p.m. ceremony was dedicated to the College of Liberal Arts and College of Fine Arts graduates.
UTRGV President Guy Bailey congratulated the Class of 2017 for their accomplishments and told them that this day was the beginning of the rest of their lives.
"Remember as you leave today that this is the beginning, not the end. This is commencement, not termination … We are very proud of you and we look forward to following you the rest of your lives," Bailey said.
He also told the graduates to celebrate their achievements.
"You have achieved something very special," he said. "We have great ambitions for you. We want you to get out and get really good jobs.
"Now, I have to warn you that after you make your first million, I'm going to come and ask you for part of it," he quipped.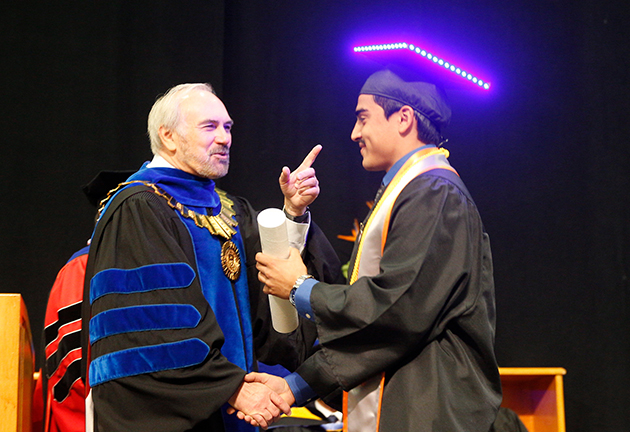 MEET SOME OF OUR GRADUATES
'Loved my department's support'
One of the first to walk the stage during the 9 a.m. ceremony for his Ph.D. in Business Management was Wonchuk Cha, 46 and a native of South Korea.
Before coming to the United States, Cha first worked as a radiation technician with an associate degree, and then earned a BA in media arts and sciences and an MBA in real estate in South Korean universities. He also worked for 10 years in franchising convenience stores, but felt something was missing: He wanted to continue his education.
He earned an MBA at Cleveland State University in 2010 before coming to then-UTPA in 2012.
Cha said he has had tremendous support from his wife, also from South Korea but whom he met here, and Dr. Michael Abebe, the Ph.D. program director and associate professor of management, who nurtured Cha's interest in researching the motivation behind corporate social responsibility and its link to corporate leaders and a company's performance. Cha has published his research and presented at numerous conferences.
"I especially liked the faculty collaboration," Cha said. "They really support me a lot, not only in research, but they treat me like a friend."
After defending his dissertation this summer, Cha will move to New Haven, Connecticut, to become an assistant professor of management at Southern Connecticut State University. He thinks his many years of being a student himself and interacting with them will help him to relate to his students.
"Sometimes students complain and they miss class. I understand. I tell them, 'I was in your position for more than 15 years and I know every excuse that you make, because I used them,'" Cha said, laughing.
Cha is still committed to lifelong learning, particularly in earning more certifications related to his field.
"But I think this is going to be the last degree I earn," he said.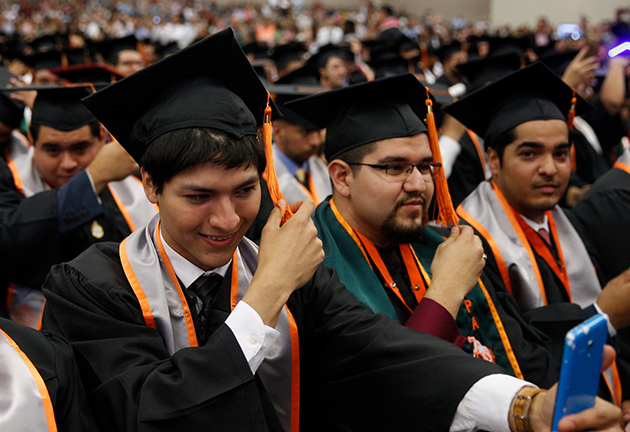 Miguel Rodriguez, 22, of Mission, graduated with a Bachelor of Science in Nursing at the 1 p.m. ceremony. He is grateful for the experiences he has had as a student, he said, and looks forward to starting his career.
Some of the highlights of his academic career include training at the simulation hospital at UTRGV's Clinical Education Building in Harlingen, and at area hospitals, as well as coordinating and operating a health fair with fellow nursing students.
"I think the most beautiful thing I saw was the birth of someone, both naturally and C-section," he said. "With our community health class, we went out to colonias and went into people's homes and checked their blood pressure, so it's not just about hospital work."
Rodriguez said he also appreciated how knowledgeable and caring the UTRGV faculty is with the students.
"I'm glad I went here, in the Valley. They teach us general nursing, but a lot of the focus is on diabetic teaching and hypertension, and that's a lot of what we see here in the Valley," he said.
"It's culturally competent, and I really enjoyed the program overall."
'We can be as progressive as we want' 
Maria Alvarado, 23, received her bachelor's degree in theatre performance at the 5 p.m. ceremony. Despite an early interest in dancing and acting, she said, she didn't get involved in theatre until her last semester in high school when she appeared in a musical.
"I didn't learn English until the seventh grade," said Alvarado, who came to the United States with her parents in 2006 from Guanajuato, Mexico. "I was self-conscious of my accent … I was afraid the audience wouldn't be able to understand me."
She found she loved performing and learned from friends who appeared in a production of "King Lear" at then-UT Pan American that the university offered a theatre program. She auditioned her first semester for the university's critically acclaimed, award-winning production of "Crawling with Monsters," a documentary play about the effect on children of the U.S.-Mexico border violence going on at that time.
"It was a very important project. Nobody else was really documenting it or doing anything on it. It made me more passionate about being part of that," she said. "I am so grateful that I had that immediate opportunity, which ignited the rest of my college years."
Alvarado said she is proud to be the first in her family to graduate from college. With a goal of opening her own Latino theatre company one day, she hopes to attend graduate school at UCLA or another California-based university where she can learn more about production and the business side of theatre.
Alvarado said she is grateful for the opportunities provided by UTRGV and by her caring College of Fine Arts faculty mentor, Dr. Eric Wiley. But a student's success, she said, really depends on their own initiative and willingness to take on challenges.
"We can be as progressive as we want, any place. We just have to want to," she said.
'UTRGV is your university'


Before the graduates departed the McAllen Convention Center to start a new chapter in their lives, Dr. Havidán Rodríguez, provost and executive vice president for Academic Affairs, asked them to always remember their alma mater.
"UTRGV is your university," he said.
"Please remember, you will build the future, bring innovation, serve our communities, transform South Texas. And you will inspire the world," 
Rodríguez said.
MORE SPRING 2017 GRADUATE PROFILES
UTRGV physics grad evolves into research scientist and determined Vaquero 
Masterful mentorship helps lead May grad to a master's in electrical engineering 
UTRGV ROTC couple 'Go Army' and pursue individual careers
UTRGV graduate in elementary bilingual education can select from wide variety of schools
UTRGV grad's future will focus on studying the past 
MEDIA CONTACTS
 
UTRGV Director of News and Internal Communications / 956-665-2742