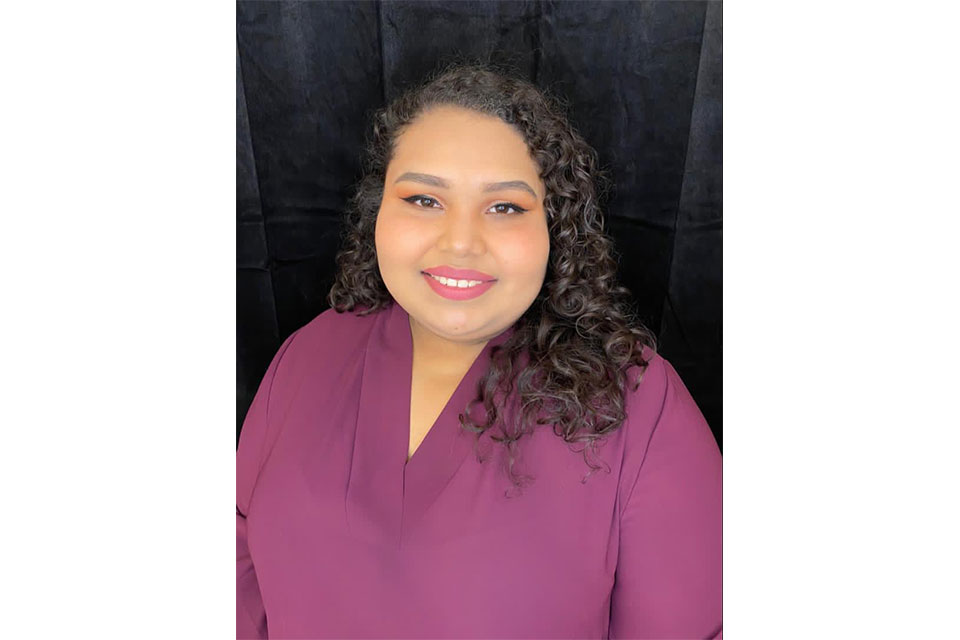 Meet Monica Ruiz, a UTRGV Unsung Hero
Text by Amanda A. Taylor

When the COVID-19 pandemic hit, UTRGV took the necessary protective measures to help keep the community safe. Those measures included closing certain departments, such as the Child Development Center, to help keep employees and children safe. Employees who worked in this department had to adapt to different roles to help mitigate the spread of the virus.  
Monica Ruiz, an early childhood specialist, soon became a team member of the UTRGV COVID-19 Response Team to help screen, educate and aid the public in any way she could.  
Ruiz, demonstrating commitment to her new team, takes on COVID-19 screening calls that can take up to 30 minutes per case. And while she misses working with the children from the Child Development Center, Ruiz has persevered in her new role and looks forward to again being in the classroom with them.  
NAME: Monica L. Ruiz
JOB TITLE: Early Childhood Specialist/UTRGV COVID-19 Response Team Member
CAMPUS: Edinburg
DEPARTMENT: Child Development Center/Environmental Health, Safety & Risk Management Department 
WHAT IS YOUR ROLE AT UTRGV? 
I am the lead teacher of the preschool classroom. My responsibility at the Child Development Center is to care for and teach young children in a loving, safe and rich environment. With the Child Development Center temporarily closed, I am currently working for Environmental Health, Safety and Risk Management Department as a member of the COVID Response Team. My role is to screen, educate and aid anyone in the UTRGV community who has been exposed to someone with COVID-19, is experiencing possible COVID-19-related symptoms, or has tested positive for COVID-19. 
HOW LONG HAVE YOU WORKED HERE? 
I have been part of UTRGV for five years.  
WITH THE SOCIAL CHANGES DUE TO COVID-19, DESCRIBE YOUR AVERAGE DAY IN THESE TIMES 
There have been many changes for everyone, and we have had to adjust our daily routines to follow the CDC guidelines. A typical day during this time is wearing a mask at work, making multiple calls to screen students, faculty and staff when they submit a preliminary COVID-19 screening form, and creating case plans to properly manage these cases for the university. 
Depending on each individual situation, the screening calls can take anywhere from 15 to 30 minutes, often longer for cases involving multiple individuals. Some days can be quite stressful with different situations that many people might not ever realize. Working with the COVID response team has been a real eye-opener, with everything that is happening.  
WHAT IS YOUR BIGGEST CHALLENGE MAINTAINING YOUR ROLE UNDER COVID-19? 
My biggest challenge has been not working at the Child Development Center. I have not worked with children for more than six months, and I miss that the most.  
IN WHAT WAYS ARE YOU HELPING YOUR DEPARTMENT MITIGATE THE SPREAD OF THE VIRUS? 
Now that my role has changed, as part of the COVID Response Team, I help my department by handling the more complex calls with difficult cases that help others understand, comply and uphold the CDC guidelines to stop the spread of the virus and keep our campuses safe. My eight-hour shift goes into making those calls, and follow-up with previous cases that I have worked on from week to week.  
DO YOU HAVE A FAVORITE MEMORY, OR STORY, ABOUT YOUR TIME HERE? 
My favorite memory of working at UTRGV is working with the children from the Child Development Center. My favorite part of that was singing and dancing with the children. They brought joy every day and made everything worth it. This is the one thing that I miss that COVID took away from many of my coworkers.  
TELL US SOMETHING MOST PEOPLE DON'T KNOW ABOUT YOU 
Many people do not know that, when I am with the children, I become a child and I will dance, sing and act silly to see them happy. I want for them to have a happy childhood. 
WHAT IS YOUR RELATIONSHIP WITH THE UTRGV COMMUNITY? 
I feel I have a positive, caring and compassionate relationship with my cases, with our medical director, and my management team. I'm a fast and dedicated learner and love being able to help others. Even though I'm not helping my kids from the Child Development Center right now, I get to help some of their parents who work, study and teach here.  
WHAT ARE SOME ENCOURAGING WORDS YOU COULD SHARE WITH YOUR PEERS ABOUT COVID-19? 
There are so many changes that we had to accommodate to keep our families, friends and others safe. We still have to do that. We have lost way too many people that we loved and cherished, and we will never forget those we have lost. I pray this year will be a better year for everyone.