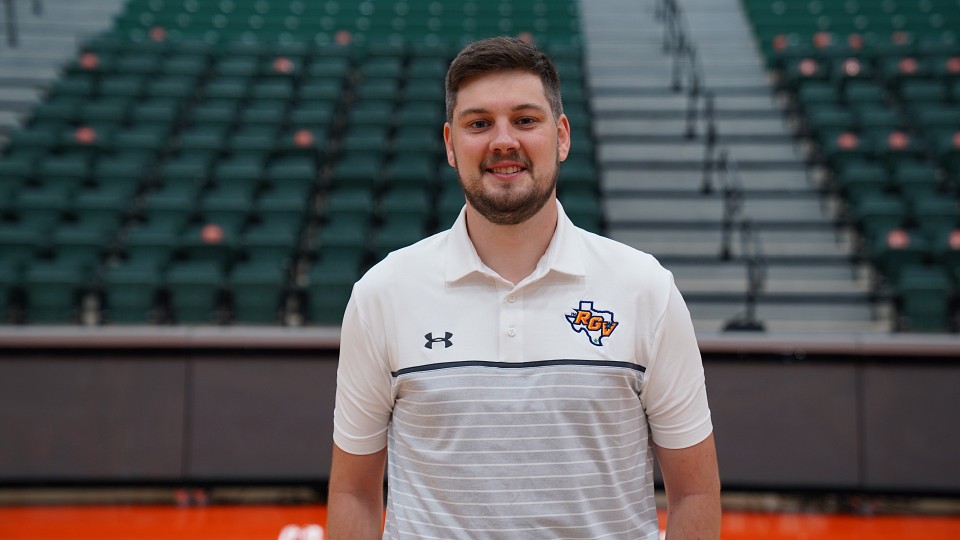 Meet Greg Kuras, a UTRGV Unsung Hero
Text by Amanda A. Taylor
Using gratitude as a tool for his personal and professional success, Greg Kuras, student-athlete advisor within the UTRGV Department of Intercollegiate Athletics, looks at each day as a new opportunity to help his student-athletes. Whether it's checking in on them to make sure they are both physically and mentally healthy, or hearing about new accomplishments they have achieved, Kuras feels fortunate to have so many special memories within his time working in Athletics. "Gratitude is a powerful catalyst for happiness," is his mantra, and this reflects in the rapport he's created with his many student-athletes and within his UTRGV family.
NAME: Greg Kuras
JOB TITLE: Student-Athlete Advisor
CAMPUS: Edinburg
DEPARTMENT: UTRGV Department of Intercollegiate Athletics

WHAT IS YOUR ROLE AT UTRGV?
Working with women's basketball, volleyball, and men's and women's soccer student-athletes to be successful in their academic and athletic careers.
HOW LONG HAVE YOU WORKED HERE?
Almost three years.
WITH THE SOCIAL CHANGES DUE TO COVID-19, DESCRIBE YOUR AVERAGE DAY IN THESE TIMES:
Working with our student-athletes to adapt to the changes in the classroom environment, helping them stay organized and manage their time in these more difficult circumstances while making sure they stay safe and mentally healthy.
WHAT IS YOUR BIGGEST CHALLENGE MAINTAINING YOUR ROLE UNDER COVID-19?
Not being able to meet with student-athletes in person as much as I used to. Prior to COVID, I had an open-door policy, and I miss the impromptu discussions I get to have with them.
IN WHAT WAYS ARE YOU HELPING YOUR DEPARTMENT MITIGATE THE SPREAD OF THE VIRUS?
Maintaining social distance and traffic patterns in the office. Also getting creative with meetings and communication to limit the amount of exposure people have with one another in a face-to-face environment.
DO YOU HAVE A FAVORITE MEMORY, OR STORY, ABOUT YOUR TIME HERE?
Anytime one of my student-athletes has success – whether it's on the field/court, in a class, graduating, or getting a job after school or signing a professional contract; all of those individual memories are special, and I've been fortunate to have many of them.
TELL US SOMETHING MOST PEOPLE DON'T KNOW ABOUT YOU:
I lived and coached basketball in Peru.
WHAT IS YOUR RELATIONSHIP WITH THE UTRGV COMMUNITY?
I am fortunate to get to interact with both the athletics and academic community in my position on several levels. Being from North Carolina, it's been great to be able to build relationships with everyone and feel like part of the family, whether it's in my job, at an athletics event, or during pre-pandemic pickup basketball.
WHAT ARE SOME ENCOURAGING WORDS YOU COULD SHARE WITH YOUR PEERS ABOUT COVID-19?
I've learned that gratitude has been the biggest tool in my life during tough times. Be thankful for what you have and those that support you and don't get caught up on what you don't have or can't control. Gratitude is a powerful catalyst for happiness.