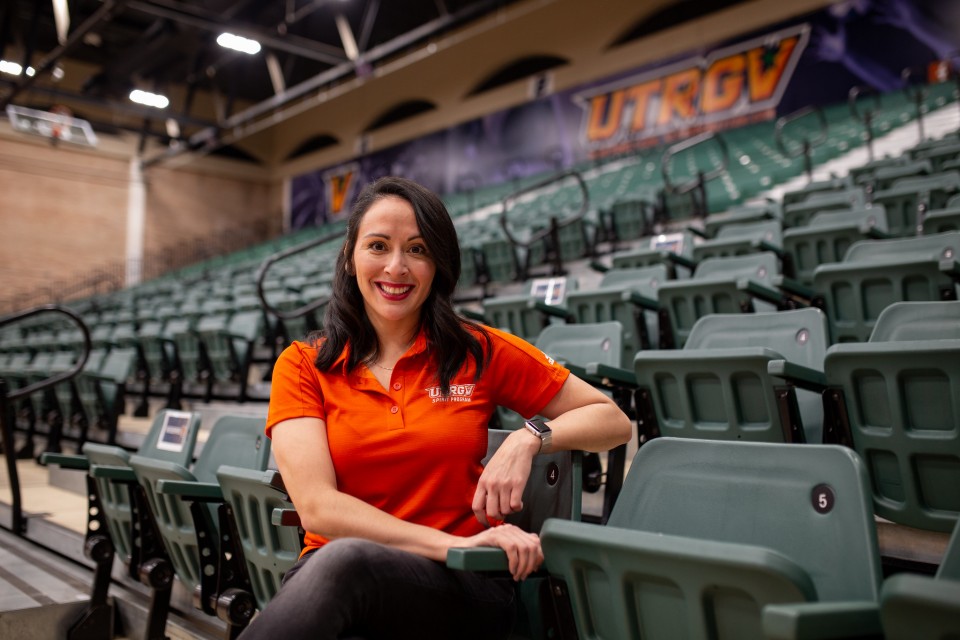 Meet Lora Solis, a UTRGV Unsung Hero
Text by Priscilla Ramirez, student staff writer
Photos by Silver Salas, student staff photographer: 
https://utrgv.news/LoraSolis
It's Homecoming night, and UTRGV Cheer and Mascot Coach Lora Solis knows what her team is capable of. She watches from the sidelines, her encouragement and cheers the loudest. The UTRGV Cheer Team already has met up an hour before the game – they understand what is expected.
"Game day is really just making sure we get the crowd going and providing support for every athletic program," Solis says. "What this team does is really special. I constantly tell them they're extraordinary students because not everyone can do what they do."
Training starts at 5:30 a.m. in a separate studio, where tumbles, jumps and stunts are polished for national competitions. Recently, the team won second competing against schools across the country.
"It's been an upward production and I'm blessed to be a part of it."
NAME: Lora Solis
JOB TITLE:  Head Cheer and Mascot Coach
CAMPUS:  Edinburg
DEPARTMENT:  Student Involvement
WHAT IS YOUR ROLE AT UTRGV? 
I oversee the growth and development of the UTRGV Spirit Program, with a direct focus on the cheer and the mascot program.
HOW LONG HAVE YOU WORKED HERE? 
It will be eight years in May 2020.
DESCRIBE YOUR AVERAGE DAY 
Many people don't know this, but I currently work a full-time job off campus. So, my day-to-day life is very different. It's hard to put into words, but I guess if I had one line to describe my life, it would be "organized chaos."
WHAT IS YOUR FAVORITE PART OF YOUR JOB? 
The students … the future of the program. Seeing their dedication, drive, passion, hard work and heart drives me every day. Honestly, they drive me to work harder and to wake up every day. Our hearts beat as one and that's why we have been so successful. My ability in creating a process for them and them believing in it allows the process to do its job.
DO YOU HAVE A FAVORITE MEMORY, OR STORY, ABOUT YOUR TIME HERE? 
I have so many! But honestly, seeing them after their "Finals Performance" at Nationals is the moment every coach hopes for. Seeing them so happy, embracing each other, giving one another high fives, crying tears of joy … I knew it the moment they left everything on that mat. Everything you do as a coach and hope to see happen happened on Jan. 17, 2020, when they won second place at the 2020 UCA & UDA College Cheerleading & Dance Team National Championship in the Open Coed Game Day Division in Florida. My heart is still completely full. I will cherish and hold that moment close to my heart for the rest of my life. 
TELL US SOMETHING MOST PEOPLE DON'T KNOW ABOUT YOU
People that meet me first think that I am very hardcore and stern – which, yes, I am, But what people don't know is that I am a very sensitive woman. I take everything to heart and do everything I do out of pure joy, love, passion, pride and heart.
MESSAGES FROM PEERS:
The team of coaches that we have not only dedicate their time to train and mentor our students that are a part of the cheer and dance teams to compete at the national stage, but also prepare them for games and events throughout the year.
Our Head Cheer Coach, Lora Solis, has been with the university on a part-time level since 2015 when UTRGV opened its doors.
– Cindy Mata-Vasquez, Director of Student Activities.