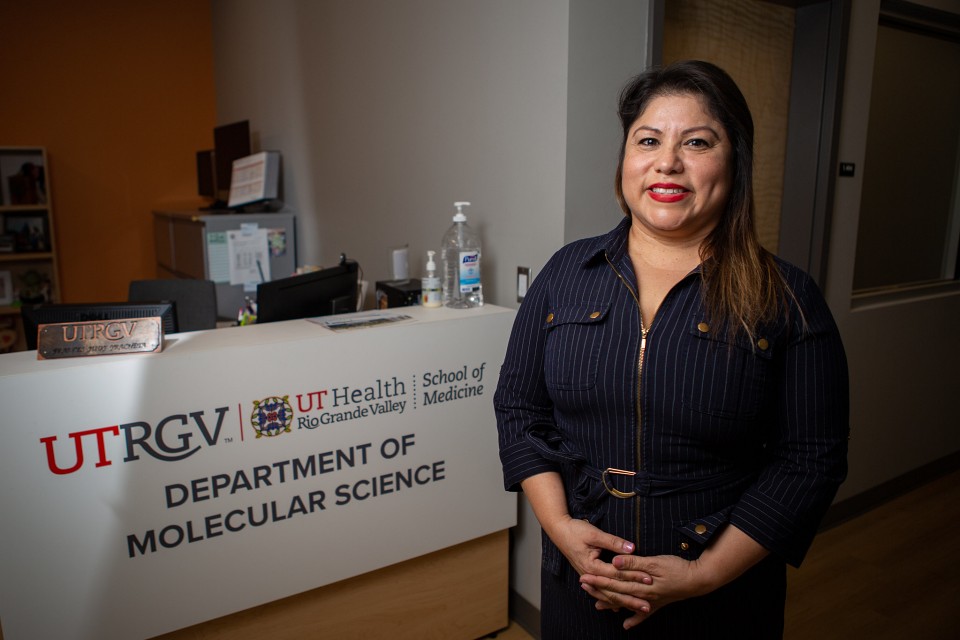 Meet Frances Judy Yracheta, a UTRGV Unsung Hero
Text by Cinthia Monsivais, student staff writer
Photos by Silver Salas, student staff photographer: 
https://www.flickr.com/gp/utrgvnews/hn59ME
"No staff member left behind." Frances Judy Yracheta works by that mantra, one she adapted from the phrase "no soldier left behind." She learned that one first hand, during her time serving in the U.S. Army.  
"I always want to help all of my coworkers, no matter what," she says. "If they're having any problems, I'm always the first to say, 'I'll help you.'  I will literally walk them to a building if they need assistance or help them find someone who can help them." 
Family portraits, Army award plaques – and knickknacks like her Star Wars Yoda figurine – adorn her workstation at the head of the hall of the Biomedical Research Building. They're all important to her.
As to the Biomed building … some see it as a maze, but Yracheta knows it like the back of her hand. She knows the exact purpose of each office, lab and room, and where to find every member of the staff when she needs them.
Knowing the ins and outs of the office is only a fraction of her many administrative duties, which help keep the department running smoothly.
NAME: Frances Judy Yracheta        
JOB TITLE: Administrative Assistant II
CAMPUS: Edinburg
DEPARTMENT: SOM Molecular Science
WHAT IS YOUR ROLE AT UTRGV?
I provide administrative support to Dr. Andrew Tsin (the associate dean of research) and the Molecular Science Department within the School of Medicine. I work with undergraduate, graduate and medical students to provide research experiences at UTRGV. I also maintain records and accounting records for faculty and staff.
HOW LONG HAVE YOU WORKED HERE?
Four years
DESCRIBE YOUR AVERAGE DAY:
An average day includes working together with faculty and staff to provide administrative support – from ordering supplies and guiding staff to working together as a team to have research labs maintained. Students within the Engaged Scholars program are informed of their projects and upcoming events to present posters or a talk about their innovative research. I also help in organizing meetings for our faculty to implement their collaborations with other doctors within UTRGV. 
WHAT IS YOUR FAVORITE PART OF YOUR JOB?
Being a part of the innovative research conducted by our faculty. I am their lifeline to keep their research going, even if it's simple tasks like ordering important equipment and lab supplies to keep the research going. It makes me feel good when they meet their deadlines to publish papers or have their research win a presentation at a conference. 
DO YOU HAVE A FAVORITE MEMORY, OR STORY, ABOUT YOUR TIME HERE? 
My favorite memories include watching my students grow and working together to run this department. They tell me that I have their backs, and I'm always looking out for them so they can succeed in life and in their academics.
TELL US SOMETHING MOST PEOPLE DON'T KNOW ABOUT YOU:
I joined the Army at age 36 and was one of the oldest there. I made it through basic training while others half my age were failing, and I pushed through to graduate. I serve in the U.S. Army Reserve in McAllen, 971st QM and I'm currently Platoon Sergeant and maintenance NCO for our detachment. Medals I have earned are the Army Accommodation two years in a row for annual training for exceptional leadership and a coin for a training in Florida.  
WHAT IS YOUR RELATIONSHIP WITH THE UTRGV COMMUNITY?
It is excellent. My coworkers look up to me for guidance and answers to be able to complete their tasks. I often train new staff and show them how the UT system works, and they are forever grateful for training them correctly and having the patience to do it.