Unsung Heroes:
Meet some of the people who help make UTRGV run
EDITOR'S NOTE: President Abraham Lincoln said, "Don't worry when you are not recognized, but strive to be worthy of recognition."
That certainly describes so many of the people who work at The University of Texas Rio Grande Valley. They work each day behind the scenes, away from spotlights and accolades, but still knowing they have a job to do that supports the university community and makes it run smoothly.
In 2016, UTRGV had 27,560 students and 1,372 faculty members. The campus covers 633 acres of land, with 10 colleges and a School of Medicine, all located in four different counties.
In order for such a vast institution to work efficiently, a large number of people must contribute, and some of them go unnoticed.
Our Unsung Heroes series highlights just a few of the people who often go overlooked, despite their importance and contributions.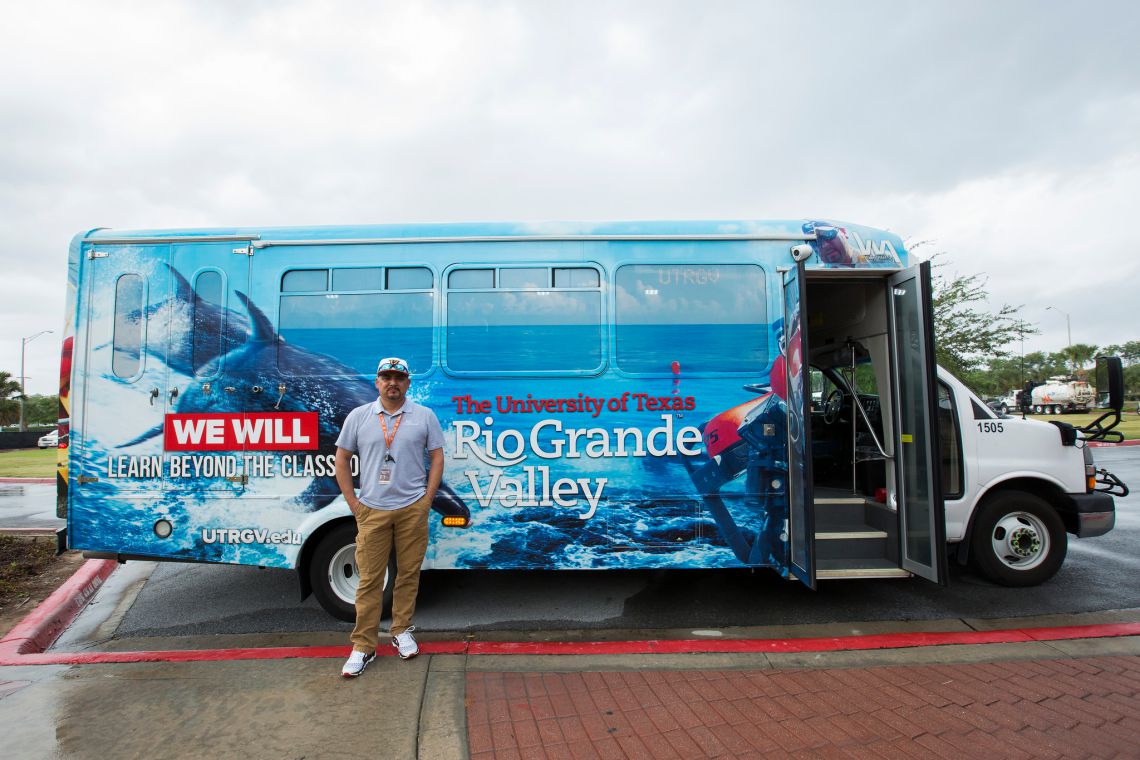 MEET VICTOR GARCIA, A UTRGV UNSUNG HERO
Text by Steven Masso, student staff writer
Photos by Veronica Gaona, student staff photographer: https://www.flickr.com/gp/utrgvnews/en3vz6
Sixty-one miles. That's the distance between the UTRGV Edinburg Campus and the UTRGV Brownsville Campus.
One hour. That's the approximate amount of time it takes the university shuttle to make that trip. Six times a day, stops at UTRGV's Harlingen locations lengthen the travel time.
UTRGV students don't usually study at just one campus and often take courses on both, so the shuttles the university provides becomes a part of their daily routine.
And during that time on the road, students place their safety in someone else's hands.
It's a responsibility their driver takes very seriously indeed.
What is your role here at UTRGV? 
I work with the parking and transportation facilities. I'm a shuttle driver. 
How long have you been working here? 
It's been about two years now. 
Describe to us the average day for you. 
We're scheduled to drive every day. One day, I could wake up at 4 a.m. to do the 6 a.m. departure from Brownsville. And other days I wake up at 7 a.m. to do the 8:30 departure. It varies every day, but basically what we do is drive from campus to campus, or drive around one campus. That's our job. 
What is your favorite part of your job? 
For me, it's just driving. I love to drive, and if you don't like to drive, this isn't the work for you. I just keep my eyes on the road and keep my mind focused. I've been doing this for a while. Before this, I worked with a school district. I've taken situational trainings. People don't really think of it as a dangerous job, but it can be. We see accidents all the time. 
What is something people may not know about you? 
I have twins, both girls. One is studying here at UTRGV to be a teacher, and the other is studying to be an occupational therapist at Texas A&M. I'm also a huge Yankees fan. I've been a fan as long as I can remember. You will always see me in a baseball cap.
Do you have a favorite memory, or a story, from your time here? 
One time, I was driving to Harlingen to the designated stop. When I was pulling into the stop, a car pulled up in front of me and a woman got out of the car. I was thinking I must have done something wrong. She came up to my window and said to me, "I just want to thank you for your service. We never get to thank you guys." When her daughter boarded the shuttle, she handed me a bottle of water and said thank you. It's a great memory I have.
Do you have a special bond with the UTRGV community? 
I would say so. Just knowing that we give them this service, whether it's students or staff, is a good feeling. We don't usually talk to each other. It's a "hi" or "have a good day" thing with them. Being able to say we contribute to their everyday life – that's what I find gratifying.