Unsung Heroes:
Meet some of the people who help make UTRGV run
EDITOR'S NOTE: President Abraham Lincoln said, "Don't worry when you are not recognized, but strive to be worthy of recognition."
That certainly describes so many of the people who work at The University of Texas Rio Grande Valley. They work each day behind the scenes, away from spotlights and accolades, but still knowing they have a job to do that supports the university community and makes it run smoothly.
In 2016, UTRGV had 27,560 students and 1,372 faculty members. The campus covers 633 acres of land, with 10 colleges and a School of Medicine, all located in four different counties.
In order for such a vast institution to work efficiently, a large number of people must contribute, and some of them go unnoticed.
Our Unsung Heroes series highlights just a few of the people who often go overlooked, despite their importance and contributions.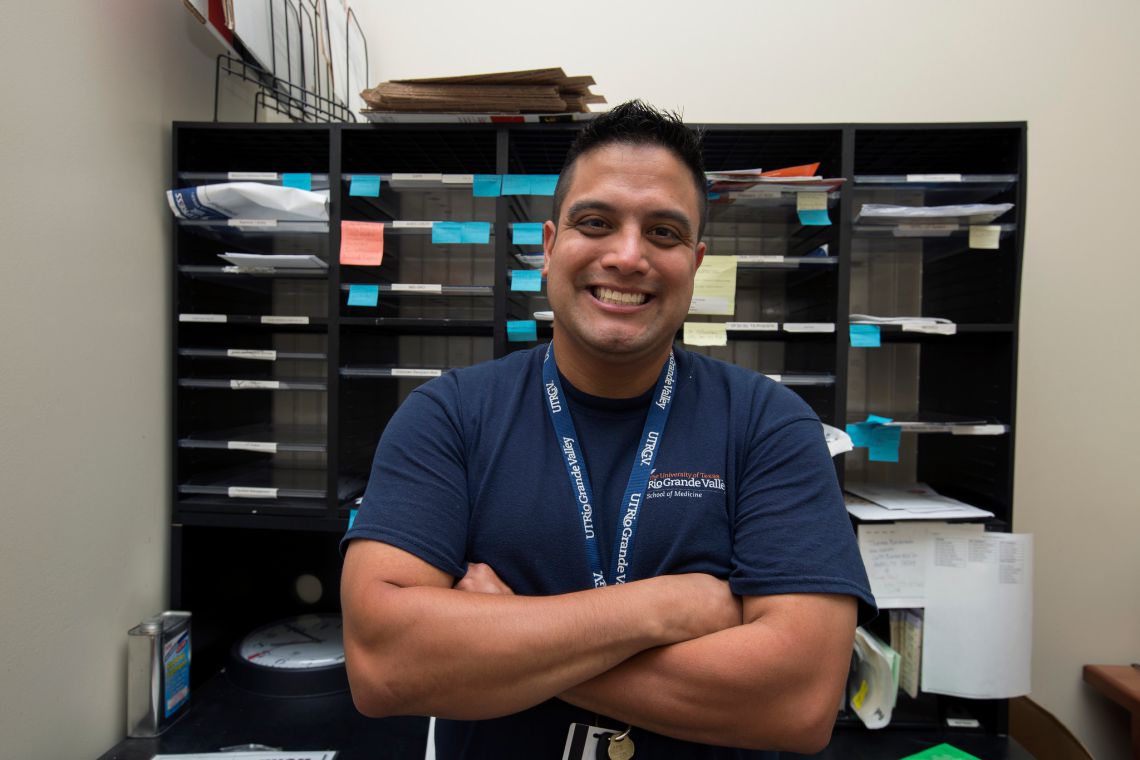 MEET ROLANDO GONZALEZ, A UTRGV UNSUNG HERO
Text by Steven Masso, student staff writer
Photos by Veronica Gaona, student staff photographer: https://www.flickr.com/gp/utrgvnews/qZ2YL5
Boxes and envelopes line the walls of a small room located inside the UTRGV Clinical Education building in Harlingen. The packages vary in size – the biggest, about the size of a table, and the smallest, the size of a birthday card.
A man stands sorting through the copious quantity of letters, filing each one neatly in the proper place.
Always upbeat and smiling, he heads out for his morning of mail deliveries – and networking opportunities.
What is your role here at UTRGV? 
I work with auxiliary services in Harlingen.
How long have you been working here? 
I've been here since the start of the campus in September 2015. It's been great. I get to network with basically every department.
Describe to us the average day for you. 
I wake up at 5 a.m. I live in Edinburg, but I work in Harlingen, so it takes about an hour to get here. I leave home by 7 a.m. Once I get here, I start organizing my mail from the previous day. I sort it, deliver it, and once that's done, I get ready to receive the shipping packages. It could be from 7:30 in the morning until 4:45 in the afternoon. That's most of my day.
What is your favorite part of your job? 
My favorite part is when I deliver packages, because everyone says, "It's Christmas!" They sometimes forget what they've ordered, so they have me stick around and see what it is as they open it. I get to converse with everybody, so I get to learn a lot about different people.
What's something people may not know about you? 
I'm working on my master's degree in kinesiology right now. Some people think that just because you work in the mailroom, you aren't working towards a degree. My ultimate goal is to teach, whether it's in the classroom or on the field. Even if it's just a one-year stint in college football, that's the one thing I hope I can do. I'm always studying football.
Do you have a favorite memory, or a story, from your time here? 
One of the staff members accidentally ordered 60 cases of paper. They were only supposed to order six boxes of paper. It was interesting! (He laughs.) Once I brought it, they looked at me, shocked, and asked, "This is all my paper!"
Do you share a bond with the UTRGV community?
Yes. I like to have people get together. Once every quarter, I like to do a barbeque for the building. Last time, I invited my boss from Edinburg and he thought it was a banquet. I had help setting it up from everyone around here.