Unsung Heroes:
Meet some of the people who help make UTRGV run
EDITOR'S NOTE: President Abraham Lincoln said, "Don't worry when you are not recognized, but strive to be worthy of recognition."
That certainly describes so many of the people who work at The University of Texas Rio Grande Valley. They work each day behind the scenes, away from spotlights and accolades, but still knowing they have a job to do that supports the university community and makes it run smoothly.
In 2016, UTRGV had 27,560 students and 1,372 faculty members. The campus covers 633 acres of land, with 10 colleges and a School of Medicine, all located in four different counties.
In order for such a vast institution to work efficiently, a large number of people must contribute, and some of them go unnoticed.
Our Unsung Heroes series highlights just a few of the people who often go overlooked, despite their importance and contributions.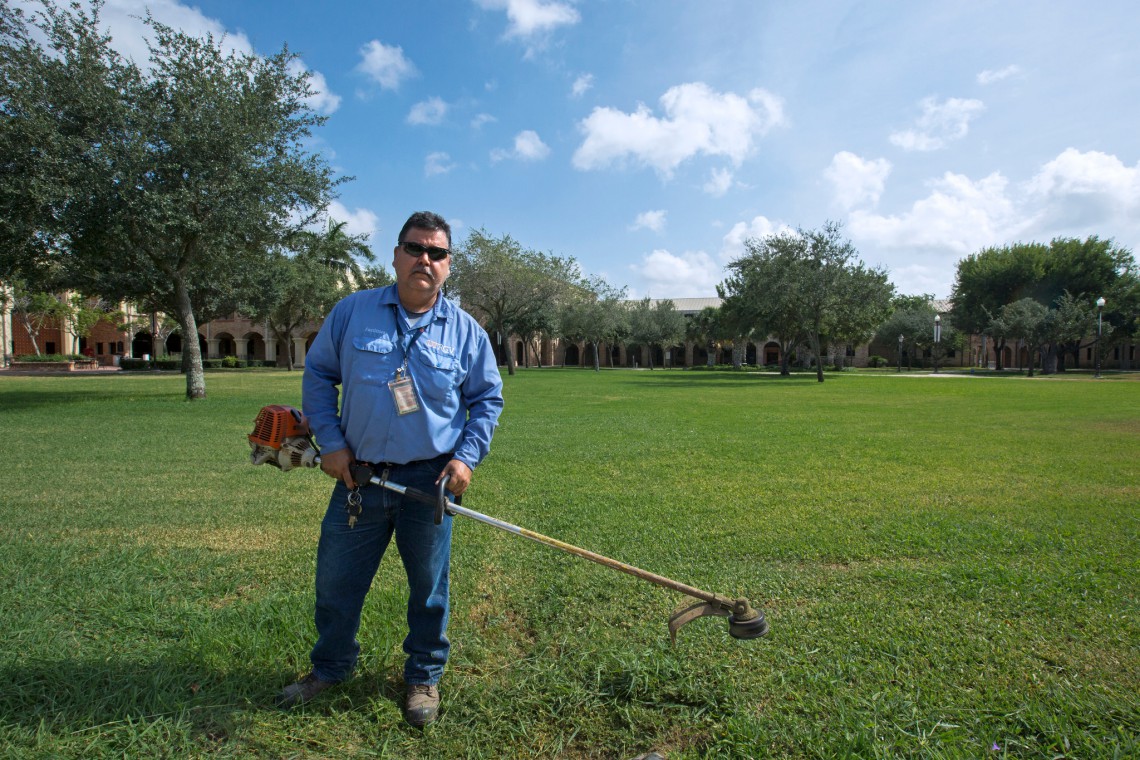 MEET RODNEY DORSETT JR., A UTRGV UNSUNG HERO
Text by Steven Masso, student staff writer
Photos by Veronica Gaona, student staff photographer: https://www.flickr.com/gp/utrgvnews/30t77g
It's 11 a.m., and the infamous South Texas summer heat is in full effect. The temperature has climbed into the high 90s, and nearly everyone on the UTRGV Brownsville Campus has fled to the comfort of a cool, air-conditioned room. The only person still outside is a man drenched in perspiration, a seemingly undaunted groundskeeper, trimming the bushes with a saw aptly called a double-sided hedge trimmer.
These are the daily conditions to which Rodney Dorsett Jr. is accustomed.
"Every day is a busy day."
WHAT IS YOUR ROLE AT UTRGV? 
Groundskeeper.
HOW LONG HAVE YOU WORKED HERE?  
Fifteen years now.
DESCRIBE YOUR AVERAGE DAY
Well, sometimes we will come in at 6 a.m., but most of the time we come from 8 to 5. The average day for me usually involves a lot trimming, and picking up weeds. Also, picking up parts of palm trees. We're ready for anything. They can call us up and ask us to chop something up or give faculty a ride, and we're ready. We do a bunch of different stuff, not just grounds-keeping. We do "movers," which means giving faculty rides across campus, and set-ups for events, too.
WHAT IS YOUR FAVORITE PART OF YOUR JOB
After we finish trimming and weed whacking, we look back at how it turned out. It's really nice to see the difference. We also have work-study, so students will work with us throughout the year. Some of them are students from Colombia, Brazil and Australia. It's amazing, meeting people from different countries and learning about their culture.
TELL US SOMETHING MOST PEOPLE DON'T KNOW ABOUT YOU
That's hard to say because I'm an open-book. I like Stevie Ray Vaughan, Texas Flood. I've also been married for 24 years, and I have three daughters and one son.
DO YOU HAVE A FAVORITE MEMORY, OR STORY, ABOUT YOUR TIME HERE?
It was on graduation day. One of the students from work-study that graduated came up to me after and was so thankful. We had showed her how to trim all the different plants. And I just gave her some advice about life. I told her, don't give up. She was really grateful. We keep in touch. Many of the students will call me and tell me how they're doing.
DO YOU FEEL A SPECIAL BOND WITH THE UTRGV COMMUNITY? 
Yeah, definitely. The students and faculty always tell me I do a great job. Sometimes, Winter Texans or other people from out of town will come up to me and tell me they love the way the campus looks. That always means a lot to me.
It's a lot of hard work and sweat. The humidity is big time. The heat gets to 110 degrees sometimes, so I really appreciate when students come up to me and tell me the campus looks good.