Unsung Heroes:
Meet some of the people who help make UTRGV run
EDITOR'S NOTE: President Abraham Lincoln said, "Don't worry when you are not recognized, but strive to be worthy of recognition."
That certainly describes so many of the people who work at The University of Texas Rio Grande Valley. They work each day behind the scenes, away from spotlights and accolades, but still knowing they have a job to do that supports the university community and makes it run smoothly.
In 2016, UTRGV had 27,560 students and 1,372 faculty members. The campus covers 633 acres of land, with 10 colleges and a School of Medicine, all located in four different counties.
In order for such a vast institution to work efficiently, a large number of people must contribute, and some of them go unnoticed.
Our Unsung Heroes series highlights just a few of the people who often go overlooked, despite their importance and contributions.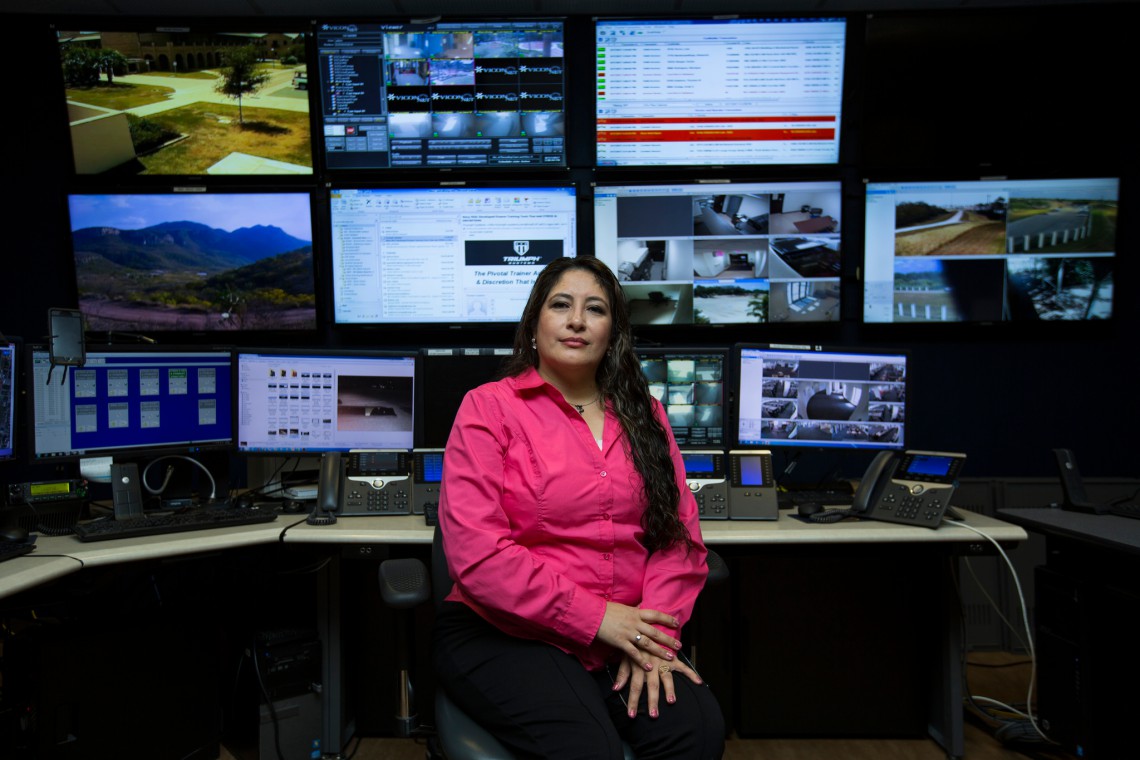 MEET KARINA REYNA, A UTRGV UNSUNG HERO
Text by Steven Masso, student staff writer
Photos by Veronica Gaona, student staff photographer: https://www.flickr./gp/utrgvnews/6os4Ti
UTRGV police dispatcher Karina Reyna sat alone on the third floor of the biomedical building on the Brownsville Campus, answering phone calls even as her eyes constantly move from camera to camera. Surrounding her are more than 20 screens displaying live, high-quality video feeds of the UTRGV Brownsville Campus. Occasionally, the voices of campus police officers crackle into the air as they call in over the radio.
And lined up in front of Reyna are three phones that ring around the clock. 
"UTRGV police. State your emergency ..." 
WHAT IS YOUR ROLE AT UTRGV? 
I'm the police communications operator. For those who don't know what it is, it's the call-taker. A dispatcher with partial administrative duties.
HOW LONG HAVE YOU WORKED HERE?  
Twenty-one years and seven months.
DESCRIBE YOUR AVERAGE DAY
Well, first I wake up around 4:30 a.m. I make coffee, and then I get here at work at 6 a.m. I start setting up the computers, and then I start taking calls. I take an average of 300 to 400 calls a day.  After work, I run errands. I have two children. One has just gone off to college. And my little one is 15, and she's in band, so I take her to band practice after school. Then we just have dinner together. Last, I go to sleep, and wake up at 4:30 a.m. again the next day. They like my job, but they complain sometimes. There are holidays when I can't be home with them.
WHAT IS YOUR FAVORITE PART OF YOUR JOB? 
It's not necessarily one thing, but it's the fact that I'm doing many things. I come in and I already have 20 things to do. It's the challenge that I enjoy. When we come in, we never know if it's going to be a boring day. It can always be an "Oh, my goodness, what happened today?" type of day. Sometimes it's accidents, and sometimes it's natural disasters. Other times, it's people just not being nice to each other. That's part of the challenge.
TELL US SOMETHING MOST PEOPLE DON'T KNOW ABOUT YOU
People here don't believe me when I tell them I was very shy as a kid. Even when I started working here, I was very shy. I would rarely talk to people. I would almost never talk to strangers. People don't believe me when I say that. They're like, "No way, not you!" Now with this job, I'm forced to be outgoing.
DO YOU HAVE A FAVORITE MEMORY, OR STORY, ABOUT YOUR TIME HERE?
It has to be the time I delivered my son. I worked up until the last day. It was my first pregnancy, so I didn't have any experience with it. I also wasn't really having a rough time so I worked a full day that day. I was already planning on what I had to do at work the next day -- and next thing I know, the baby is coming. He was born at 7:26 the next morning. I really had no idea the night before. It was not what I expected. I was picking out my outfit for work one moment and then had a baby. It was fun.
DO YOU FEEL A SPECIAL BOND WITH THE UTRGV COMMUNITY? 
I would say so. I've been here almost 22 years. I'm lucky to say that I've made a lot of friends. I'm also glad to say I've been able to help the students here, too. We had a student once who was flying in from overseas and got stranded in Houston. It was a foreign student, in a foreign country, so I was calling the office that deals with international students, telling them that we had a very important situation. We were able to coordinate contact with the student and get them on another flight. The student was back in class the following day. These are the type of things most people don't see. I felt proud to say that I helped that student.
"Dispatchers are the guardian angels. You don't see them, but you feel them."
-- UTRGV Police Communication Supervisor Daniel Valdez