Matthew P. Johnson Ph.D.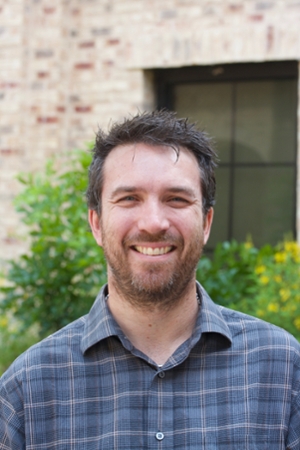 Associate Professor

South Texas Diabetes and Obesity Institute

School of Medicine

Office: Brownsville Campus, BROBL, Room 105
1 West University Blvd
Brownsville, TX.  78520
Phone: +1 (956)-882-7504
Email: matthew.johnson@utrgv.edu


Education

2005 Ph.D. Molecular Genetics, Griffith University, Gold Coast, Australia
1999 Grad. Dipl. Biotechnology, Queensland University of Technology, Brisbane, Australia


Research Focus
Dr. Johnson's research program centers on the identification of genetic mechanisms influencing normal and diseased ocular biology. Blindness and poor vision are major public health concerns across the globe. It is estimated that approximately 10% of the world's population suffer from some degree of visual impairment, and the costs associated with treating or managing all eye-related disorders is estimated to run in the billions of dollars. Poor ocular health significantly impacts independence and quality of life. The major causes of visual impairment – refractive error, cataract, age-related macular degeneration (AMD), diabetic retinopathy, diabetic macular edema, and glaucoma – progressively worsen with age if left undetected. Additionally, diabetes significantly influences the development of diabetic retinopathy, diabetic macular edema, and is known to influence cataract and glaucoma risk. The negative impact that visual impairment places on society is likely to increase given an aging global population in addition to an increase in diabetes incidence.     
Intramural Appointments

    

Extramural Appointments

Vice Chair, Institutional Biosafety Committee, University of Texas Rio Grande Valley

Member, Translational Research Seminar Series Committee, UT Health Houston, School of Public Health; University of Texas Rio Grande Valley

Member, LCME Provisional Accreditation Educational Subcommittee, School of Medicine Self Study Task Force

Undergraduate Mentor, UT Health Houston, School of Public Health summer research program

Associate Professor (Adjoint), Department of Ophthalmology, School of Medicine, UT Health San Antonio, San Antonio, TX

Associate Professor (Adjunct), School of Public Health, UT Health Houston, Houston, TX

Member, International Age-related Macular Degeneration Genomics Consortium
Publication Highlights
Recent Publications
Journal Articles
Wood AR, Tuke MA, Nalls M, Hernandez D, Gibbs JR, Lin H, Xu CS, Li Q, Shen J, Jun G, Almedia M, Tanaka T, Perry JR, Gaulton K, Rivas M, Pearson R, Curran JE, Johnson MP, Göring HHH, Duggirala R, Blangero J, McCarthy MI, Bandinelli S, Murray A, Weedon MN, Singleton A, Melzer D, Ferrucci L, Frayling TM. Whole genome sequencing to understand the genetic architecture of common gene expression and biomarker phenotypes. Human Molecular Genetics. 24(5):1504-1512, 2015. PMID 25378555. PMCID: PMC4321449.
Blackburn A, Almeida M, Dean A, Curran JE, Johnson MP, Moses EK, Abraham LJ, Carless MA, Dyer T, Kumar S, Almasy L, Mahaney M, Comuzzie A, Williams-Blangero S, Blangero J, Lehman DM, Göring HHH. Effects of copy number variable regions on local gene expression in white blood cells of Mexican Americans. European Journal of Human Genetics. 23(9):1229-1235, 2015. PMID: 25585699. PMCID: PMC4538210.
Rubicz R, Yolken R, Drigalenko E, Carless MA, Dyer TD, Kent JW Jr., Curran JE, Johnson MP, Cole SA, Fowler SP, Arya R, Puppala S, Almasy L, Moses EK, Kraig E, Duggirala R, Blangero J, Leach CT, Göring HHH. Genome-wide genetic investigation of serological measures of common infections. European Journal of Human Genetics. 23(11):1544-1548, 2015. PMID: 25758998. PMCID: PMC4613484.
Yong HEJ, Melton PE, Johnson MP, Freed KA, Kalionis B, Murthi P, Brennecke SP, Keogh RJ, Moses EK. Genome-wide transcriptome directed pathway analysis of maternal pre-eclampsia susceptibility genes. PLoS One. 10(5):e0128230, 2015. PMID: 26010865. PMCID: PMC4444079.
Peters MJ, Joehanes R, Pilling LC, Schurmann C, Conneely KN, Powell J, Reinmaa E, Sutphin GL, Zhernakova A, Schramm K, Yang J, Kobes S, Tukiainen T, Nalls MA, Ramos YFM, Göring HHH, Fornage M, Liu Y, Gharib SA, Stranger BE, De Jager PL, Aviv A, Levy D, Murabito JM, Munson PJ, Hofman A, Uitterlinden AG, Rivadeneira F, van Rooij J, Stolk L, Broer L, Verbiest MMPJ, Jhamai M, Arp P, Metspalu A, Tserel L, Milani L, Samani NJ, Peterson P, Kasela S, Codd V, Peters A, Herder C, Waldenberger M, Roden M, Singmann P, Zeilinger S, Illig T, Homuth G, Grabe H, Völzke H, Steil L, Kocher T, Melzer D, Hernandez DG, Yaghootkar H, Bandinelli S, Murray A, Moses EK, Curran JE, Johnson MP, Blangero J, Kent JW, Westra H-J, McRae AF, Henders AK, Martin NG, Smith JA, Kardia SL, Hovatta I, Perola M, Ripatti S, Salomaa V, Smith AK, Mehta D, Binder EB, Nylocks KM, Klengel T, Ding J, Suchy-Dicey AM, Enquobahrie DA, Brody JA, Rotter JI, Chen YI, Houwing-Duistermaat J, Kloppenburg M, Slagboom PE, Helmer Q, den Hollander W, Bean S, John Hardy J, Cookson MR, Ryten M, Gibbs RJ, Raj T, Psaty BM, Tracy RP, Turner ST, Williams-Blangero S, Meulenbelt I, Ressler KJ, Singleton AB, Montgomery GW, Franke L, Kettunen J, Visscher PM, Korstanje R, Hanson RL, Prokisch H, Ferrucci L, Esko T, Teumer A, van Meurs JBJ, Johnson AD. The transcriptional landscape of age in human peripheral blood. Nature Communications. 6:8570, 2015. PMID: 26490707. PMCID: PMC4639797.
Fritsche LG, Igl W, Cooke Bailey JN, Grassman F, Sengupta S, Bragg-Gresham JL, Burdon KP, Hebbring SJ, Wen C, Gorski M, Kim IK, Cho D, Zack D, Souied E, Scholl HPN, Bala E, Lee KE, Hunter D, Sardell RJ, Mitchell P, Merriam JE, Cipriani V, Hoffman JD, Schick T, Lechanteur YTE, Guymer RH, Johnson MP, Jiang Y, Stanton CM, Buitendijk GHS, Zhan X, Kwong AM, Boleda A, Brooks M, Gieser L, Ratnapriya R, Branham KE, Foerster JR, Heckenlively JR, Othman MI, Vote BJ, Liang HH, Souzeau E, McAllister IL, Isaacs T, Hall J, Lake S, Mackey DA, Constable IJ, Craig JE, Kitchner TE, Yang Z, Su Z, Luo H, Chen D, Ouyang H, Flagg K, Lin D, Mao G, Ferreyra H, Stark K, von Strachwitz CN, Wolf A, Brandl C, Rudolph G, Olden M, Morrison MA, Morgan DJ, Schu M, Ahn J, Silvestri G, Tsironi EE, Park KH, Farrer LA, Orlin A, Brucker A, Li M, Curcio CA, Mohand-Saïd S, Sahel JA, Audo I, Benchaboune M, Cree A, Rennie C, Goverdhan S, Grunin M, Hagbi-Levi S, Campochiaro P, Katsanis N, Holz FG, Blond F, Blanché H, Deleuze JF, Igo Jr., RP, Truitt B, Peachey NS, Meuer SM, Myers CE, Moore EL, Klein R, Courtenay MD, Schwartz SG, Kovach JL, Scott WK, Liew G, Tan AG, Gopinath B, Merriam JC, Smith RT, Khan JC, Shahid H, Moore AT, McGrath JA, Laux R, Brantley Jr., MA, Agarwal A, Ersoy L, Caramoy A, Langmann T, Saksens NTM, de Jong EK, Hoyng CB, Cain MS, Richardson AJ, Martin TM, Blangero J, Weeks DE, Dhillon B, van Duijn CM, Doheny KF, Romm J, the GIANT consortium, the CKDGen consortium, Klaver CCW, Hayward C, Gorin MB, Klein ML, Baird PN, den Hollander AI, Fauser S, Yates JRW, Allikmets R, Wang JJ, Schaumberg DA, Klein BE, Hagstrom SA, Chowers I, Lotery A, Léveillard T, Zhang K, Brilliant MH, Hewitt AW, Swaroop A, Chew EY, Pericak-Vance MA, DeAngelis M, Stambolian D, Haines JL, Iyengar SK, Weber BHF, Abecasis GR, Heid IM. Insights into rare genetic variation from a large study of age-related macular degeneration. Nature Genetics. 48(2):134-143, 2016. PMID: 26691988. PMCID: PMC4745342.
Zhou Y, Zhu G, Charlesworth JC, Simpson S Jr, Rubicz R, Göring HH, Patsopoulos NA, Laverty C, Wu F, Henders A, Ellis JJ, van der Mei I, Montgomery GW, Blangero J, Curran JE, Johnson MP, Martin NG, Nyholt DR, Taylor BV; ANZgene consortium. Genetic loci for Epstein-Barr virus nuclear antigen-1 are associated with risk of multiple sclerosis. Multiple Sclerosis. 22(13):1655-1664, 2016. PMID: 26819262. PMCID: In process.
Kaartokallio T, Lokki AI, Peterson H, Kivinen K, Hiltunen L, Salmela E, Lappalainen T, Maanselkä P, Heino S, Knuutila S, Sayed A, Poston L, Brennecke SP, Johnson MP, Morgan L, Moses EK, Kere J, Laivuori H. Preeclampsia does not share common risk alleles in 9p21 with coronary artery disease and type 2 diabetes. Annals of Medicine. 48(5):330-336, 2016. PMID: 27111527. PMCID: in process.
Chittoor G, Kent Jr., JW, Almeida M, Puppala S, Farook VS, Cole SA, Haack K, Göring HHH, MacCluer JW, Curran JE, Carless MA, Johnson MP, Moses EK, Almasy L, Mahaney MC, Lehman DM, Duggirala R, Comuzzie AG, Blangero J, Voruganti VS. GWAS and transcriptional analysis prioritize ITPR1 and CNTN4 for a serum uric acid 3p26 QTL in Mexican Americans. BMC Genomics. 17(1):276, 2016. PMID: 27039371. PMCID: PMC4818944.
Kulkarni H, Mamtani M, Peralta J, Almeida M, Dyer TD, Goring HH, Johnson MP, Duggirala R, Mahaney MC, Olvera RL, Almasy L, Glahn DC, Williams-Blangero S, Curran JE, Blangero J. Soluble forms of intercellular and vascular cell adhesion molecules independently predict progression to type 2 diabetes in Mexican American families. PLoS ONE. 11(3):e0151177, 2016. PMID: 27007680. PMCID: PMC4805238.
Blangero J, Teslovich TM, Sim X, Almeida MA, Jun G, Dyer TD, Johnson MP, Peralta JM, Manning A, Wood AR, Fuchsberger C, Kent JW, Aguilare DA, Below JE, Farook VS, Arya R, Fowler S, Blackwell TW, Puppala S, Kumar S, Glahn D, Moses EK, Curran JE, Thameem F, Jenkinson CP, DeFronzod RA, Lehman DM, Hanis C, Abecasis G, Boehnke M, Göring H, Duggirala R, Almasy L, the T2D-GENES Consortium. Omics-squared: Human genomic, transcriptomic and phenotypic data for Genetic Analysis Workshop 19. BMC Proceedings. 10(Suppl 7):71-77, 2016. PMID: 27980614. PMCID: PMC5133484.
Thomsen LCV, McCarthy NS, Melton PE, Cadby G, Austgulen R, Nygård OK, Johnson MP, Brennecke SP, Moses EK, Bjørge L, Iversen AC. The anti-hypertensive MTHFR gene polymorphism rs17367504-G is a novel protective locus for preeclampsia in the HUNT study. Journal of Hypertension. 35(1):132-139, 2017. PMID: 27755385. PMCID: PMC5131692.
Weerasekera L, Rudnicka C, Sang QXA, Curran JE, Johnson MP, Moses EK, Göring HHH, Blangero J, Hricova J, Schlaich MP, Matthews V. ADAM19: A novel target for metabolic syndrome in humans and mice. Mediators of Inflammation. 2017:7281986, 2017. PMID: 28265178. PMCID: PMC5318628.
A full list of publications can be found here:
Johnson, MP
Manuscript Review
European Journal of Medical Research, Placenta, American Journal of Physiology – Endocrinology and Metabolism
Collaborating Institutions
Oregon Health & Sciences University, Portland, OR

Tilganga Institute of Ophthalmology, Kathmandu, Nepal 

Wright State University, Dayton, OH
Miami University, Oxford, OH
UT Health San Antonio, San Antonio, TX
Teaching
BMED 3223 – Independent Research III
BMED 3224 – Independent Research IV