Master of Education (MEd) in Educational Leadership - Accelerated Online
Apply Now
Print PDF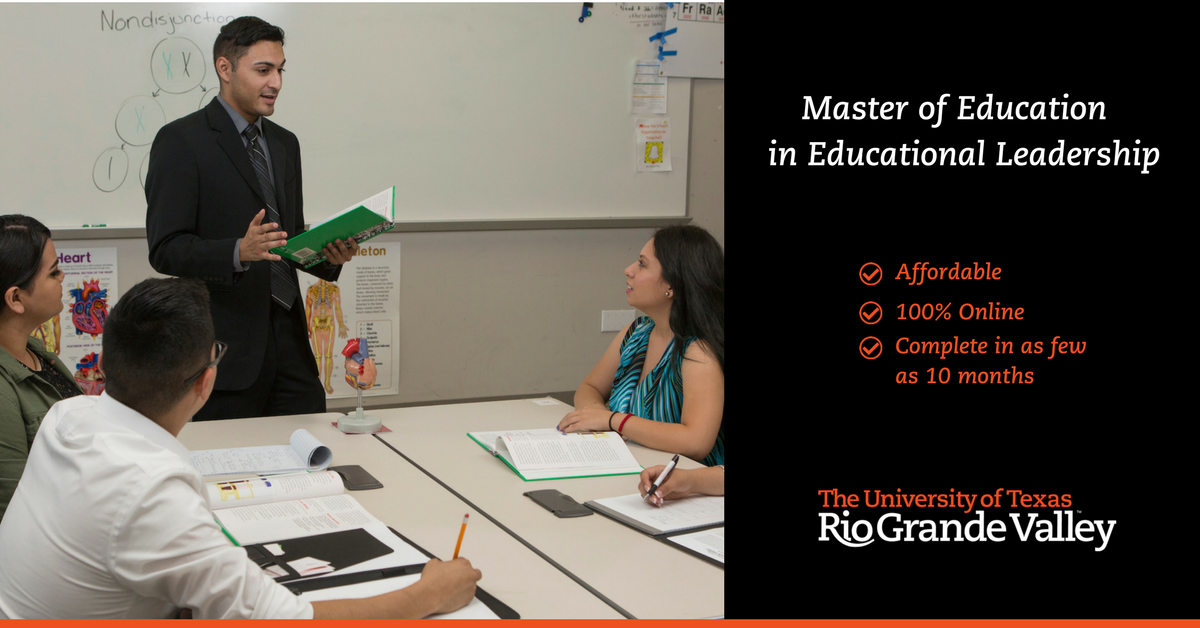 This online M.Ed. in Educational Leadership program is designed to develop culturally responsive educational leaders to serve a diverse student population, especially the English language learner.
Are you ready to move into school leadership positions? UTRGV's M.Ed. in Educational Leadership online program prepares you for new opportunities as a socio-culturally aware educational leader competent in site-based school management, school law, finance and personnel practices.
Learn how to effectively direct and advocate for academic excellence as well as lead positive change in today's schools with special focus on students from multicultural backgrounds and English language learner (ELL) populations. Gain management experience through field-based problem solving and practice collaborative strategies to shape a nurturing school campus culture.
| | |
| --- | --- |
| |  Complete in as few as 10 months |
| |  30 credit hours |
| | | |
| --- | --- | --- |
| Per credit hour | Per 3-credit course | Total program cost |
|   458.33 |   1,374.99 |   13,750* |
*We estimate that tuition and fees will total no more than the rates shown above; however, rates are subject to change.
Admission Requirements

Step #1: Submit a UTRGV Graduate Application at www.utrgv.edu/gradapply. The university application fee of $50 ($100 for International Applicants) can be paid online by credit card or electronic check (in the online application). All application fees are nonrefundable.

Step #2: Request your official transcripts to be sent electronically to gradapps@utrgv.edu or mailed to:

The University of Texas Rio Grande Valley
The Graduate College
Marialice Shary Shivers Bldg. 1.158
1201 W. University Drive
Edinburg, TX 78539-2999

Review and submit all Program Requirements:

Bachelor's degree from a regionally accredited institution in the United States or a recognized international equivalent in a similar or related field.
Undergraduate GPA of at least 3.0. If applicant

does not

meet minimum undergraduate GPA criterion, GRE general test with minimum scores of 150 Verbal, 141 Quantitative, and 4.0 Analytical are required for conditional admission. GRE test scores are valid for 5 years.
Official transcripts from each institution attended (must be submitted directly to UTRGV).
Personal  statement  detailing  professional  goals  and  reasons  for pursuing the graduate degree.
Resume including educational background and work experience
Submission of teaching certificate with a minimum of two years of teaching experience
Cleared Criminal Background Check

Additional requirements for domestic applicants who attended foreign universities and international applicants::

TOEFL or IELTS Language Proficiency Test with minimum scores: 550 on paper-based, 213 on computer based, or 79 on internet-based for the TOEFL; 6.5 for the IELTS. TOEFL and IELTS scores are valid for 2 years. For additional information, visit the Additional Documents for Domestic Applicants who Attend Foreign Universities section of our website.
English translation of educational records.
Transcript Evaluation by the Foreign Credentials Service of America (FCSA) or the World Education Services (WES). For additional information, visit the Academic Credentials/Transcripts Evaluation section of our website.

*Students in fully online programs are not eligible for I-20 or student visas however international applicants can study from their home country.

Check Program Availability in Your State

Higher Education Act of 1965 include changes in regulation for State Authorization that may impact online, distance, and correspondence education providers. Please review Check Program Availability in Your State for more details.

Program Contact

Deadlines

Online Accelerated Application Deadline:

| | | | | | | |
| --- | --- | --- | --- | --- | --- | --- |
| | Spring 2018 Module I | Spring 2018 Module II | Summer 2018 Module I | Summer 2018 Module II | Fall 2018 Module I | Fall 2018 Module II |
| | December 3 | January 28 | March 25 | May 20 | July 22 | September 17 |

Course Requirements

Courses:
Master of Education in Educational Leadership

EDUL 6300: Data Management for School Improvement

This course focuses on analyzing and interpreting campus data for decision‐making necessary to promote the success of all children. Special emphasis will be on developing action plans to meet student performance goals. Additionally, the course focuses on the development of educators as leaders in assessment, research and evaluation. Applicable laws, policies and regulations including local, state and federal accountability standards will be emphasized.

Duration: 7 weeks
Credit hours: 3

EDUL 6305: Socio-Cultural Contexts of Education

This course develops an understanding of how socio‐cultural forces and emerging issues impact the school leader's role in creating culturally responsive learning environments. Attention will be given to leadership strategies and best practices essential for addressing diverse learners. Future leaders learn to promote the success of all students and shape campus culture by facilitating the development, articulation, implementation and stewardship of a vision of learning that is shared and supported by the full community. Applicable laws, policies and regulations will be emphasized.

Duration: 7 weeks
Credit hours: 3

EDUL 6310: Organizational Leadership

This course emphasizes an examination of self and the study of major organizational leadership models and their applicability in various school settings. Students will engage in field-based activities as they pertain to decision-making and problem solving. Additionally, appropriate management techniques and group processes will be emphasized. A minimum of 20 hours of field-based activities are required.

Duration: 7 weeks
Credit hours: 3

EDUL 6315: Ethics and School Law

This course focuses on ethical principles and integrity in decision‐making, actions and behaviors. It will serve as the foundation for individual student assessment and as a guide to professional development. Key laws that significantly impact the day-to-day operations of school and a review of significant court decisions pertaining to educational operations will be addressed, as will the rights and responsibilities of teachers and students.

Duration: 7 weeks
Credit hours: 3

EDUL 6320: Curriculum Leadership for School Improvement

In this course, students will learn to facilitate the design and implementation of curricula and strategic plans that enhance teaching and learning. Emphasis is on the alignment of curriculum, curriculum resources, and assessment, and the use of various forms of assessment to measure student performance. It will include the research of successful strategies for identified student groups. Applicable laws, policies and regulations will be emphasized.

Duration: 7 weeks
Credit hours: 3

EDUL 6325: Instructional Leadership

This course examines effective instructional approaches and programs used in schools. It explores critical issues specific to curriculum, innovative instructional methods and the role of educators as school leaders. Additionally, the course focuses on the development of educators as leaders in assessment, research and evaluation. Applicable laws, policies and regulations will be emphasized.

Duration: 7 weeks
Credit hours: 3

EDUL 6330: Instructional Leadership for Diverse Learners

This course provides a study of the delivery of differentiated instruction for diverse learners to include Bilingual Education/ESL, Gifted & Talented, Migrant, Special Education, 504, Career & Technology Education (CATE) and other special programs. Emphasis is placed on the principal's role in elementary and secondary school programs. Applicable laws, policies and regulations will be emphasized.

Duration: 7 weeks
Credit hours: 3

EDUL 6345: School Community Relations

This course examines the relationships between the school and its internal and external constituencies. The course focuses on collaborative strategies to involve families and community members to shape the campus culture in responding to diverse community interests and needs, and to mobilize community resources for success of all student learners. Applicable laws, policies and regulations will be emphasized. A minimum of 10 hours of field‐based experiences are required.

Duration: 7 weeks
Credit hours: 3

EDUL 6350: The Principalship

This course examines a study of the unique functions of the principalship as they relate to the administration of elementary, middle and high schools. Special emphasis will be focused on the leadership role of the principal in the management and instructional aspects of the school programs. Applicable laws, policies and regulations will be emphasized. A minimum of 20 hours of field‐based experience is required.

Duration: 7 weeks
Credit hours: 3

EDUL 6355: Administration of Human Resources and Budgeting

This course provides a study of human resources and school budgeting functions. Emphasis is on understanding and applying local district and campus practices—e.g., recruitment, retention, evaluation. For budgeting, the emphasis is on aligning the budget to the campus plan and understanding how the various funding sources may be allocated. Applicable laws, policies and regulations will be covered.

Duration: 7 weeks
Credit hours: 3