Master of Education (MEd) in Curriculum & Instruction with a Specialization in Elementary Math and Science Education
Apply Now
Print PDF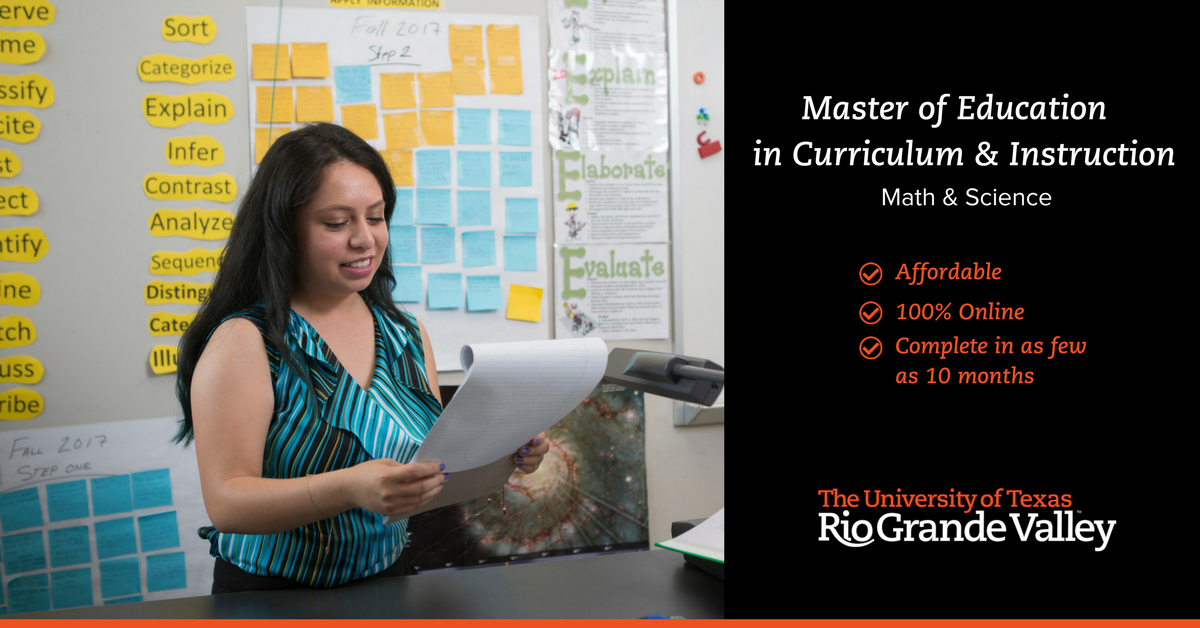 Our 100% online Master of Education in Curriculum and Instruction with a specialization in Elementary Math and Science Education enhances your ability to serve the needs of elementary students. Learn advanced skills in curriculum development and implementation while becoming a content specialist in the high-demand areas of math and science. This online M.Ed. program can advance your specialized knowledge and skills for use in the classroom or in a variety of education settings.
Career opportunities for graduates range from curriculum specialist, instructional coordinator and mentor to educational consultant and policy developer.
UTRGV is a collaborative partner in the Texas Regional Collaborative in Science and Math, which promotes mentoring and professional development in science & math instruction.
Provide knowledge, skills, attitudes and applicable research skills in curriculum and pedagogy.
Develop (master) teachers to serve as teacher educators, mentors, clinical teaching faculty and peer coaches.
Provide experience in educational research related to effective educational practice in field-settings.
With no teaching experience required, this online M.Ed. C&I program is designed to prepare educational leaders to serve in variety of career opportunities in the classroom and beyond.
| | |
| --- | --- |
| |  Complete in as few as 10 months |
| |  30 credit hours |
| | | |
| --- | --- | --- |
| Per credit hour | Per 3-credit course | Total program cost |
|   458.33 |   1,374.99 |   13,750* |
*We estimate that tuition and fees will total no more than the rates shown above; however, rates are subject to change.
Admission Requirements

Step #1: Submit a UTRGV Graduate Application at www.utrgv.edu/gradapply. The university application fee of $50 ($100 for International Applicants) can be paid online by credit card or electronic check (in the online application). All application fees are nonrefundable.

Step #2: Request your official transcripts to be sent electronically to gradapps@utrgv.edu or mailed to:

The University of Texas Rio Grande Valley

The Graduate College

Marialice Shary Shivers Bldg. 1.158

1201 W. University Drive

Edinburg, TX 78539-2999

 

*Please Note: If you are a graduate of UTPA, UTB/TSC, or UTRGV you do not need to request an official transcript to be sent to the Graduate College.

Review and submit all Program Requirements:

Bachelor's degree from a regionally accredited institution in the United States or a recognized international equivalent in a similar or related field.
Undergraduate GPA of at least 3.0.
If applicant does not meet minimum undergraduate GPA criterion, GRE general test with minimum scores of 150 Verbal, 141 Quantitative, and 4.0 Analytical is required for conditional admission. GRE test scores are valid for 5 years.
Official transcripts from each institution attended (must be submitted directly to UTRGV).
Personal statement of 250 to 500 words detailing statement of goals, including academic and professional objectives.  Explain how graduate study will help you attain your goals.
Resume including educational background and work experience.

Additional requirements for domestic applicants who attended foreign universities and international applicants:

TOEFL or IELTS Language Proficiency Test with minimum scores: 550 on paper-based, 213 on computer based, or 79 on internet-based for the TOEFL; 6.5 for the IELTS. TOEFL and IELTS scores are valid for 2 years. For additional information, visit the Additional Documents for Domestic Applicants who Attend Foreign Universities section of our website.
English translation of educational records.
Transcript Evaluation by the Foreign Credentials Service of America (FCSA) or the World Education Services (WES). For additional information, visit the Academic Credentials/Transcripts Evaluation section of our website.

Students in fully online programs are not eligible for I-20 or student visas however international applicants can study from their home country.

Check Program Availability in Your State

Higher Education Act of 1965 include changes in regulation for State Authorization that may impact online, distance, and correspondence education providers. Please review Check Program Availability in Your State for more details.

Program Contact

Program Director: Dr. James Telese

Office: Brownsville Campus, BMAIN 1326

Program Advisor: Dr. James C. Jupp

Office: EEDUC 3.202A

Phone: (956) 665-3401

 E-Mail: james.jupp@utrgv.edu 

Deadlines

Online Accelerated Application Deadline:

| | | | | | | |
| --- | --- | --- | --- | --- | --- | --- |
| | Spring 2018 Module I |   | Summer 2018 Module I |   | Fall 2018 Module I |   |
| | December 3 | | March 25 | | July 22 | |

Course Requirements

EDFR 6300 Research Methods in Education

A survey of quantitative, qualitative, and mixed methods research designed to introduce students to educational research. This course will include research design, literature review, critiquing research, and action research.

Duration: 7 weeks

Credit Hours: 3

EDFR 6302 Foundations of Learning, Cognition and Human Development

Advanced study in the specialization of life‐span development theories to human behavior, learning and cognition. Includes specific models of cognition and relevant research. This course includes the nature of needs of people at all developmental levels from prenatal through old age.

Duration: 7 weeks

Credit Hours: 3

EDCI 6304 Assessment of Learning

An introduction to basic concepts, techniques and issues in assessment of student learning and learning environments. (Prescribed elective for all students who do not have a required assessment course in their specialization)

Duration: 7 weeks

Credit Hours: 3

EDCI 6342 Models and Methods in Science Education

The course covers multiple topics in science education related to science content and pedagogy which may include inquiry and didactic models of science instruction, interdisciplinary approaches, and laboratory/field methods, Technology and field work is required.

Duration: 7 weeks

Credit Hours: 3

EDCI 6348 Mathematics and Science Education Project

Supervised project in science education that will include design of an original project and the writing of a formal report in an acceptable publication format. This course is usually taken during the last semester of study and is taken only by non‐thesis students.

Duration: 7 weeks

Credit Hours: 3

EDCI 6354 Development of Laboratory and Field Experiences

In this course students will critically appraise the various functions of laboratory investigation in science classrooms. Students will design, test, and refine new and original laboratory and field investigations that incorporate data collection technologies, inquiry approaches, and informal learning opportunities. Fieldwork may be required.

Duration: 7 weeks

Credit Hours: 3

EDFR 6388 Introduction to Historical and Sociocultural Foundations of Education

Analyzing historical and sociocultural forces of education with regard to education through philosophical, sociological, historical and anthropological perspectives.

Duration: 7 weeks

Credit Hours: 3

EDCI 7334 Curriculum Problems and Processes

This course examines approaches in developing, implementing and evaluating curricula. Principles and practices in the production and use of curriculum frameworks, guides, textbooks, technologies and other curriculum materials will be included.

Duration: 7 weeks

Credit Hours: 3

EDCI 7353 Teaching and Learning Algebraic Concepts

This course covers learning theories related to the teaching of school algebra, as well as strategies for teaching algebraic concepts. Topics include best practices based on research, development of materials for supporting the learning of foundational algebraic concepts. Students will utilize technology and tools.

Duration: 7 weeks

Credit Hours: 3

EDCI 7354 Teaching and Learning Geometric Concepts

This course covers learning theories related to learning geometry, as well as strategies for teaching geometric concepts. Topics include best practices based on research, and the development of materials that support the learning of geometric concepts through the use of technology and other "tools".

Duration: 7 weeks

Credit Hours: 3