We're here to help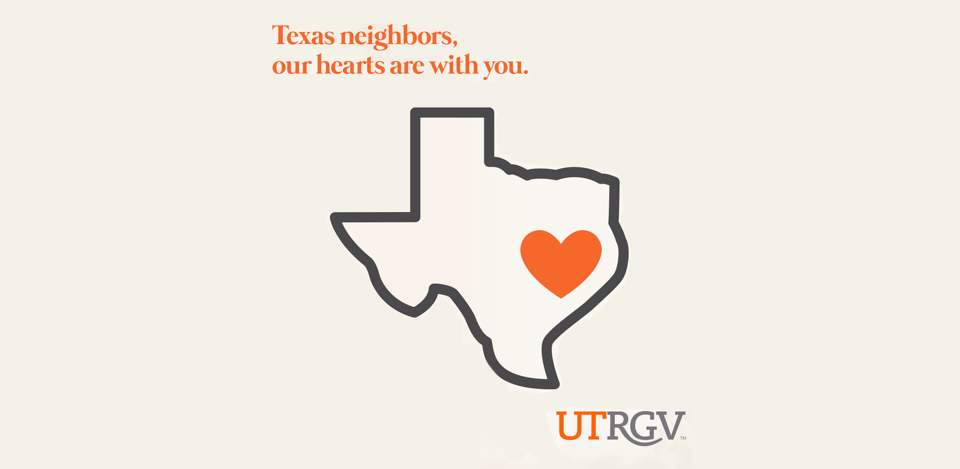 Dear Vaqueras and Vaqueros,
As we watch what is happening in the Coastal Bend area, we cannot help but be moved by the devastation and loss that Hurricane Harvey has brought to several communities and families, including some members of our UTRGV community. We in Student Life recognize that a disaster of this magnitude impacts members of our community both directly and indirectly. We wanted to let you know that we are here to offer all members of our community assistance and support. Here are several ways that we can help:
For students that live in an area impacted directly by Hurricane Harvey and are unable to travel safely, send an e-mail that includes your name and ID number to dos@utrgv.edu to let us know. We will send along a courtesy message to your faculty regarding your circumstances. Faculty have been advised to accommodate affected students.
For students who want to talk with someone about personal issues or concerns that have impacted them directly or indirectly, the Counseling Center is available to students free of charge. Contact (956) 882-3897 or (956) 665-2574 to schedule an appointment or call the Vaqueros Crisis Line available 24/7 (956) 665-5555.


For students wanting to provide support for those impacted by the Hurricane there are several options:
Disaster Relief Drives
Items needed:
Non-perishable food items (e.g. canned meats, bottled water)
Can openers
Personal and feminine hygiene products
Hand sanitizer, disinfectant wipes
Batteries
Infant items (formula, diapers, wipes)
Bug spray
Toilet paper
The Order of Omega Greek Honor Society is hosting a disaster relief drive. Items can be brought to BSTUN 1.28 or to EUCTR 205 8 a.m.-6 p.m. this week.
UTRGV Athletics partnering with Food Bank RGV and HEB on hurricane disaster relief efforts
UTRGV Athletics will be collecting donations at the athletics administration office in EHPE1 and at the Comedor in Brownsville from 8 a.m. to 5 p.m. Monday through Friday, and at the scheduled home UTRGV men's and women's soccer matches Thursday through Sunday.
Fraternity & Sorority Life and Order of Omega Honor Society
Fraternity & Sorority Life and Order of Omega Honor Society, would like to encourage students and staff to make a contribution to support those who have been affected by Hurricane Harvey. For more information, please contact greeks@utrgv.edu. 
The Center of Excellence on Stem Education
ACCESS for Sex-Education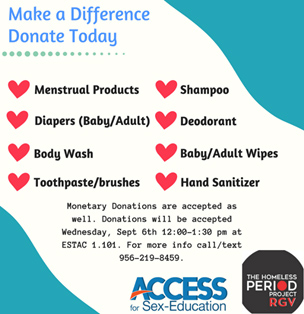 Student Veterans of America and Military and Veteran Success Center
Collecting a variety of goods, drop off location is the EUCTR 113
The Department of Intercollegiate Athletics is collecting donations at BSTUN - El Comedor in Brownsville and at the Athletics Administration Office (EHPE1 1102) 8 a.m.-5 p.m. this week and at scheduled home UTRGV men's and women's soccer matches Thursday, August 31-Sunday, August 3 at ESOCC.


Additional Information/Resources
UTRGV Security Announcement-Potential Hurricane Harvey Phishing Scams
The United States Computer Emergency Readiness Team (US-CERT) warns users to remain vigilant for malicious cyber activity seeking to capitalize on interest in Hurricane Harvey.
Federal Emergency Management Agency
Check out the website provided by the Federal Emergency Management Agency (FEMA) on the National Voluntary Organizations Active in Disaster (NVOAD) to get information from a coalition of the major voluntary organizations in the United States that are seeking support and volunteers.
We are dedicated to your success while at UTRGV. If you ever find that you are having difficulty, such as a sudden illness or family emergency; unexpected financial hardship; a question about an administrative process; or even if you're not sure where to start, we are ready to assist you.


Office of Student Life and Dean of Students
Brownsville Campus
204 Cortez-Brownsville
(956) 882-5141
Edinburg Campus
323 University Center-Edinburg
(956) 665-2260


We wish you nothing but the best as we begin this great year at UTRGV!
Rebecca K. Gadson
Associate Vice President for
Student Life and Dean of Students
dos@utrgv.edu
Luzelma G. Canales
Sr. Associate VP for
Student Success
studentsuccess@utrgv.edu