Mariachi Aztlán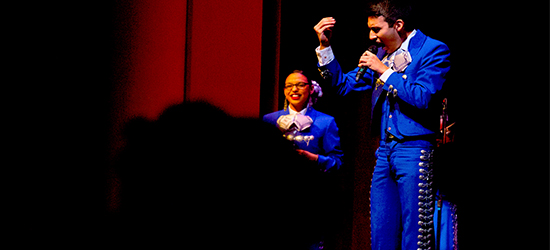 Mariachi Aztlán and Mariachi Juvenil Aztlán ended the semester with a rousing concert in celebration of Cinco de Mayo on Monday, May 1, at the TSC Arts Center in Brownsville. The audience was also treated to a performance by Mariachi Plata from Port Isabel High School, under the direction of Obed Salas.
In 2015, Mariachi Aztlán premiered the newest mariachi opera, El Pasado Nunca Se Termina, with the Chicago Lyric Opera and performed as guest artists at the Tucson International Mariachi Conference. In 2015, 2016 and 2017, the troupe performed as guest artists at the San Diego International Mariachi Festivals and the Chicago Mariachi Festivals.
Mariachi Aztlán released a new CD, Mi Nombre es México, to commemorate the 25th anniversary of the UTPA/UTRGV Mariachi Program.
Mariachi Program Directors: Dr. Dahlia Guerra and Francisco Loera
Student Director: Orlando de León
Patron of the Arts Program Coordinators: Tony Casas and Vallerie Hernández
Photo gallery: https://www.flickr.com/gp/utrgvnews/8P81s9