Sub Menu Toggle
Students travel to Puerto Rico to observe cultural cues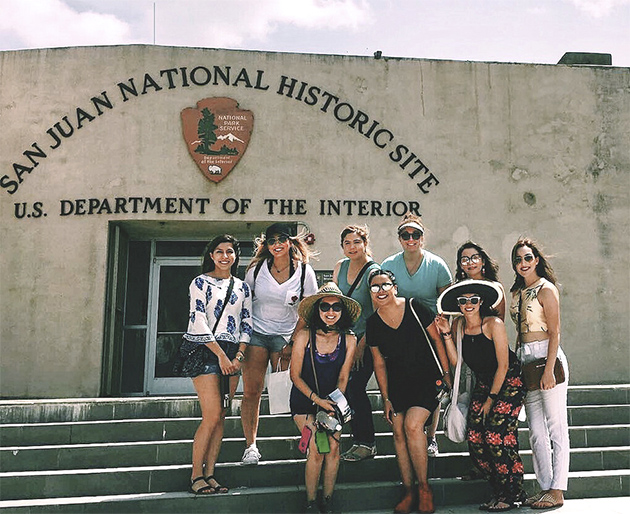 Graduate students from UTRGV's Department of Communication Sciences and Disorders traveled to Puerto Rico for a study abroad course, 'Seminar in Speech Language Pathology: Culturally and Linguistic Diverse Populations,' which focused on increasing student exposure to the essential diversity that exists in varying populations. During the two-week trip, students visited the cities of San Juan and Ponce. (Courtesy Photo)
PUERTO RICO STUDY ABROAD PHOTO GALLERY 
By Vicky Brito 
RIO GRANDE VALLEY, TEXAS – JUNE 29, 2017 – Graduate students from the UTRGV Department of Communication Sciences & Disorders spent two weeks in Puerto Rico this summer, studying speech language pathology in a cross-cultural setting. 
Dr. Ruth Crutchfield, assistant professor of communications disorders, and nine graduate students, visited the cities of San Juan and Ponce over the course of the trip from May 15-29. 
The class – "Seminar in Speech Language Pathology: Culturally and Linguistic Diverse Populations" – focused on increasing student exposure to the essential diversity that exists in varying populations. Crutchfield previously has conducted the course in Dublin, Ireland and Rome, Italy. 
"This course is a multicultural-emphasized course for speech language pathology," Crutchfield said. "We gear the course toward the country we are visiting, and observe the students in our field so that they can compare their own cultural upbringing with the new culture. We look for similarities and differences within the language and the way the people interact." 
The group visited two universities. The first week, they were able to observe the communication sciences disorders program at the University of Puerto Rico, to learn about the school's research and clinics. The second week, they were at the Pontifical Catholic University of Puerto Rico, a private, Catholic university in Ponce. 
LEARNING WITHIN THE FIELD 
UTRGV student Annette Cano, 24, from Donna, is pursuing her master's in speech language pathology. She participated in this course last summer when the group visited Dublin, Ireland, for study abroad. 
"Before Ireland, I had never been outside of the United States, and now I want to spread my wings a little bit. It gets you out of your comfort zone," she said. 
Cano notes that both Ireland and Puerto Rico use symbolism to accommodate illiterate populations. 
"In Puerto Rico, every building is painted a different color, and that is how parts of the population would navigate, because a lot of the people way back in the day were illiterate," she said. 
Chelsey Leal, a 25-year-old UTRGV graduate student from McAllen, said the trip to Puerto Rico was the first time she had traveled outside of Texas. 
"I am very interested in the language and speech aspect of my scope of practice," she said. "I thought this would be a good experience, to view how the culture is in Puerto Rico." 
Leal was especially fascinated by the dialects used in Puerto Rico. The region is mostly bilingual, she said, with many people – especially in San Juan – fluent in both English and Spanish. 
Six of the nine UTRGV students on the trip also are bilingual. 
FOR THE HEARING-IMPAIRED 
Crutchfield said one key observation for the group was how underserved the Deaf community is in Puerto Rico. 
"In the United States, the Deaf community is part of who we are and we see people using ASL everywhere we go. But in Puerto Rico, people with hearing loss don't learn sign language unless they go get educated on their own and pay for that education," Crutchfield said. "Their communication is restricted, and that was a big eye opener for us." 
Puerto Rico is only just beginning to open up to American Sign Language and Spanish Sign Language. While visiting the Pontifical Catholic University, UTRGV students met the only person on the island who is fluent in both American and Spanish Sign Languages. 
"There are only two or three people in the whole country trying to make an impact teaching in schools and making programs for the children who are hearing-impaired," Crutchfield said. "It really showed the students how one person can make a difference." 
PATRIOTISM AND COMMUNITY 
During the visit, the University of Puerto Rico was on strike, protesting multimillion-dollar cuts to the government budget, which effected funding to the University of Puerto Rico, due to the country's current economic struggles. 
"It was pretty amazing that even though they're on strike, they're still working because Puerto Rico is pretty bad economically, but the students are still driven no matter what hardships they go through," Cano said. 
One night in San Juan, students said they witnessed a remarkable scene. The Main Street in Old San Juan, Calle Fortaleza, was closed to traffic for a culinary festival and residents crowded the area to listen to various bands performing a free concert for the occasion.  
"They do it because they love their culture and their community, and they have a deep respect for their culture," Leal said. "They respect one another and welcome each other, whether they know you or not." 
That night, Leal said, the UTRGV group was sitting right in the front row, and the singer did not recognize them as regulars. 
"Right away, the singer came up to us because she didn't recognize us, and we explained what we were there for and who we were. Right away, she welcomed each of us with mini Puerto Rican flags," Leal said. 
NEXT YEAR 
Crutchfield, who believes the cultural experiences gleaned during study abroad can help inform all aspects of one's education, said she selects a different country each summer to get the most authentic experience. 
"If I go to the same country, I'm comfortable. But the students need to see how I have to adjust to being in a new place and how to interact with the people in a new area," she said. 
Next year, Crutchfield is looking into China, Germany or the United Kingdom. 
Cano says anyone who is interested in study abroad should just do it because it is a great experience. 
"It is kind of scary traveling to a different place, but once you're there, you come back with a different outlook," she said. "I think it helps you become a better person and a better professional." 
The students – all Communication Sciences & Disorders majors – who participated in the Puerto Rico summer study abroad were:
Annette Cano
Mayra Garza
Marcie Garza
Chelsey Leal
Maria Muñoz
Karla Nieto
Valeria Quintanilla
Vanessa Rodriguez
Virginia Villarreal 
For more information about study abroad, contact International Programs and Partnerships in the Office of Global Engagement at 956-665-3572 or ipp@utrgv.edu.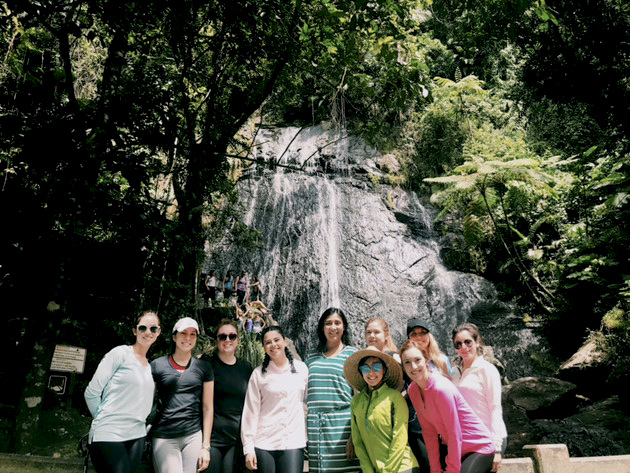 Graduate students from UTRGV's Department of Communication Sciences and Disorders traveled to Puerto Rico for a study abroad course, 'Seminar in Speech Language Pathology: Culturally and Linguistic Diverse Populations,' which focused on increasing student exposure to the essential diversity that exists in varying populations. During the two-week trip, students visited the cities of San Juan and Ponce. (Courtesy Photo) 
MEDIA CONTACTS
Victoria.Brito @UTRGV.edu
UTRGV Informational Writer / 956-882-4330 
Marci.Caltabiano@UTRGV.edu
UTRGV Director of News and Internal Communications / 956-665-2742