Sub Menu Toggle
Art students experience Peru as a 'living classroom'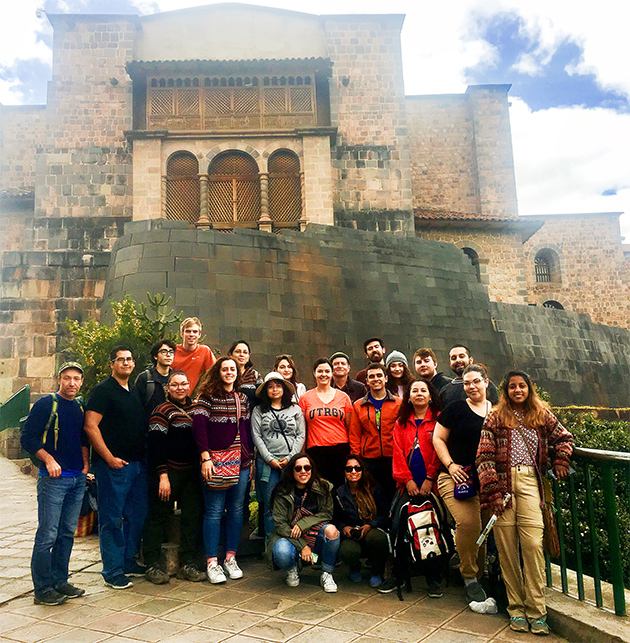 A group of UTRGV art students spent time in Peru this summer, learning about the country's history, art and architecture during a study abroad trip. Students traveled and studied with seasoned Peru explorer, Dr. Robert Bradley, associate professor in the School of Art, and Dr. Katherine McAllen, assistant professor in the School of Art. The trip included strenuous treks that put students in the footsteps of Andean people, past and present, including a trek up the Salkantay Trail to arrive at Machu Picchu. (Courtesy Photo)
PERU STUDY ABROAD PHOTO GALLERY
Password: saperu (case sensitive) 
By J. Edward Moreno
RIO GRANDE VALLEY, TEXAS – JUNE 22, 2017 – As Angelica Rodriguez, a UTRGV graduate student and mother of two, hiked up the Salkantay Trek on her way to Machu Picchu, she began to question whether she would be able to make it through to the end.
Ultimately, though, she not only finished the trek, but also had a newfound sense of confidence in herself. 
"After the four-day, three-night hiking trip, I felt that I had truly accomplished the unthinkable," Rodriguez said. "The experience itself made me realize that by setting my mind to something, I can truly accomplish anything I set my mind to. I was challenged every day, both physically and mentally. That gave me a self-confidence I never knew I had."
The University of Texas Rio Grande Valley is sending more than 20 art students to Peru this summer to learn about the country's rich colonial history through the multiple lenses of Mother Nature, art and architecture.
One group, which was gone May 15 to May 29, was led by two College of Fine Arts professors – Dr. Robert Bradley, associate professor in the School of Art, and Dr. Katherine McAllen, assistant professor in the School of Art.
This was the sixth visit to Peru as a study abroad professor for Bradley.
The trip gives students an essential sense of context they would not be able to understand in a traditional classroom, with an important component of the learning experience involving serious hiking, Bradley said. One strenuous trek, up the Salkantay Trail, awarded the group with arrival at the iconic Inca "lost city" of Machu Picchu.
"The trekking puts UTRGV students in the footsteps of Andean people, past and present. It also provides a difficult exercise component, which strengthens the overall health, outlook and resolve of our students," Bradley said. "This course could not be conducted without the living classroom that is Peru."
Art student Jesus Treviño said he is still in awe of the experience, despite a luggage mishap.
"Being able to see art and history first hand, and to discuss it with like-minded individuals was worth losing my laptop, gaming device and various other things through the airlines," Treviño said. "It is a milestone in my life and an unbelievable learning experience that I will never forget."
Each student has a distinctive part of the trip that they found particularly riveting, but they could all agree that seeing the art up close, with their own eyes, made the trip extraordinary.
Art student Carol Lopez said the study abroad trip completely changed the way she thinks of art.
"Reading about these locations in Cuzco, and learning about the art, is so different from actually seeing them in person," she said. "There is a sense of magic to it. The Plaza de Armas was so different from the images I had seen ... the plaza was so green and full of life, so unlike the images I had seen.
"Seeing everything in person gave what I have been studying a new purpose, more meaning," Lopez said, "like putting a face to a name."
A second group – with students from the Honors College under the guidance of Bradley and Honors College Dean Mark Anderson – has been in Peru since June 5 and returns June 27.
The students who participated in the Peru (ARTS 4391, ARTS 4359) summer study abroad were:
Varda Ahmed, mechanical engineering
Belinda Diego, curriculum & instruction
Luna Galvan, anthropology
Veronica Guajardo, Spanish
Lorenzo Guerra, chemical engineering, UT Austin 
Christian Hanks, interdisciplinary studies
Christopher Kuri, mathematics
Eva Lagarra, art
Carol Lopez, art
Jesus Lopez, English
Diana Luber, art history, Columbia University
Jose Reyna, international business
Angelica Rodriguez, art
Tooba Safeer, electrical engineering
Iliana Salazar-Rodriguez, 2D/3D studio art
Danika Saldaña, art/history
Roland  Sanchez, sociology
Jesus Trevino, art
For more information about study abroad, contact International Programs and Partnerships in the Office of Global Engagement at (956) 665-3572 or ipp@utrgv.edu.
MEDIA CONTACTS
J. Edward Moreno
UTRGV Staff Writer / 956-665-3639 
Marci Caltabiano-Ponce
UTRGV Director of News and Internal Communications / 956-665-2742