Sub Menu Toggle
UTRGV students say study abroad in Germany opened their eyes to a culture of living in the moment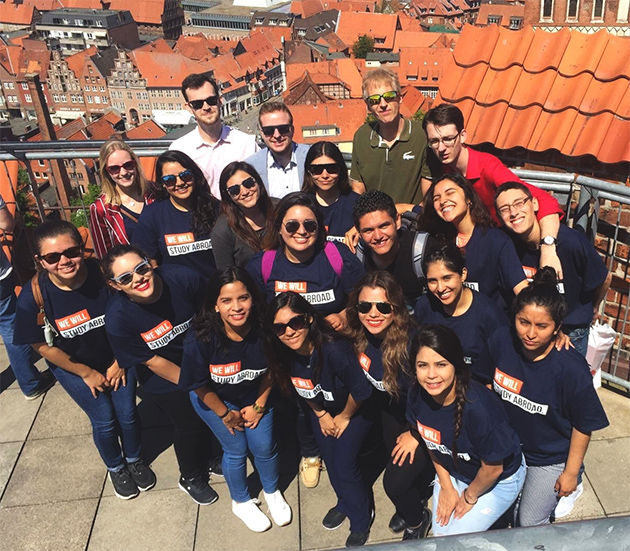 Sixteen UTRGV students led by Dr. Reto Felix, assistant professor of marketing, participated in a study abroad trip to Lüneburg, Germany. The Topics in Marketing course was designed to introduce students to the many facets of working in a global marketplace. UTRGV students utilized the facilities at Leuphana University, and were immersed in the German lifestyle during excursions and field trips. (UTRGV Courtesy Photo)
By Vicky Brito
RIO GRANDE VALLEY, TEXAS – JUNE 8, 2017 – Healthier eating. Recycling. Family mealtime. And limited reliance on cell phones. It was all part of the culture shock for a group of UTRGV students who recently spent two weeks in Germany as part of a minimester course in marketing.
Dr. Reto Felix, assistant professor of marketing, was in charge of the study abroad and helped the 16 student travelers submerge themselves in a culture quite different from their own.
The course – Topics in Marketing – was intended to introduce students to the many facets of working in a global marketplace. UTRGV students utilized the facilities at Leuphana University in Lüneburg, Germany, for their traditional classroom experiences through seminars, and gained personal immersion into German culture during excursions and field trips to Berlin and Hamburg and an emotional visit to the Neuengamme Concentration Camp Memorial Site in Hamburg.
For 19-year-old Stingray Schuller, from McAllen, his first study abroad to Germany was "amazing."
"It taught me so much about how to understand who you're talking to, in terms of international business, and understanding and respecting the culture for what it is and incorporating that into business," he said. "The case studies we did were very helpful and brought a real-world application to things we had learned in the classroom."
Schuller stayed in a host home with a professor from Leuphana University and his family, an experience that immersed him fully into German family life. One notable difference, Schuller noted, was the more relaxed morning routine.
"In Germany, they take the time to sit down and eat breakfast as a family, and in America that doesn't usually always happen," he said. "It was a really unique experience to know that it actually existed."
Schuller said this trip was his first experience in a country where he did not speak the language, but during their welcome orientation, the group learned a handful of key phrases to help them navigate through Germany – basics, like "hello," "thank you very much," and "you're welcome."
UTRGV economics major Juan Rivera, 19, from McAllen, said the trip definitely was a lot of fun.
"We took a lot of general classes, and I guess the main part for me was taking in the German culture and making new friends," Rivera said.
He noted how different German culture is from Valley culture.
"Almost every single aspect is different, and I got a bit of culture shock, at first, because everything they did was different," he said. "People are not unfriendly, but they aren't as open and outgoing as people in the United States. They're shyer – a lot shyer – and they don't talk a whole lot."
Rivera said language wasn't a big barrier because many of the people they associated with, especially the younger ones, speak perfect English.
"But I still would try my hardest to try to speak German," he said. "They would speak German and sometimes, I had no idea what they were saying."
HEALTHY CULTURE SHOCK
One of the most notable differences between the German and U.S. cultures for some of the UTRGV students was the German people's natural inclination toward a healthy lifestyle, to include diet, activities and conservation efforts. 
"I really enjoyed that there was no emphasis on health foods because everything was a health food," Schuller said. "It was definitely a shock to my system, but in a good way."
Schuller said he noticed he had more energy after eating that way, especially given the ease of access to healthy options.
Rivera said fast food is not as big in Germany as it is in the United States.
"I think I saw one McDonald's and the prices were high. It is a lot less expensive to go to a restaurant than to eat fast food there," he said. "Everything was a lot healthier."
Felix said recycling is a part of everyday life in Germany.
"The Germans recycle a lot," he said. "The students were quite amazed by how much recycling is done. People take it seriously."
Modes of transportation vary as well, he said, from high-speed vehicles to trains to bicycles.
"It's not the complete and total reliance on cars, like in the Valley," Felix said.
Still, students did find some common ground between Germany and the United States – music and technology, for instance. And while iPhones are available, their use is not as all-consuming as it is in the States.
"The first few days, we wanted to capture as many videos and photos as we could," Schuller said.
Then it dawned on the students that the point of the trip was to "live more in the moment, away from electronics."
"We were sitting down with some German students at the main university campus, and if one of us pulled out their phone, the German students would ask why their phone was out," Schuller said. "Just talking to someone without electronic connections is really great, and it gave me a better sense of what a personal connection is."
The students who participated in the Germany (MARK 4370) summer study abroad were:
Pamela Alba, marketing/international business
Andrea Alemán, Spanish
Victoria Alvarez, finance
Jairo Briones, business management
Diana Duran, dance
Dunia Espinosa, business management
Paloma Guzman, marketing
Luz Hernandez, international business
Yvette Pinales, information systems
Cristina Reyna, business management
Juan Rivera, economics
Stingray Schuller, marketing/film
Amber Solis, marketing
Leslie Tapia, accounting
Andrea Valdovinos, accounting
Maria Velazquez, marketing
Mariela Zamorano, marketing & management 
For more information about study abroad, contact International Programs and Partnerships in the Office of Global Engagement at (956) 665-3572 or ipp@utrgv.edu.
MEDIA CONTACTS
Victoria.Brito @UTRGV.edu
UTRGV Informational Writer / 956-882-4330  
Marci.Caltabiano@UTRGV.edu
UTRGV Director of News and Internal Communications / 956-665-2742