Sub Menu Toggle
Students observe, compare rehabilitation services and counseling in U.S. and U.K.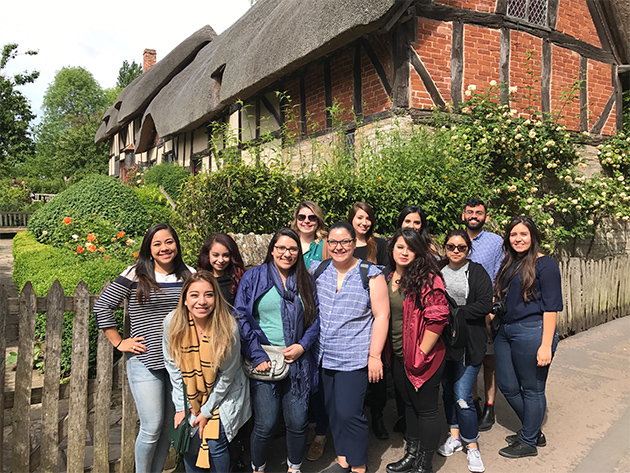 UTRGV summer study abroad students stand outside the home of Anne Hathaway, Shakespeare's wife, in Stratford-upon-Avon, England. Front row, from left, are Brittany Ledesma, Odalys Almanza, Clarissa Villarreal, Paola Quijano, Arhyssa Ozuna, Sandy Vazquez, Jennifer Rodriguez and Edith Martinez. Back row, from left, are Stephanie Picazo, Diana Gonzalez, Katrina Capello and Ricky Rendon. Not pictured is Juan Davila. Accompanied by Dr. Bruce Reed, director of the UTRGV School of Rehabilitation Services and Counseling in the College of Health Affairs, the students met with rehabilitation leaders at universities and agencies in Edinburgh, Scotland, and London, England, in May. (Courtesy Photo)
PHOTO GALLERY – REHS UK study abroad
By Cheryl Taylor
RIO GRANDE VALLEY, TEXAS – JULY 20, 2017 – Thirteen students from the UTRGV School of Rehabilitation Services and Counseling enhanced knowledge of their future career field, during a study abroad course to the United Kingdom.
The class – led by Dr. Bruce Reed, director of the UTRGV School of Rehabilitation Services and Counseling in the College of Health Affairs – met with leaders in the discipline at universities and rehabilitation agencies in Edinburgh, Scotland, and London, England, in May.
Also accompanying the students as a volunteer faculty member was Dr. Joan Reed, director of Learning Frameworks in the UTRGV University College.
Brownsville native Odalys Almanza, a senior who celebrated her 21st birthday while in Scotland, said the experience made her realize "how small our problems really are," and helped her discover a new level of self-confidence and the feeling she can pursue anything without "letting the small things get in the way."
A special inspiration for the entire group was an audience with renowned musician George Low, coordinator of Disability Research Edinburgh at the University of Edinburgh's Institute for Music in Human and Social Development (IMHSD).
"Mr. Low shared a lot of personal experiences about the obstacles he has had to face, including his experiences as a disabled Ph.D. researcher within the IMHSD," Almanza said. "Hearing his inspiring words gave me reassurance as to why I decided to pursue this field and why I choose to advocate for people with disabilities."
For animal-lover Almanza, getting the chance to meet Low's service dog was a special treat.
"Mr. Low permitted me to pet Fogle, his beautiful service dog," she said. "Also, I gained some insight into a service dog agency in Scotland, and that encourages me to pursue my own unique way of advocating for people with disabilities in my career, that is, through animal-assisted interventions."
In the upcoming fall semester, Almanza will fulfill her clinical practicum with Professor Russell Armstrong, faculty lecturer, in equine therapy. In the spring 2018 semester, she will intern with counselor Norlene Chamberlain, and therapy dog Ariel at Dr. Hesiquio Rodriguez Elementary School in Harlingen.
Graduate student Ricardo Rendon, from Mission, said learning about disability policies in the United Kingdom and hearing personal testimonies from people with disabilities gave him a deep perspective on the impact of his field and how grateful he is that the United States is at the forefront of developing rehabilitation services and counseling.
"Despite the unique environmental factors, and the absence of the field of rehabilitation counseling in the United Kingdom, both the U.K. and the United States have similar laws that protect people with disabilities," Rendon said. "The ideas and experiences we exchanged allowed us to reach common ground, where we agreed that assumptions and stereotypes are the greatest barriers people with disabilities face in any setting."
Rendon said he thinks both countries are "headed in the same direction" and could benefit from continued collaboration, especially in the areas of music and art as pivotal points in integrating individuals with disabilities into meaningful and lifelong artistic expression.
One effort with this mission is the Drake Music Project, a collaborative effort through the University of Edinburgh.
"The Drake Music Project is awesome," Rendon said. "Its focus is to bring out and nurture the musical talents of marginalized individuals through a variety of innovative ways. We witnessed how this organization – it has venues throughout the U.K. with dedicated staff and volunteers – is reshaping the way society views people with disabilities. This was one of the highlights of our trip."
ON TO LONDON
Saying goodbye to Scotland, the group departed from Edinburgh's historic Waverly Railway Station, and then enjoyed the scenery throughout the four-and-a-half-hour train ride to London's King's Cross Station. There, they were met by Dr. Nigel Newbutt, principal lecturer in Communication Design at the University of the West of England, Bristol.
Newbutt, known for his research on the acceptance and role of virtual reality technology used by people on the autism spectrum, accompanied the group to a neighborhood social services agency, where they were given a demonstration of the Hao2. Nicola Herbertson, founder of Hao2, along with Hao2 staff and Newbutt, explained that the technology is a 3-D, virtual-world software to assist individuals with disabilities using on-screen visualization techniques.
"We tested using the Hao2, and I could tell it is a beneficial and inclusive program," Rendon said. "It allows persons with autism to create an avatar that best describes their characteristics. And then, using the technology, they can interact in situations that might otherwise make them uncomfortable in person, helping them conquer their fears and move forward with their daily lives. I can see this initiative continuing to grow and making a significant impact in the way we communicate and access education."
The trip was not all meetings, demonstrations and gathering for classes with Reed, but also included a packed schedule of sightseeing, with excursions to Loch Ness in the Scottish Highlands, Stonehenge, Bath, Cambridge, Oxford, Stratford-upon-Avon, Lambeth College and Westminster Abbey, among others.
One special lunch in London was at Café Sunshine, a restaurant staffed by adults with learning difficulties.
"Overlooking the Thames River, with a beautiful garden, and everything on the menu fresh and delicious, Café Sunshine was an uplifting reminder to us all, about why we have chosen to pursue careers in disability services," said Rendon, who is spending the remainder of the summer in Rockville, Maryland, as a fellow at RespectAbility, a nonprofit organization that advances opportunities for people with disabilities.
The students – all rehabilitation services majors, unless otherwise noted – who participated in the U.K. (REHS 4350, REHS 6380) summer study abroad were:
Odalys Almanza
Katrina Capello
Juan Davila – history
Diana Gonzalez
Brittany Ledesma
Edith Martinez – communications sciences & disorders
Arhyssa Ozuna
Stephanie Picazo
Paola Quijano – psychology
Ricardo Rendon – REHS graduate student
Jennifer Rodriguez
Sandra Vazquez
Clarissa Villarreal
For more information about study abroad, contact International Programs and Partnerships in the Office of Global Engagement at 956-665-3572 or ipp@utrgv.edu.
MEDIA CONTACTS

Cheryl.Taylor@UTRGV.edu
UTRGV Senior Writer / 956-882-8787
Marci.Caltabiano@UTRGV.edu
UTRGV Director of News and Internal Communications / 956-665-2742