Sub Menu Toggle
Students work on language skills in Franco-German city of Strasbourg
Sixteen UTRGV students attended study abroad classes in France in August. They stayed in Strasbourg, France, on the Franco-German border, where some students took French classes with Dr. Margarita Isbell and others attended German classes with Dr. John Isbell. Before heading home, the group rode the high-speed TGV train to Paris for a few days. The students in this photo on the observation deck of the Eiffel Tower, are, from left: Bethany Guzman, Angel Moreno, Ayana Lozares, Samantha Ramirez, Yeznith Gutierrez, Christopher Alaniz and Karen Treviño. (Courtesy Photo)
By J. Edward Moreno and Cheryl Taylor
RIO GRANDE VALLEY, TEXAS – AUG. 31, 2017 – Julio Longoria, a philosophy junior at The University of Texas Rio Grande Valley, traded his typical Mexican pan dulce this summer for the equally ubiquitous French mainstay, pain au chocolat, a puff pastry with a dark chocolate filling.
"The bread itself is so soft, crisp and flaky, and that rich dark chocolate center – as I see it, it is a pastry cooked to perfection," said Longoria, a self-proclaimed pastry connoisseur from Rio Grande City. "By the end of the trip, I could identify almost everything on a menu and felt confident placing an order in French."
Longoria was one of 16 UTRGV students who spent the first two weeks of August taking classes on a study abroad trip to Strasbourg, France, and finishing up with a few days in Paris before saying au revoir to la belle France.
Husband-and-wife team Dr. Margarita Isbell and Dr. John Isbell, both lecturers in the Department of Writing and Language Studies, were co-leaders of the trip and taught French and German, respectively.
Ten students were taking either Beginning French II (FREN 1312) or Intermediate French I (FREN 2312). Six students were enrolled in the German class, Conversational German (GERM 2312). Classes were held for three hours every morning while in Strasbourg.
"Like Brownsville and the other cities and towns along the Rio Grande, Strasbourg is a bilingual border city, situated on the Rhine River that forms France's eastern border with Germany. You hear both languages on both sides of the border," Margarita Isbell said. "Along with working on their language proficiency, students also observed the similarities and differences of this European border community with the one they call home."
Whereas the French classes were conducted primarily at the hotel, German classes usually were held in cafes across the river in Germany.
"We could either walk across the river bridge or take the Strasbourg city tram line – either way, without border checks," John Isbell said.
What stood out most to freshman kinesiology major Angel Moreno was the way people got around the city. 
"Unless you need to be at exclusive or remote places in France, don't try to drive a car here. The best way to get around is public transportation," said Moreno. "In the Valley, everyone drives everywhere, even to the grocery store around the corner. Sidewalks are usually vacant, and temperature is a major factor in keeping people from South Texas indoors."
Bethany Guzman said she loved the challenge of practicing a new language while being surrounded by a different culture and learning about the history of the area.
"Walking around Strasbourg was an unforgettable experience that made you feel you have found a place you didn't know you were looking for," said Guzman, a junior Spanish major. "One of my favorite discoveries was the art found in the streets. Every day, in a different path, Strasbourg surprises you with something new."
Karla Cantú was impressed by the outdoor book fair in Strasbourg.
"The stalls are set up in the city's large central plaza, surrounding the statue of General Kléber," said Cantú, a sophomore biological sciences major. "The sellers have a wide selection of classic literature, and their prices are usually reasonable. I was very glad to have found an old hardcover copy of one of my most beloved books, a purchase that I am sure I will never regret."
Karen Treviño, a junior business management major, said walking along the streets of Strasbourg's historic quarter, Petite France, made her feel like she was "in a fairytale movie."
"This adventure has been wonderful," said Treviño. "Studying abroad gave me the opportunity to enjoy the richness of learning and traveling at the same time."
With three days remaining, the students were sad to leave Strasbourg, but excited to once again board the high-speed TGV train, which they had taken upon arrival at Paris Charles de Gaulle airport.
The group spent the final days of the trip in Paris, where they learned to navigate the city using their Paris Visite metro passes. Among the important sites they visited in the City of Lights were the Cathedral of Notre Dame, the Military Museum (Musée de l'Armée), the Louvre and Eiffel Tower.
"We arrived at the Arc de Triomphe in time to witness the 6 p.m. changing of the guard ceremony at the Tomb of the Unknown Soldier, located underneath the monument," Longoria said. "Paris is such a beautiful city. I hope to return one day and visit what I wasn't able to see on this journey."
Students who participated in France summer study abroad are:
Christopher Alaniz / Psychology.
Karla Cantu / Biological Science.
Mallory Cervantes / Anthropology.
Paulina Cervantes / Accounting.
Elizardo Gonzalez / Computer Science.
Yeznith Gutierrez / Mechanical Engineering.
Bethany Guzman / Spanish.
Julio Longoria / Philosophy.
Victoria Lopez / La Villa.
Ayana Lozares / Nursing.
Stephen McCleary / History.
Jesus Mendiola / History.
Angel Moreno / Kinesiology.
Samantha Ramirez / Biomedical Sciences.
Jessica Santana / Undeclared.
Karen Treviño / Management.
For more information about study abroad, contact International Programs and Partnerships in the Office of Global Engagement at 956-665-3572 or ipp@utrgv.edu.
ABOUT UTRGV
The University of Texas Rio Grande Valley (UTRGV) was created by the Texas Legislature in 2013 as the first major public university of the 21st century in Texas. This transformative initiative provided the opportunity to expand educational opportunities in the Rio Grande Valley, including a new School of Medicine, and made it possible for residents of the region to benefit from the Permanent University Fund – a public endowment contributing support to the University of Texas System and other institutions.
UTRGV has campuses and off-campus research and teaching sites throughout the Rio Grande Valley including in Boca Chica Beach, Brownsville (formerly The University of Texas at Brownsville campus), Edinburg (formerly The University of Texas-Pan American campus), Harlingen, McAllen, Port Isabel, Rio Grande City, and South Padre Island. UTRGV, a comprehensive academic institution, enrolled its first class in the fall of 2015, and the School of Medicine welcomed its first class in the summer of 2016.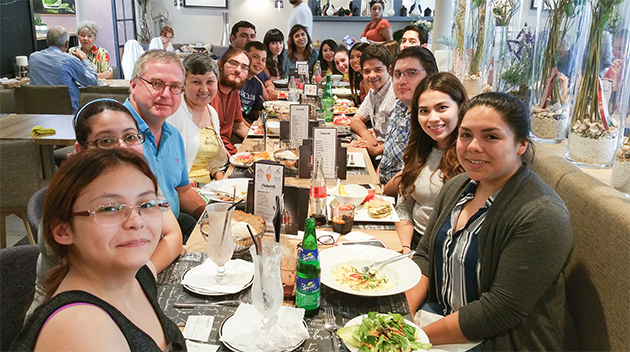 Sixteen UTRGV students attended study abroad classes in France in August. They stayed in Strasbourg, France, on the Franco-German border, where some students took French classes with Dr. Margarita Isbell and others attended German classes with Dr. John Isbell. In this photo, the group is enjoying lunch in Kehl, Germany, just across the Rhine River from Strasbourg. (Courtesy Photo) 
MEDIA CONTACTS
J. Edward Moreno
UTRGV Staff Writer / 956-665-3639 
Marci Caltabiano-Ponce
UTRGV Director of News and Internal Communications / 956-665-2742