Sub Menu Toggle
Students gain artistic, cultural perspective studying graphic design and photography in China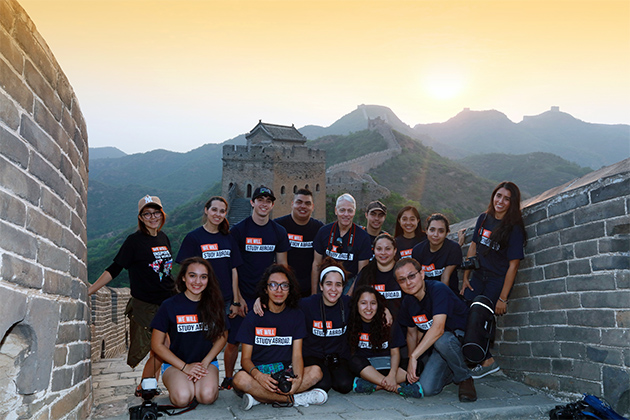 UTRGV students participated in a month-long study abroad experience in China, where they studied photography and graphic design with Dr. Ping Xu and Dr. Robert Gilbert. Early in the trip, the group witnessed the sunrise and the sunset as they hiked along the Jinshanling section of the Great Wall of China, seen here. The group included, front row from left: Cynthia Cantu, Arael Meza, Marcela Terrazas, Michelle Mata, Eufemia Mata and Dr. Ping Xu. Standing, from left: Carissa Leal, Dianella Cantu, Christian Alvarado, Josue Campos, Dr. Robert Gilbert, Manuel Perez, Zhikynah Lamsis, Judy Garcia and Samantha Ruiz. Not pictured: Ariadny Balderas, Rebecca Bui, Aleena Romy and Annsuriya Saji. (UTRGV Courtesy Photo)
By Cheryl Taylor
RIO GRANDE VALLEY, TEXAS – AUG. 24, 2017 – Seventeen students from The University of Texas Rio Grande Valley witnessed ancient wonders, embraced the present, and likely got a glimpse into their own futures, during a month-long study abroad experience in China.
The students were enrolled in one or both classes offered by the School of Art: Digital Photography (ARTS 4337), taught by Dr. Ping Xu, assistant professor of graphic design, and Visual Travel Journal (ARTS 4388), taught by Dr. Robert Gilbert, associate professor of graphic design.
Course requirements were an integral part of every day's activities.
"ARTS 4388 is a visual storytelling assignment," Gilbert said. "Students were required to keep a separate working journal where they recorded impressions, thoughts and experiences. Short pieces of writing were to be developed and paired with photos, drawings, digital tools and found art. And then, after returning to UTRGV, the students' final project was to print their travel journals in booklet form."
In Xu's ARTS 4337 class, students were learning to visually communicate their ideas in a creative manner.
"The effective integration of traditional and digital photographic elements is of particular emphasis in this course," Xu said. "The structure of the class includes lectures, demonstrations, in-class studio activities and project developments. Students learned how to set up lighting and shoot models in a professional lighting studio, and to use Adobe image retouching software to edit photos."
'GOD IS IN THE DETAILS'
The adventure began in the bustling city of Beijing, where students visited historical and cultural sites, including the Summer Palace, Tian'anmen Square, the Forbidden City, Jingshan Park, Olympic Park, Nanluoguxiang, the Penjiayuan Antiques Market and the Temple of Heaven.
Arael Meza, a junior graphic design major from Mexico City, said China was a nurturing environment in which to grow as a visual artist, and brought to mind the old saying that "God is in the details."
"The Temple of Heaven in Beijing is a masterpiece of architecture and an artwork itself. Complex patterns painted in red, blue, turquoise and golden adorn the temple, creating a sublime visual experience," said Meza, who received a Benjamin A. Gilman International Scholarship that helped finance his China study abroad.
Zhikynah Lamsis, a junior pre-medical biology student from McAllen, recalls spending time with students at Beijing's Central Academy of Fine Arts.
"The academy held a session where we had the chance to interact with the students. Each of us had a partner, and during the session, we had to draw each other," Lamsis said. "She drew me effortlessly. I was amazed at her talent. Afterwards, we toured the academy with our partners and we saw other students working at their projects. They seemed so peaceful while creating art."
SUNRISE AT THE GREAT WALL
The group arose on the third day in the early morning hours to visit the Great Wall of China, where they witnessed the sunrise and – many hours of hiking later – also saw the sunset.
"Where we were, along the Great Wall Jinshanling section in Hebei province, there were no people, so we enjoyed the serenity of the view," Lamsis said. "A long hike, and difficult to climb since the stairs were so steep. It was an accomplishment to be remembered."
Eufemia Mata, a senior graphic design student from Pharr and a Gilman Scholarship recipient, said visiting the Great Wall counts as one of her "most memorable experiences in life."
"Following the trail of the Great Wall, I witnessed the deteriorating walls of history," Mata said. "At the end of my challenge, I recalled the moments and wondered how difficult it was for the great people who built and left this historical monument. The hike was an intense moment, and I felt as if I left a part of my soul at the Great Wall of China."
A WARM WELCOME AT HENGYANG NORMAL UNIVERSITY
On the fifth day, the group departed Beijing for Hengyang on the bullet train – for many, their first train ride. Seven hours later, they arrived at their host university, Hengyang Normal University (HYNU), in the second-largest city of Hunan Province.
"The people at Hengyang Normal University gave us a warm welcome," Lamsis said. "When we came out from the train station, they had a huge banner, and our partners from the school helped us with our baggage. This first impression reassured me that my stay at Hengyang would be an awesome experience."
The group moved into HYNU student housing and began attending Xu and Gilbert's classes in the HYNU College of Fine Arts building and computer lab. A full calendar of interactive events with HYNU students included Chinese painting and calligraphy workshops and Chinese martial arts demonstrations.
Michelle Mata, a senior graphic design major from Mission, said she never dreamed she would travel abroad. Last summer, however, she crossed the U.S. border for the first time with a study abroad program in Spain, where she studied art history.
"Studying abroad has allowed me to be more open to trying new things and appreciate aspects of a culture completely different from my own," Mata said. "For example, the students from Hengyang Normal University explained how the majority of young adults don't start driving until they are out of college because they mainly rely on walking or cycling for transportation."
WATER TOWNS, GLASS BRIDGES
The students left Hengyang on a four-day excursion to the western part of Hunan, to Xiangxi Autonomous Prefecture, where they explored the famous ancient "water town" of Fenghuang, a UNESCO World Heritage Site, and Zhengjiajie Tianmen Mountain National Park, designated a World Natural Heritage Site by the United Nations.
The park has become an even greater tourist attraction than previously, now with the world's longest and highest glass-bottomed bridge, opened in August 2016. An engineering feat, the bridge draws brave-hearted visitors who feel compelled to walk 984 feet suspended above the canyon floor.
"The glass bridge was amazing," Lamsis said. "Even though it was raining, we had fun taking aesthetic pictures. And then we went down the stairway to the river at the base of the mountain. Clear and aqua, it was one of the most beautiful places I've ever seen in my life. I had to stop often to take pictures."
Students returned to Hengyang to catch another bullet train, this time a six-hour ride to Shanghai, China's largest and most contemporary city.
Here, they made their home in the new international student dorm at UTRGV's partner school, Shanghai University. The students spent one day with fellow art students and faculty at SHU's College of Digital Arts on the Jiading campus.
Several full days in Shanghai included sightseeing visits to Shanghai Science and Technology Museum, Shanghai Museum, Shanghai Oriental Pearl TV Tower, and the recently opened Shanghai Tower, the world's second-highest building.
The students enjoyed a river cruise on Shanghai's main waterway, the Huangpu River, and excursions to Chenghuang Temple and Jing'an Temple. They also visited Shanghai Disneyland on June 7, the attraction's first anniversary.
Two final day trips were visits to another town built on canals, Zhouzhuang, famous for its well-preserved antique houses, and Shanghai's neighboring city, Hangzhou, the capital of Zhejiang province and the hub of e-commerce of China. Hangzhou's West Lake, known for its many temples, pagodas, gardens and artificial islands within the lake, is another UNESCO World Heritage Site.
GOODBYE CHINA, HELLO TAIWAN
Saying goodbye to Mainland China, a few students returned to the United States, while two headed off on a two-month backpacking adventure. Christian Alvarado, a psychology junior from McAllen and Manuel Perez, a mechanical engineering sophomore from Mission, traveled to Vietnam, Cambodia and Thailand.
Thirteen of the students, accompanied by Xu and Gilbert, flew to Taiwan, where the students participated in a one-month volunteer teaching program in Yuanlin City, about a two-hour drive from Taipei. Living with host families, the UTRGV students taught English to elementary and junior high students in a summer program with the Changhua County Department of Education.
ABOUT THE GILMAN SCHOLARSHIPS
The Benjamin A. Gilman International Scholarship is issued by the U.S. Department of State to help students of limited means study abroad, so they can gain skills that will further the United States' economic competitiveness and/or enhance national security. 
Twelve UTRGV students were awarded Gilman Scholarships to participate in various programs around the world in summer 2017.
The China trip included four Gilman Scholarship recipients – Arael Meza and Eufemia Mata, Josue Campos, and Rebecca Bui, a biology pre-med sophomore from Plano.
"This trip had a huge impact on my art, my understanding of Chinese culture and my passion for traveling," Bui said. "During the school year, my schedule is so densely packed with natural science courses, I have not been able to explore other fields and interests, such as photography."
The students who participated in China summer study abroad were:
Christian Alvarado / Psychology
Ariadny Balderas / Graphic Design
Rebecca Bui / Pre-Med Biology
Josue Campos / Spanish Translation and Interpreting
Cynthia Cantu / Pre-Med Biology
Dianella Cantu / Graduate student, Communication Studies
Judy Garcia / Graphic Design
Zhikynah Lamsis / Pre-Med Biology
Carissa Leal / History
Arael Meza / Graphic Design
Eufemia Mata / Graphic Design
Michelle Mata / Graphic Design
Manuel Perez / Mechanical Engineering
Aleena Romy / Biology
Samantha Ruiz / Graphic Design
Annsuriya Saji / Pre-Med Biology
Marcela Terrazas / Rehabilitation Services
For more information about study abroad, contact International Programs and Partnerships in the Office of Global Engagement at 956-665-3572 or ipp@utrgv.edu.
NOVEMBER PHOTO EXHIBIT
Students who participated in the China study abroad classes will exhibit their work in a photography show, "China, a Photographic Journey," October 18 – November 18, in the main hallway of the Visual Arts Building on the UTRGV Edinburg campus.
Student and faculty work will be on display at HYNU's College of Fine Arts gallery in late October/early November, and also at UTRGV's prospective partner school, Ming Chuan University in Taipei, from late October through early 2018.  
MEDIA CONTACTS 

Cheryl.Taylor@UTRGV.edu
UTRGV Senior Writer / 956-882-8787 
Marci.Caltabiano@UTRGV.edu
UTRGV Director of News and Internal Communications / 956-665-2742