Sub Menu Toggle
Students connect with art, culture in Italy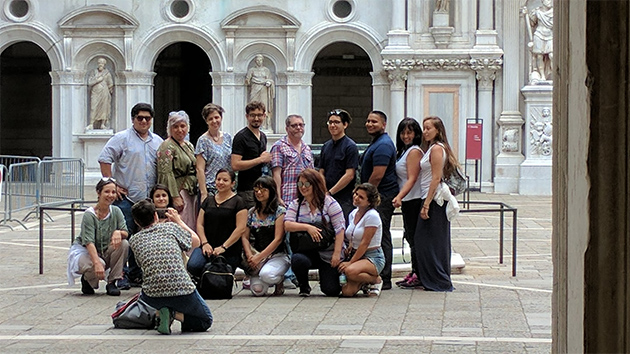 UTRGV students spent three weeks in Florence, Italy, in June, as part of the university's study abroad program. They studied art and film while exploring Florence, Rome, Venice and other locales throughout the country. (Courtesy Photo)
By Jennifer L. Berghom
RIO GRANDE VALLEY, TEXAS – AUG. 17, 2017 – Art came to life for about a dozen students from The University of Texas Rio Grande Valley who traveled to Italy this summer as part of the university's study abroad program.
"You see these sculptures in photos – I've seen so many photos of the David or the Ecstasy of Saint Teresa – but, when you're there, it's so much more real. You feel surrounded by it," said Alexandria Canchola, a Master of Fine Arts student from McAllen.
"The whole sculpture changes your entire view, the artwork changes. With the Daphne and Apollo sculpture, as I walked around it, it was like seeing it again for the first time, which I don't think you could ever get from a photo or a 360 tour. You need to be there to experience it."
The group, composed of undergraduate and graduate students, and faculty members Donna Sweigart, associate professor of Art, and Dr. David Anshen, assistant professor of Literatures and Cultural Studies, spent three weeks in Florence in June studying the works of Renaissance-era artists and post-World War II Italian neo-realism films. Among the museums they visited were the Uffizi Gallery, the Academia Gallery (where Michelangelo's David is displayed), the Palazzo Pitti and the Palatine Gallery, among others.
The group also took a side trip to Venice, where they visited traditional Venetian sites like the Palazzo Ducale(Doge's Palace) and Piazza San Marco, and attended the Venice Biennale, an international arts festival that occurs every two years and features art from a variety of media.
Some of the students also took a side trip to Rome with Anshen, and participated in a fresco painting workshop where they created their own artwork on tiles.
Sweigart said students in her class were required to study the master works and interpret those works in their drawings. They also had to complete a response paper to the work they studied and create a proposal for an art show.
Students in Anshen's class viewed several films – including "The Bicycle Thief" by Vittorio De Sica, "La Dolce Vita" by Federico Fellini, and "La Notte" by Michelangelo Antonioni – and visited some of the locations where the films were shot. They were tasked with writing papers that critiqued the films.
Canchola and undergraduate student Michael Cortez of Donna and were enrolled in Anshen's film class, but said they sat in on Sweigart's classes to "get the best of both worlds."
"It was a lot of sightseeing and going to churches and museums, and it was a lot of taking in the art," Cortez said. "That was one of the things I enjoyed most about the trip."
Physically being in the locations where some of his favorite films were shot gave him a new appreciation for those movies, he said.
"It was incredible, especially seeing some of the earlier neo-realist films, seeing some of the buildings with the giant doors, these historic buildings … brought you me closer to understanding the culture, and understanding the environment they were created in," he said.
Sweigart and Anshen said students also learned about Italian culture through their interactions with the community and spending time talking with local residents.
"I think, in a lot of ways, the educational process took place as much that way as it did in the strict classroom setting," Anshen said.
Both faculty members said study abroad programs not only enhance the educational experience for students in the topics they are studying, but also expose them the new cultures and ideas.
"There is significant introspection that happens through the process of study abroad and then returning," Sweigart said. "It creates global citizens, global students who are not so focused on only what's happening locally, but also what's happening around the world. That's an important concept for people who are being educated."
Students in the study abroad class to Italy were:
Mathew Betancort
Alexandria Canchola
Michael Cortez
Berenice Sainz
Abraham Bocanegra
Daiquiri Rodriguez
Kimberly Hawke
Yesenia Toscano
Serena Pandos
Laura Briseno
Brenda Galan
Gabriela Gonzalez
Maria Lai
ABOUT UTRGV
The University of Texas Rio Grande Valley (UTRGV) was created by the Texas Legislature in 2013 as the first major public university of the 21st century in Texas. This transformative initiative provided the opportunity to expand educational opportunities in the Rio Grande Valley, including a new School of Medicine, and made it possible for residents of the region to benefit from the Permanent University Fund – a public endowment contributing support to the University of Texas System and other institutions.
UTRGV has campuses and off-campus research and teaching sites throughout the Rio Grande Valley including in Boca Chica Beach, Brownsville (formerly The University of Texas at Brownsville campus), Edinburg (formerly The University of Texas-Pan American campus), Harlingen, McAllen, Port Isabel, Rio Grande City, and South Padre Island. UTRGV, a comprehensive academic institution, enrolled its first class in the fall of 2015, and the School of Medicine welcomed its first class in the summer of 2016.
MEDIA CONTACTS
Jennifer.Berghom@UTRGV.edu
UTRGV Senior Writer / 956-665-7192 
Marci.Caltabiano@UTRGV.edu
UTRGV Director of News and Internal Communications / 956-665-2742