Sub Menu Toggle
New study venues for philosophy and theatre students – lively Dublin and pastoral locales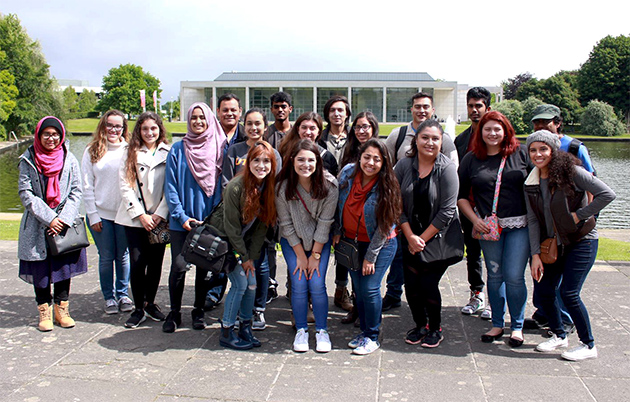 UTRGV students attended philosophy and theatre summer study abroad classes in Dublin, Ireland, during the month of June. The group of 19 students paused for a photo on the University College Dublin campus, where their classes were conducted by Dr. Thomas Pearson and Dr. Brian Warren, UTRGV professors. In front, from left are Arlet Villarreal, Sofia Alejo and Genoveva Jaimes. Middle row: Sidra Rafaqut, Lillianne Villarreal, Martha Garcia, Aiza Nisar, Sonia Wadekar, Julissa Sanchez, Brianna Adriana, Samantha Luchsinger, Victoria Walls and Kassandra Salazar. Back row: Oscar Trujillo, Sunil Athyala, Daniel Garza, Patrick Andrade, Hari Kotta and Jaysonn Vel. (Courtesy Photo)
PHOTO GALLERY
Password: ireland
By Cheryl Taylor
RIO GRANDE VALLEY, TEXAS – AUG. 10, 2017 – Nineteen University of Texas Rio Grande Valley students made their home in Dublin, Ireland, for the month of June to participate in one or both of the UTRGV summer study abroad classes conducted by UTRGV professors at University College Dublin (UCD).
Dr. Thomas Pearson, associate professor of philosophy in the UTRGV College of Liberal Arts, taught "Philosophy of Science," and Dr. Brian Warren, assistant professor of theatre in the UTRGV College of Fine Arts, taught "Irish Plays and Playwrights."
The first assignment for the theatre course was a scavenger hunt. Armed with maps, jackets, umbrellas, guidebooks and their public transit Leap Cards, the students broke into groups to scour the city with clues that led them to historical monuments and sites of interest.
"The exercise reduced my intimidation at navigating the city," said Kassandra Salazar, a junior nursing major from Brownsville. "Our assignment was to track down these locations, and then take selfies with the statue or historical marker or whatever was the targeted spot.
"It was a great way to explore the city, delve into Irish history and learn stories about the remarkable people that shaped it," she said.
Salazar, who signed up for both the philosophy and theatre courses, talked about attending classes on a different campus, and in another country.
"Going to class every day and maintaining our studies was an amazing experience, and yes, it could be challenging. But we learned it was possible to jump in and embrace our new environment for the month we were there," she said.
The group attended morning classes in UCD's John Henry Newman Building, about a 10-minute walk from their student apartments.
"Roebuck Hall was a really nice apartment-style living arrangement, with six or so rooms per apartment, with a spacious central living area and a furnished kitchen," said Jaysonn Vel, a pre-med biology sophomore from Austin who was enrolled in both courses. "We bought groceries at the campus grocery store, and sometimes we used our Leap Cards to go into the city, where items were cheaper."
With their Leap Cards, the students had access to buses and the light rail system to reach the suburbs and shopping centers. They also learned to use DART (Dublin Area Rapid Transit).
The UTRGV students were among the many foreign students attending UCD's popular summer programs.
Arlet Villarreal, a philosophy/psychology senior from Rio Grande City, was enrolled in the philosophy class. She said she was amazed by the diversity of the students at UCD, as well as the many travelers and backpackers they met in town and when on field trips.
"I feel the month helped me define my individuality and build communication and leadership skills and interpersonal relationships – all concepts that challenged me to grow independently and that will help me as I go forward to law school," Villarreal said.
Along with pre-trip readings, morning lectures and classroom discussions, classes were augmented with field trips to historically and culturally important sites in Dublin and elsewhere in Ireland.
"'Irish Plays and Playwrights' provides students with a critical introduction to the impact and influence of Irish drama on Irish culture and Western theatre in general, focusing on the plays of key Irish authors over the course of many years," said Warren, who has been taking groups on summer abroad courses for five years.
Martha Garcia, a junior pre-med biology major from Mission who was enrolled in both classes, said she had an "Irish moment" that related directly to 'Irish Plays and Playwrights.' Students had learned about Irish mythical creatures in the class, and during a day-long excursion to sites along the Celtic Boyne River Valley, near the historic Hill of Tara, she saw a "fairy tree" – much like the promesa custom in Mexican culture.
"I did not know the concept of fairy trees even existed," Garcia said. "I really enjoyed learning the story behind fairy trees. I thought it was very sweet how visitors would leave an item of a child or a beloved family member and wish for something. I left the only thing I had available, which was a hair tie, and made a wish for a young family member."
Throughout the month, students received an overview of Irish history from the pre-Christian era to the Irish War for Independence during the first quarter of the 20th century. Overnight field trips included one to Western Ireland and another to Northern Ireland. On day excursions, the students went to County Cork and County Meath.
"In County Meath, we went to the Hill of Tara to see the Lia Fáil – a rock that the High Kings of Ireland would use in their rituals before they were crowned," Vel said. "Ireland has a really rich Celtic history, and seeing the stone made what I had learned about in class seem to come alive."
Pearson was conducting the "Philosophy of Science" course in Ireland for the second summer.
"This class is devoted to an examination of the most dominant mode of understanding in the western world today – a mode of understanding shaped by the methods and results of scientific inquiry," he said.
Garcia found the philosophy course to be applicable to her major.
"We learned about important philosophers and the scientific method, and the readings and discussions gave me a clear understanding of the origins of 'science,' she said. "It helped me relate all this information to the medical field, which was great."
Another pre-med biology major, Oscar Trujillo, confessed he feared the philosophy course would not be very "entertaining."
"As it turned out, I consider the class to be one of the highlights of my month abroad," said Trujillo, a junior from McAllen. "The course often made me and my classmates ponder what was discussed beyond the classroom, and resulted in interesting debates."
Without exception, the students expressed the value of their new-found insight into Irish history and culture.
"I truly admire everything the Irish did, from the 1916 Easter Rising to the Irish War for Independence, in their attempt to become free," Garcia said. "Dublin, in particular, is a city full of vocal and charismatic people who are truly worth meeting."
Pearson said the academic and personal growth experienced by students during study abroad programs cannot be overvalued.
"Another bonus is networking," he said. "An engineering major on last summer's 'Philosophy of Science' course, Josue Botello, took it upon himself to meet faculty and students in the engineering department at UCD. Josue maintained those contacts, and he has been accepted to UCD's energy systems engineering program, which he will begin this fall."
Following are the students who traveled to Ireland, along with the class(es) they attended:
PHIL 4320: "Philosophy of Science"
Sofia Alejo
Patrick Andrade
Sunil Athyala           
Genoveva Jaimes      
Hari Kotta
Samantha Luchsinger 
Aiza Nisar
Julissa Sanchez
Lillianne Villarreal
Arlet Villarreal
Sonia Wadekar
THTF 4304: "Irish Plays and Playwrights"
Daniel Garza
Victoria Walls
PHIL 4320 & THTF 4304
Brianna Adriana
Martha Garcia
Kassandra Salazar
Sidra Rafaqut
Oscar Trujillo
Jaysonn Vel
MEDIA CONTACTS

Cheryl.Taylor@UTRGV.edu
UTRGV Senior Writer / 956-882-8787 
Marci.Caltabiano@UTRGV.edu
UTRGV Director of News and Internal Communications / 956-665-2742