Sub Menu Toggle
Santiago Montoya Jr.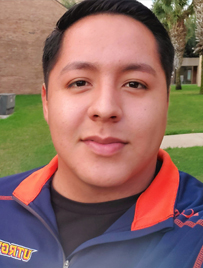 Name: Santiago Montoya Jr.
Age: 20
Major: Finance
College: Robert C. Vackar College of Business & Entrepreneurship
Prospective Graduation Date: Fall 2023
Hometown: Palmview, TX
High School: Palmview High School 
Why UTRGV?
I chose UTRGV for its proximity to home and for its affordable tuition. I will never regret this tough decision because of the great experiences in and out of campus. This is an incredible campus environment with exceptional professors that teach in the best way because they love what they do. I love being surrounded by classmates who aspire to be role models for the next generations.
What made you decide on your current major?
I chose my current major because I saw the potential that the Robert C. Vackar College of Business & Entrepreneurship had to offer to all its students by getting in touch with real world job experiences. Being able to enroll into organizations to be part of projects that help and impact our community, all while getting professional and personal development, is the best way to be prepared for any challenges as interns and will provide work offers in the future.
How are you maneuvering being a student during the COVID-19 pandemic?
During these tough times for everybody around the world, being a student was a total challenge due to the drastic change to online courses and losing the human essence in the interaction between professors and classmates. The way I handled it was always being on top of things by checking my emails daily to keep track of all the assignment deadlines and making sure to attend all my Zoom meetings to have that kind of connection with the class participation as if it was in person.
What are your greatest strengths and what are some challenges? 
My greatest strengths are being able to adapt rapidly to changes, as we did when the pandemic hit and staying organized to complete all my to-do's while having time to get in touch with family and friends to keep that communication alive. Also, what I like about myself is how I learn fast and avoiding overthinking while doing an assignment. 
What do you hope to achieve beyond completion of your major?
After the completion of my major I would like to get a very good job to start getting professional experience for years to come, then hopefully go back to UTRGV and complete a master's degree in Business Administration.
What do you like most about UTRGV?
In general, I like all UTRGV, but something that I like the most is the great environment that we all have on campus with classmates and professors, and the level of education that recognizes the university as one of the best in Texas.
What does being a Vaquero mean to you?
Being a Vaquero is something I am proud of since wearing these colors means a lot of responsibility and pride due to the great level of education this institution provides to all students.
What opportunities has UTRGV helped you find throughout your community?
I would say one of the best experiences during my classes was being a volunteer in different organizations such as the Salvation Army with a great group of classmates to keep track of how our community worked. Also, I volunteer at an elementary school as a teacher's assistant to keep track of the cultural impact on society and how kids are developing their education skills through a certain amount of time. All these experiences gave me the opportunity to interact with people outside the institution to give us communication and teamwork skills.
What advice do you have for fellow students pursuing degrees during the COVID-19 pandemic?
The advice that worked for me was to be very active in classes by participating, taking notes, asking questions, and being on top of the incoming assignments, and to organize and schedule all activities according to our free time to avoid late submissions.