Sub Menu Toggle
Leslie Blanco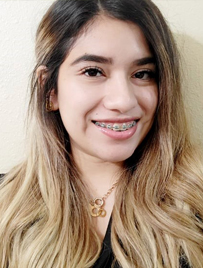 Name: Leslie Blanco 
Age: 27 
Major: Bachelors in Spanish & Mexican American Studies 
College: Liberal of Arts 
Hometown: Brownsville, TX 
High School: James Pace High School, Brownsville, TX 
Why UTRGV?
I chose UTRGV because I could have the opportunity to attend a quality and affordable university without having to leave my home. I found the school atmosphere quite fascinating and fun by the variety of organizations and events that always happened there. I will always be grateful to this university for allowing me to achieve my goals. 
What made you decide on your current major?  
At first, I was not sure which major to choose until my third semester when I decided to take Spanish classes as my minor. I knew immediately that it was the best field for me. I was fortunate to meet extraordinary teachers with so much passion for what they teach, which made me fall in love with my classes. I didn't hesitate and decided to make it my major. Students may have the idea that Spanish classes are easy, but it's not, there is a lot to learn. Then, I started taking classes on Hispanic culture and Mexican American history, and it immediately grabbed my attention. I had a conversation with the MAS coordinator, and I was even more fascinated with the major. Somehow, I consider Spanish and Mexican American Studies two areas where they can complement each other. Although I knew it was a difficult task to handle doing a double major, I decided to accept the challenge and it's something I do not regret.
How are you maneuvering being a student during the COVID-19 pandemic?
At first it was very difficult for me. It was the first time taking online classes, but I was able to adapt quickly to the new learning modality. I learned to communicate more often with my professors. Luckily, the professors I've had have been very manageable with the situation we're facing, and it helped me move forward despite continuing with this pandemic.
What are your greatest strengths and what are some challenges?  
My greatest strength would be that despite being in a pandemic, I am dedicated to my duties, especially related to school. The pandemic knew how to challenge my anxiety and stress. Many times, I was attacked by this, but somehow, I managed to handle it and continue to do so. 
What do you hope to achieve beyond completion of your major? 
I would like to work in a school as an educator and pursue my master's degree.  
What do you like most about UTRGV?
UTRGV is a beautiful campus! I like the fact that everyone is willing to help you. Whenever I need help there is always someone there to help me out and who has given me incredibly good advice financially and academically. UTRGV is like a little community that supports each other.
What does being a Vaquero mean to you?
Being a Vaquero means pride and unity among students and the community.  
What opportunities has UTRGV helped you find throughout your community? 
My classes at UTRGV have helped me to get closer to my community and understand it better. Recently I was able to be part of the National Collegiate Hispanic Honor Society, where I am sure I can get to know more about my field. 
What advice do you have for fellow students pursuing degrees during the COVID-19 pandemic? 
Fortunately, I have been able to advise and help other students who need support. It is difficult in the current life we live, and it may seem stressful, but I advise you to always think positively. If you are struggling, ask a teacher or student for help. I assure you that all this effort you make will have a valuable reward. You will get through this, do not give up!