Sub Menu Toggle
Kayla Marroquin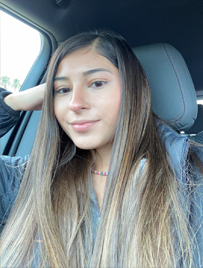 Name: Kayla Marroquin
Age: 23
Major: Biology
College: College of Sciences
Hometown: Pharr, Texas
High School: Hidalgo Early College High School, Hidalgo, Texas 
Why UTRGV?
Being a first-generation college student, I wanted to remain close to home. UTRGV's affordable tuition made it easier for me to choose UTRGV. 
What made you decide on your current major?
Since I was a little girl, my dream has been to become a dentist. Therefore, choosing biology as my major was the best decision. Biology, chemistry, biochemistry and anatomy and physiology are all prerequisites needed to apply for dental school and are offered within the biology-track major. 
How are you maneuvering being a student during the COVID-19 pandemic?
I always try to be as attentive and involved in my classes as possible. I read the chapter that's going to be discussed before going to class, and I'm a person who schedules pretty much everything that I have to do. I need to know what I'm doing, when I'm doing it, and how long it's going to take me. As each week starts, I make sure that I write out all of my assignments and things that I need to do for that week. This way I don't miss a deadline, assignment, or any other personal responsibility. 
What are your greatest strengths and what are some challenges?  
I had to accept the fact that classes were going to be online for a while. Therefore, one of my greatest strengths is my flexibility to adapt to any last-minute changes. My dedication, perseverance and strong work ethic are my greatest strengths. When I commit to something, I always give 100% to it to accomplish it in a quality manner. In addition, I am a very self-disciplined person. I focus on my routine and stick to it. I give myself strict timelines in order to keep myself on track.
What do you hope to achieve beyond completion of your major?
Despite being a first-generation college student, I am achieving a higher education degree and pursuing a competitive professional career. I hope to continue my education in dental school and become a practicing dentist in the Rio Grande Valley. As a bilingual applicant, I hope to bridge the communication gap in dental school and even in my own community to help young people express their struggles. 
What do you like most about UTRGV?
The organizations that UTRGV has to offer are what I love the most. I could not imagine my undergraduate years without the support and backing of the Pre-Dental Society and American Student Dental Association. These organizations have taught me more about the application process, Dental Admissions Test, and requirements for dental school admissions that I wouldn't have known on my own. 
What does being a Vaquero mean to you?
Being a Vaquero means that I am proud of where I come from. I will always have UTRGV's education and commitment to excellence to keep me afloat. 
What opportunities has UTRGV helped you find throughout your community? 
UTRGV has allowed me to help my community through the Pre-Dental Society and ASDA Chapter. Living amidst a pandemic, I continue to donate my time to dental outreach programs like our "Helping the RGV Smile Again" and "Giving the RGV Something to Smile About" projects. My organization provided over one thousand toothbrushes, toothpastes and flosses to people living in underserved areas in the RGV. I recognize that providing oral health care materials to low-income families alleviates them from any dental related expenses. I am actively working to protect my community through preventative care and motivate them to care for their current smiles, which I hope to continue to ensure as a practicing dentist. 
What advice do you have for fellow students pursuing degrees during the COVID-19 pandemic?
For my fellow students, while COVID-19 has disrupted everyone's routines, please remember to take time for yourself. Hang in there, this too will pass, and you will look back on this as one of the many trials you will encounter in your life. Surround yourself with others who are just as ambitious as you. Set big goals, don't give up, continue to work hard, and push yourself every single day. Most importantly, believe in yourself.